By Kent Gray at Royal Birkdale
Jordan Spieth's journey to the Claret Jug took him seriously off-piste Sunday and even after it was all done, there wasn't an out of bounds to be found.
After the clutch comeback that followed his great bogey escape from the giant dunes in the (very) rough proximity of Royal Birkdale's 13th fairway, via the bonce of an unsuspecting spectator and a lengthy detour through the club-manufacturers' lorries parked on the surprisingly in-bounds practice range, Spieth allowed us to go orienteering through his mind. It was a frank and fascinating insight into the psyche of a complex 23-year-old on the precipice of true greatness, as compelling as his golf had been other worldly over the final six holes.
There is vulnerability within, as witnessed early on the final afternoon of the 146th Open Championship when Spieth inexplicably allowed a three shot overnight lead to vanish within four holes in a blaze of yanked drives and pushed or pulled putts. Neither is he immune to genuine anxiety as was so visibly apparent on 13 as he reeled away, hands in head, at the horror of a big blocked tee shot he'd just sent sailing a good 70 yards off line.
Later came a snapshot of the ambition, expectation and ego that allowed the Texan to somehow regroup from a disastrous opening 12 holes and that tee shot to become the youngest Champion Golfer-of-the-Year since Seve Ballesteros in 1979, and the first man to post all four rounds in the 60s at Birkdale (65-69-65-69) for a record -12, 268 aggregate (eclipsing Ian Baker-Finch's 272 total in 1991).
Very rarely do professional golfers, much less a (now) three-time major champion with a tough-as-old cowboy boots "closer" reputation to protect, allow access into the deeper recesses.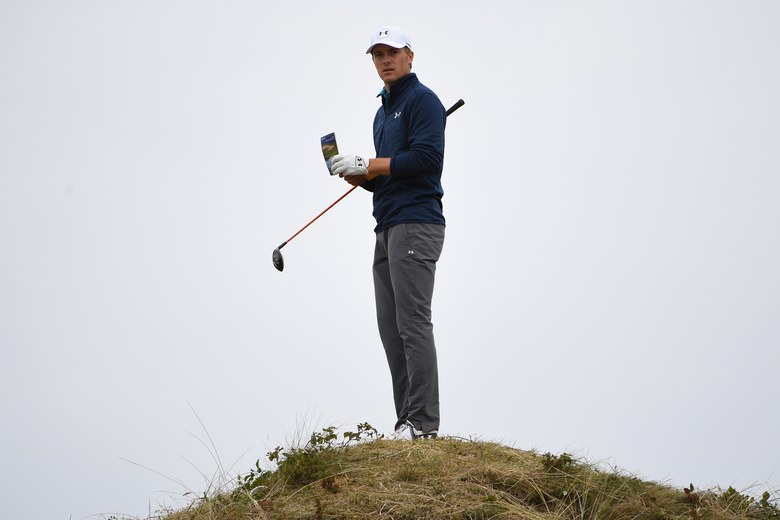 "I thought before the round, I have a reputation as being able to close, but I was hesitant in saying 'majors', to myself, because there was a lot of…I put a lot of pressure on myself unfortunately, and not on purpose, before the round today, just thinking this is the best opportunity that I've had since the 2016 Masters," Spieth revealed, rewinding minds to Augusta National two Aprils ago where a watery quadruple bogey 7 at Rae's Creek got in the way of a second Green Jacket and first exposed the fallibility within every golfer.
"And if it weren't to go my way today, then all I'm going to be questioned about and thought about and murmured about is in comparison to that, and that adds a lot of pressure."
The inexplicable start, his trusty Scotty Cameron blade suddenly failing him from short range, didn't help any. "After four holes it was even more so. I wasn't questioning myself as a closer, but I was questioning why I couldn't just perform the shots that I was before.
"Sometimes you just can't really figure it out, put your finger on it. Am I pulling it? Pushing it? Am I doing both? What's going on with the [putting] stroke? It's just searching. And during the round today I definitely thought while any kind of fear or advantage that you can have in this moment and over other individuals [longer term], not just Matt Kuchar today, but other people that are watching, that's being taken away by the way that I'm playing right now. And that was really tough to swallow.
"That kind of stuff goes into your head. I mean, we walked for two minutes, three minutes in between shots. And you can't just go blank. You wish you could, but thoughts creep in."
It's fair to surmise Kuchar and co. now know Spieth can bring the fear from anywhere and at anytime.

Kuchar brought far more than his trademark awe-shucks demeanour to the the wholly unexpected final round duel (given the control Spieth had displayed from tee to green through 54 holes) and  stood on the 14th tee with a one shot lead. By the time he departed the 17th green, having negotiated the four hole stretch in two under himself, he was two behind.
Spieth's birdie, eagle, birdie, birdie "burst" in the same stretch of holes was the stuff of Open legend, golf theatre that even Golf Digest's learnered Jaime Diaz, a man whose seen his share of major magic, rates beyond modern compare.
The near ace on 14 from 201 yards, the unfathomable 48-foot eagle putt up and down dale and up again on 15 with its "pick that up" exclamation mark/command to bagman Michael Greller. The 30-foot, dead-weight birdie bomb on 16 and the skipped wedge-eight footer on 17 for another gain that ensured he could savour the greatest walk in golf up 18.
"It was impressive stuff and when someone does something like that, you just have to tip your cap and say well done," Kuchar, so magnanimous in defeat, would say.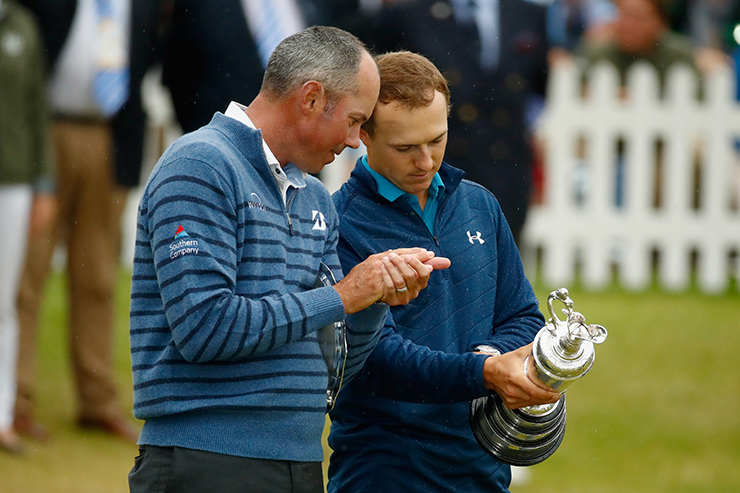 Before the lazered 6 iron on 14 came the great escape at 13 where Spieth kept a cool head in the chaos and cleverly used The Rules of Golf to his advantage as they have always been intended to be. The chunked-pushed 3-iron that he hit back over the dunes, just shy of 22 minutes after he took the unplayable, was a smart play as it kept him short of a pot bunker guarding the front of the green. The resulting up and down was arguably the defining moment of the championship.
"That [8-foot] putt on 13 was just massive," Spieth agreed. "I don't know how I made a five, I don't think I'll ever know, it's like I got away with murder."
Greller, the canny caddy cum on-course psychologist, didn't let the moment pass, making a point of telling his charge: "That's a momentum shift right there."
Greller's big play had actually come on the path leading from the 7th tee when he called Spieth back as the Open was rapidly and dangerously passing the Texan by. Before Birkdale, Spieth had been snapped on vacation in Cabo San Lucas with, among others, Michael Jordan, Michael Phelps and [Seattle Seahawks quarterback] Russell Wilson, and Greller used the imagery to quietly refocus his man.

"Michael did a great thing today, he said 'I've got something to say to you: He said do you remember that group you were with? 'You're that caliber of an athlete. But I need you to believe that right now because you're in a great position in this tournament. This is a new tournament. We're starting over here'.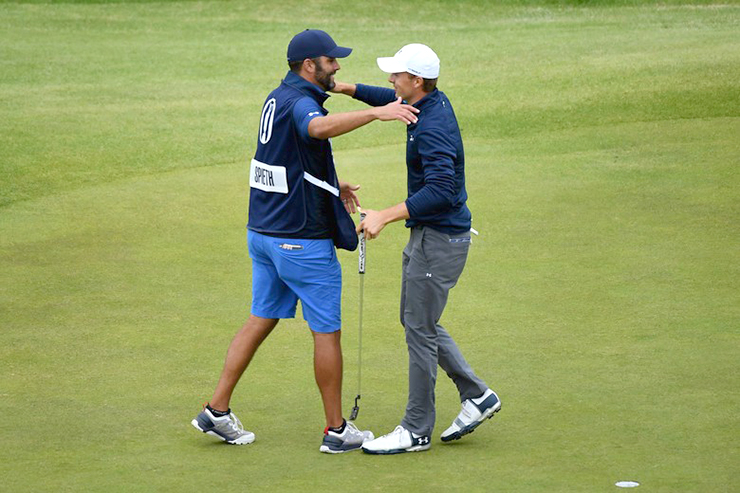 "He had as much influence for sure on this win as any. He and Cameron [manager Cameron McCormick] have been very important in the mental side of the game for me in the past couple of years. Dealing with my own expectations and dealing with coming off a year like '15 [when he won the Masters and US Open and gave the calendar year grand slam a run with a T4 finish at St.Andrews and second at the US PGA Championship at Whistling Straits], and trying to game plan and set goals.
"This trophy is as much mine as it is his [Greller's and presumably McCormick], as I was getting down on myself a bit for a while there."
The firm pep talk, the clever use of the rules and flushed six 6-iron flicked a switch. Spieth somehow did what great players do in adversity. He found just three fairways on Sunday, and yet he found a way to win. It was brave, gritty, glorious.
Indeed, it was Tiger-esque. Spieth too has that innate ability to will the ball into the cup (often without toughing the sides) where others find an invisible force-field with the flat-stick.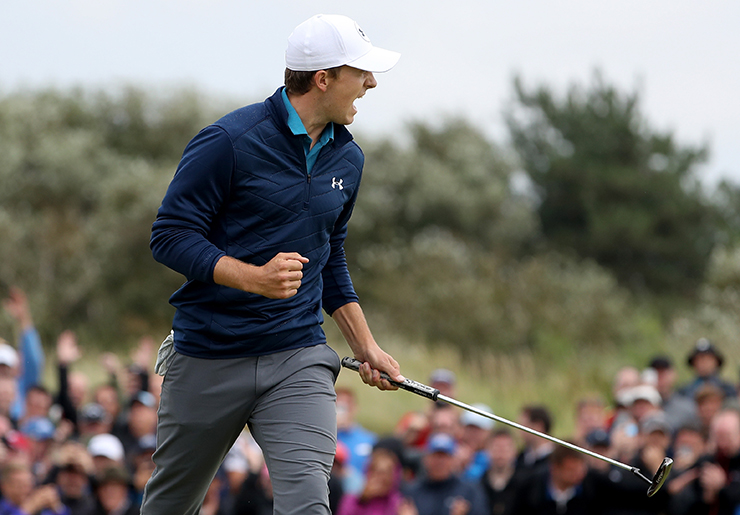 A week from his 24th birthday, Spieth joined Jack Nicklaus as the only player to have won three quarters of a career grand slam before 24. Even Woods couldn't achieve that feat until 24 years and six months old.
Spieth admitted the career slam, which could be achieved as early as The PGA Championship at Quail Hollow little over a fortnight away in Charlotte, North Carolina, is "a life goal of mine" but isn't comfortable with the inevitable comparisons with Nicklaus and Woods.
"I feel blessed to be able to play the game I love, but I don't think that comparisons are — I don't compare myself. I don't think that they're appropriate or necessary," he said.
"So to be in that company, no doubt is absolutely incredible. And I certainly appreciate it. But I'm very careful as to what that means going forward because what those guys have done has transcended the sport. And in no way, shape or form do I think I'm anywhere near that, whatsoever. So it's a good start, but there is a long way to go."
The 146th Open Championship will be etched as the 'how low can you go' Open, Branden Grace leading the historically low scoring with the first 62 in the 157 year history of majors. Spieth, up to No.2 in the OWGR, has played just 19 of the 442 majors and has already won three of them, the most recent as only the sixth player to go wire-to-wire. He has enjoyed the lead or the share of it in 14 bigs since 2015, is a combined 67 under par in 45 rounds and tops the rounds in the 60s, rounds of par or better and scoring average categories, the latter a figure now southward of 69.
Just like that moment on the 7th Sunday, he is looking forward to pulling on the reigns to take stock and will get the chance with a fishing trip planned with his father and brother before he plays the WGC-Bridgestone Invitational in Akron, Ohio from August 3-6 ahead of the PGA.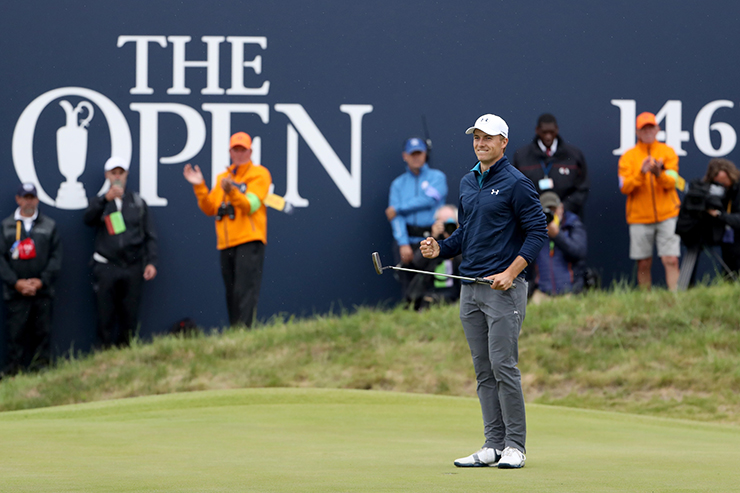 "Growing up playing golf, I just wanted to be able to play in major championships and compete with the best in the world, and things have happened very quickly. And it's good and bad, because a lot comes with it, a lot more attention… versus just being able to kind of go about your own thing. And I never realised how underrated that was.
"I wanted to be in this position but then, you know, here and there, it becomes harder when it doesn't go your way. And you're harder on yourself because you expect so much.
"Therefore, I'm going to thoroughly enjoy this. I look back on 2015 and thought, yeah, I enjoyed it, but I never realised the significance until you kind of hit a low, hit a pitfall, to appreciate the high so much.
"And this is as much of a high as I've ever experienced in my golfing life. And I'm going to enjoy it more than I've enjoyed anything that I've accomplished in the past."
He wasn't the only one.
Catch up with the highlights of an enthralling Final Round of The 146th Open. #TheOpen pic.twitter.com/ExeMn2KvTv

— The Open (@TheOpen) July 23, 2017
#TheOpen Shots of the week. So many to choose from! What was your favourite? pic.twitter.com/RwmblgBLEe

— The Open (@TheOpen) July 24, 2017