By Kent Gray
Rayhan Thomas, Bayhaan Lakdawala and Mike Mezei have headlined the Emirates Golf Federation's historic Dubai Trophy hattrick.
The trio produced perfect 3-0-0 records and were joined by Arjun Gupta (2 wins/1 half/0 losses), Bradley Mogire (2-1-0), Lawry Cook (2-1-0) and Josh Hill (1-2-0) with unbeaten records as the EGF amateurs eased to an 19-13 victory in the 19th edition of the Ryder Cup style matches against the UAE PGA's top teaching professionals.
The victory follows 19½-12½ and 17-15 victories in 2016 and 2017 respectively, last year's repeat captained by Lakdawala.
After dominating Saturday's foursomes and fourball matches 10-6 at Emirates G.C, the amateur Class of 2018 – captained by Max Burrow –  needed just six points to retain the trophy and seven points to win outright. They did it with relative ease in difficult, dusty conditions at Dubai Creek Golf & Yacht Club, winning Sunday's singles 9-7
Lakdawala led a series of divisive singles victories, finishing one under as he overcame Malcolm Young (Arabian Ranches) 8&7. He'd earlier teamed with Thomas to win both of his pairs matches before Thomas, the world No.17, finished with three birdies in a five-hole stretch to beat Jack Woods (Dubai Creek) 5&4.
Mezei, meanwhile, compounded the frustration for UAE PGA captain Ryan Smith with a 7& 6 triumph. It was no slight on Smith, the new UAE PGA Matchplay champion, with Mezei three under par in the gusty winds when the pair shook hands on the 12th hole.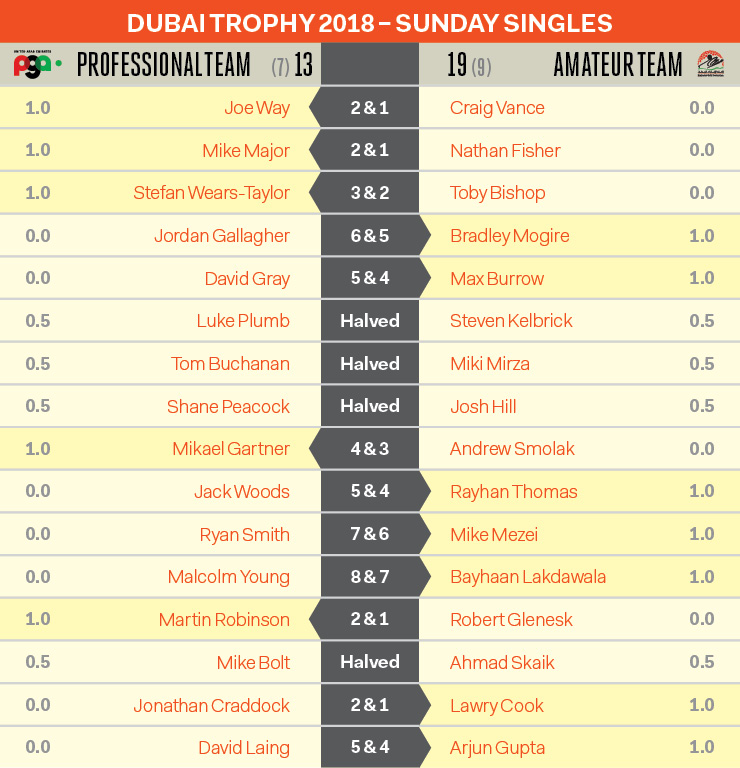 Dubai Creek teaching professionals Joe Way and Mike Major were the standouts for the UAE PGA team, winning all three matches including 2&1 singles victories over Craig Vance and Nathan Fisher respectively.
But this was, ultimately, another milestone day for the amateurs with teens Gupta and Mogire beating David Laing 5&4 and Jordan Gallagher 6&5 respectively.
The headline match between 14-year-old Josh Hill and Al Ain pro Shane Peacock ended in a half, a bogey good enough for Hill to win the par-4 closing hole and maintain his unbeaten record in a see-sawing match.
Mike Bolt (Trump Dubai) and UAE national team amateur Ahmad Skaik halved a high quality match in the wind, both finishing with one over 72s, Bolt's card including a brilliant birdie on the 18th to snare a ultimately inconsequential, but nonetheless personally satisfying, half point.
The UAE PGA still lead the overall series 14-5 but this fifth loss will take some living down at work on Monday. Perhaps the excuse will be that they're doing their day jobs too well in fostering arguably the most exciting generation of young amateurs in UAE golf history, though that may be a hard sell over a peer-led morning tea debrief.