By Matt Smith
Thailand has long been a popular destination for tourists from the Middle East thanks to relatively short flights, famous beaches, thriving culture and culinary delights, and with travel across the globe finally opening up once again after the COVID-19 pandemic, the South East Asian country is back on travellers' — and golfers' — destination wish list.
The Laguna area on the island of Phuket is perfect for those who like to play and relax, with one golf course at the top of every visiting player's itinerary.
Laguna Golf Phuket is a must-play as it reflects the natural beauty and tropical surroundings of Bang Tao Bay, perfectly cooled by the Andaman Sea breeze. Set on the valley floor and overlooked by wooded hills and marshlands, this a resort course that will challenge players of all skill levels, while not being over-demanding to the point of frustration — allowing you to enjoy the breathtaking surroundings during and after your round.
While Laguna was redesigned in 2014 and has world-class facilities to rival the most up-to-date clubs around the globe, this is a course steeped in Thai history.
Originally called the Banyan Tree Golf Club, Laguna GP was built on a former tin mine. Dating back to the 17th century, the once mineral-rich area was a strong mining community until the late 1970s, when the industrial areas were left abandoned. Left with large gaping spaces after the mines closed, the authorities reinvented the area, filling the holes with salt water and carving golf courses into the barren landscape to create the serene, tranquil setting we see today.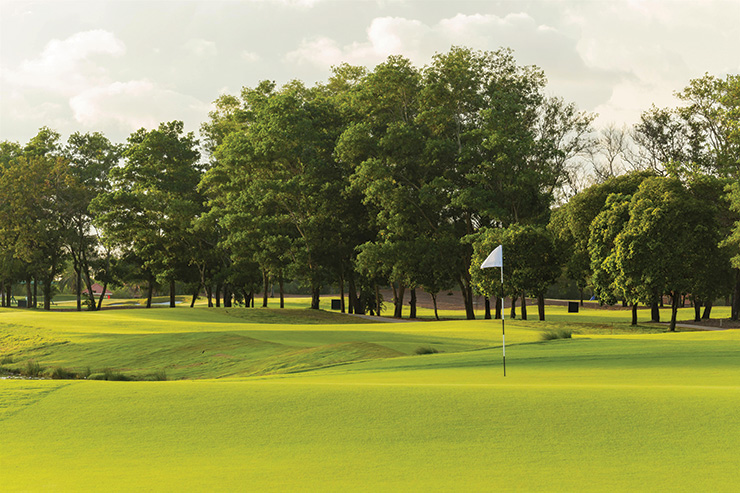 Laguna Golf Phuket
Established: 1992
Redesigned: 2014
Holes: 18
Par: 71
Yards: 6,756
Recent championship tournaments: Mena/ADT Laguna Phuket Challenge, May 2-5, 2022
Prize money: $75,000
Winner: Tom Sloman
By 1992, Laguna GP was open for business and quickly established itself as one of the top courses, not only in the country but the entire region. 
With plenty of water hazards, tropical palms and densely wooded hills, this is one of Phuket's most scenic courses. It is a relatively open track, however the water and strategically placed bunkers — combined with the wind — will give any player cause to consider each shot into the greens. 
This is a championship course, recently the venue of two Asian Development Tour/Mena Tour events and it possesses a layout you have to ponder your way around as each hole offers a multitude of shot options.
Tiered fairways, depressions and mounds dominate play. Wide fairways are seemingly straightforward but you'll still need to position your ball to set up scoring opportunities.
While the front nine makes use of the landscaped water features, the wooded areas come more into play on a back nine meandering through mature stands of trees. Overhanging tree lines frame most holes, with wood chip and native grasses welcoming those who stray off the fairways. The two finishing holes are a real treat, with the monster 612-yard 17th bringing water into play at least twice, and the signature par-4 18th hole a sight to behold as you return to the clubhouse.
Once the clubs are put away, the 2014 renovations can be seen. A first-class restaurant welcomes golfers and non-golfers alike, and the luxury facilities include spa and massage treatments to loosen up those aching muscles.
Tennis courts and swimming pools are also available, alongside a driving range and golf academy to help sort out any issues with your game. 
Laguna Golf Phuket's location near the airport and beaches allows visitors the ease of combining golf and relaxation in a perfect holiday spot.
Also see
Aquella Golf & Country Club
Established: 2021
Holes: 18
Par: 72
Yards: 7,003
Golf clubs are plentiful around the reinvented Phuket coastline and Aquella Golf & Country Club — just 30 minutes away from Phuket International Airport -— is another welcome addition.
Opened in 2021, Aquella is helping bring the golf tourism market back to the island after the COVID-19 lockdown.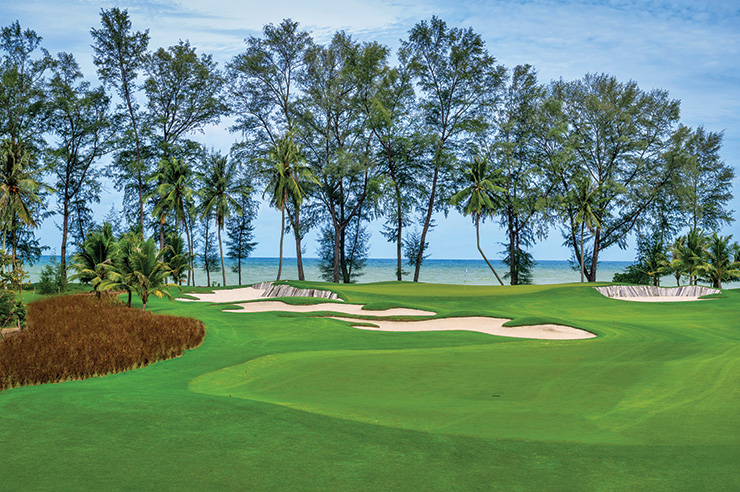 Designed by Australian company Pacific Golf Coast Design and opened in August last year, the new 18-hole championship layout lies at the centre of a 1.8 million square-metre development on the shores of Phang Nga province. Alongside a resort hotel, pool villas, marina, beach club, the club incorporates a family-first ideal, with all the usual five-star facilities such as spa, tennis courts, swimming, gymnasium, beach and watersports and even a mini-putt course for the budding golfers of any age. 
But back to the real thing.
The 7,019-yard, par-72 course features narrow, rolling fairways and cunningly placed bunkers meaning each shot calls for accuracy. The history of the area can be seen all around the course as old railway sleepers are dotted around the boundaries to remind visitors of Phuket's mining past. 
While the course offers amazing views of the coastline from many vantage points, the signature par-3 11th is worth the visit alone, looking out across the Andaman Sea. 
The Approach restaurant offers a chance to refuel in lavish style in the clubhouse with decor to reflect Thai culture and modern style.
Welcome to Laguna
As Phuket begins to welcome back tourists, the resorts in the Laguna are beginning to come alive with visitors, longing to travel and explore but there is still a peacefulness along the serene beaches as tourism is building up steadily.
Located along Bang Tao Beach, Laguna boasts seven kilometres of white powdery sand, lined with trees that create the perfect amount of shade from the midday sun and shelter from the occasional storm. 
Along the beach, you can find an array of watersport activities, fishing and boat trips. There are numerous restaurants and bars that line the coast, along with an array of street vendors selling scarves, hats and jewellery. In the town to the east of Bag Tao, most restaurants and bars are back open, with the familiar aromas of Thai cooking blending with the music and laughter in the air. While some tourist shops are still closed and there isn't the same throng of people there once was, you can make the most of the peace and tranquillity, as time goes on and tourists return, the area will soon be bustling once more!
Where to stay
Cassia by Banyan Tree
Located along the pristine Ban Tao beach, overlooking the lagoon is Cassia Phuket. This 4-star resort is beautiful and vibrant, perfect for families and couples alike. The rooms (pictured below) are spacious, with full kitchen facilities and a cool loft space — a great hangout for teenagers or older kids. They have a games area downstairs, with pool, foosball, a reading area and arcade games. The pool is large and winds through the gardens. There's a complimentary boat service that shuttles guests between the hotel and the sea, it runs every 15 minutes and is just a short five-minute ride to the private beach.
Everything you could possibly need is provided here, with restaurants, bars and a convenience store opposite.
Two-bed loft apartment: AED 1,575*
---
Angsana Laguna
Set centrally between the two largest lagoons is the Angsana Laguna, an impressive resort with so much to offer from watersports to beachside massages. Angsana has two styles of accommodation, the large authentic Thai-style villas, set over three floors, with spacious patios, with stunning views overlooking the water. Then there are the beachfront apartments, super modern, tastefully decorated and spacious. These apartments are perfect for those looking for something truly impressive that, at the same time, has every home comfort. The kitchen is sophisticated and fully equipped, the utility room and laundry facilities, however, the utmost luxury is the large swimming pool which is on the balcony.
Angsana has a variety of top-class restaurants, the casual but equally flavourful Baan Talay, on the beachfront and Bodego & Grill is a mix of barbecue grills, seafood and Italian, there is something for everyone.
Two-bed pool suite with lagoon views: AED 2,595*
angsana.com/thailand/laguna-phuket/accommodation
---
Banyan Tree Phuket
There is just one word for this resort: spectacular! Banyan Tree feels like another world as it stretches alongside the saltwater lagoon, with picturesque scenery set amongst lush, tropical greenery. Each guest is given a bicycle to get around the resort, from your private villa to the restaurants, beach or pool. The villas themselves are contemporary with traditional Thai decor, beautiful large rooms, indoor and outdoor showers, a private pool and garden. Staying here, you will realise why Thailand is known to be the ultimate, relaxation destination.
For golfing enthusiasts, the Banyan Tree has its own 18-hole golf course, Laguna Golf Phuket and if golf isn't your thing, you can enjoy stand-up paddle boarding, a gym, spa and lazy river.
Foodies should not miss the exclusive private dining experience, the chef will come to your villa, lay the table, prepare, cook and serve a huge variety of Thai salads, grilled meats and seafood, finishing off with a tempting dessert. Absolutely exceptional.
Signature two-bed pool villa: AED 3,528*
banyantree.com/thailand/phuket/accommodation/villas
Must-do activities
Island trip — Book a half-day or full-day excursion, with hotel transfers to the south of Phuket. Sit back and unwind while sailing over to one of the islands — such as Ko Lon,  Ko Bon, Ko Kaeo Yai, Ko Kaeo Noi and Ko He -— where you can enjoy watersports like kayaking, paddle boarding, parasailing and snorkelling. Later, you can relax while watching the sunset with panoramic views and enjoy an evening meal on board. 
Blue Tree Phuket — Just a nine-minute drive from Laguna is Blue Tree, a fun-filled entertainment park with shops and restaurants. A resort-style water park, with artificial beaches, cliff jumps, zip wires, slides, obstacle course and skate park. There is also a 'Kids Planet' zone, where the younger ones can interact and make new friends and allow mum and dad a bit of peace and quiet.
Bangla Road — Located in Patong, famous for its bars and nightlife entertainment. Patong is a 30-minute drive from The Laguna or 45 minutes from Phuket International Airport.
Street food — Found on every corner and even along the beaches are vendors selling freshly made pancakes, satay and sweetcorn, they are cheap, clean and extremely tasty!
You may also like: 
Feel the Power at Powerscourt in Ireland
The Middle East's 18 favourite holes
The Middle East's best par 3s
Top 10 Golf Courses in the Middle East: The Class of 2020