Jan Kruger/Getty Images
Kelbrick in action during the third round of the Senior Open at Royal Lytham & St. Annes on July 27, 2019.
By Kent Gray
Even for professionals, qualifying for your first major championship is a genuine dream come true. For Dubai-based amateur Steven Kelbrick, teeing it up in last week's Senior Open produced an even sweeter sense of satisfaction.
The 52-year-old Trump International Golf Club, Dubai member is still buzzing after sensationally making the cut at Royal Lytham & St Annes where the seemingly ageless Bernhard Langer won for a record fourth time.
Kelbrick dug deep after a weather-interrupted opening 76 that spilt over into  Friday to reach the weekend on the number with a superb second round 69, one under on the famed Lancashire links. Scores of 78-74 over a wet weekend eventually saw him finished T-76 of the 79 players to make the cut.
It was the performance of a lifetime for Kelbrick but not simply because it was his senior major debut. More importantly for the two-time Emirates Golf Federation champion, he ticked off a bucket-list dream of playing in the same event as his hero Tom Watson – and just in time too, it seems.
"I'm so happy to have played in same tourney, especially as he announced his retirement from British links golf on the Saturday night," Kelbrick told Golf Digest Middle East. "All I ever wanted was to peg it up in any tournament that my hero was playing in. I've managed that."
RELATED: Tom Watson's farewell to major-championship golf comes, fittingly, in a place that helped define his career
Indeed. He also has photographic evidence of one of two brief meetings with U.S. legend who won five Open Championship titles among his eight major title wins and finished T-64 in his Senior Open swansong on +9, just eight shots clear of his greatest Dubai admirer.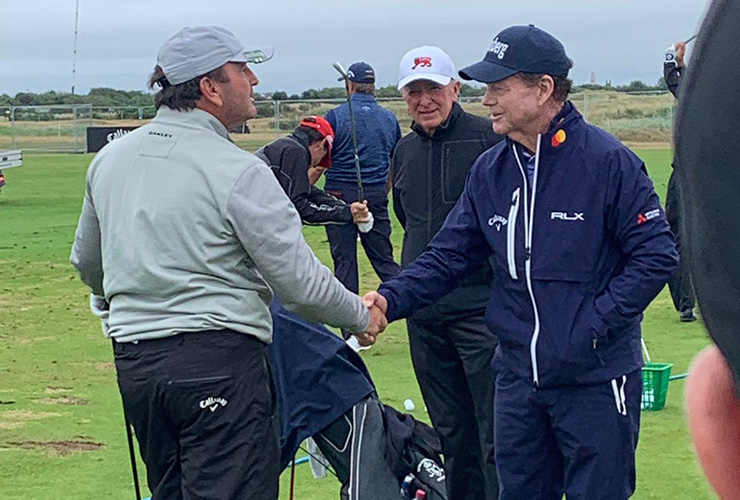 Kelbrick, not one prone to hyperbole, kept Golf Digest Middle East abreast of his week via message updates and was most animated when relaying details of his dream meetings with Watson, a three-time Senior Open champion.
"Meet TSW [Thomas Sturges Watson]. So Cool," Kelbrick said ahead of the opening round. "He told me to go out and play hard, so I will."
There was another encounter on the range before the rain-delayed final round. "Today he stopped by the range to tell me to play well. Meeting Mr Watson was so inspirational."
Kelbrick needed the high powered pep talks as Royal Lytham & St Annes, playing just shy of 700 yards in the wild weather, was "brutal".
The Englishman picks up the story of his week, which started when he advanced via final qualifying with a two-over 74 at Hillside Golf Club in Southport.
"The aim was to play in the same tourney as Mr. Watson once in my life.  The quali was the most nervous as there was an expectation and it was very windy.  Once Monday at 1850 came and I knew that I was in, I was ecstatic," Kelbrick said
"Tuesday registration and seeing the stands and getting the players badge brought it all home.  Practicing alongside my old friend Peter Mitchell was great [to settle some of the nerves]."
Kelbrick settled on just seven holes in Wednesday practice as he'd played seven days straight by that stage.
"Thursday was building up to [his tee time at} 2.57pm but  two rain delays meant 1800 tee off and unsettling.  Closed in dark at 2135 with three holes to play. We restarted Friday at 7.10am for the three holes and I finished in an ambulance for 76. Before I knew it it was 10.13am and we were back on the on 1st tee again shooting 69 and digging deep.
"Saturday didn't feel a swing at all and alongside poor conditions played badly but again dug deep to break 80. On Sunday I arrived at course 6.30am and weather again meant we teed off 10th at 3.30pm.  It was difficult to manage [the delay] but happy to grind in poor weather."
So after achieving a lifetime dream, what's next?
"To have made the cut gives me the confidence to go ahead and perhaps try for the U.S. Senior Open."
With Watson's 'play hard' advice stored in his memory bank forever, you wouldn't bet against Kelbrick achieving that dream either.