David Cannon/Getty Images
Just a matter of time: Josh Hill, seen here in action at the 2020 OMEGA Dubai Desert Classic, is edging ever closer to a major UK amateur title.
By Kent Gray
They say you learn more from failure than success in golf but that was lukewarm comfort at best for Josh Hill as fell agonisingly short of glory on the Old Course.
The 17-year-old Trump Dubai member missed out on a playoff for the prestigious St Andrews Links Trophy title on Sunday by a solitary stroke. Englishman Jack Cope eventually claimed the crown with a -8, 280 aggregate after edging countryman Robin Williams and Scot George Burns in sudden-death.
Hill was one of six players to finish in a share of fourth place on 281. The MENA Tour winner had started the final 36-holes at the Home of Golf just a stroke back but made hard work for himself with a two-over-par 74 in the third round. He fought back gamely with a closing 69 but will now have to wait until the 126th Amateur Championship, starting at Nairn Golf Club on June 14, for his next chance to avenge the disappointment.
Writing on social media, Hill's father relayed his son's bittersweet feelings after a week that will at least see Hill Jnr's World Amateur Golf Ranking improve from 313th place.
"He fell one short and is feeling happy but so annoyed as he feels "I left so many shots out there"," Hill wrote on Instagram.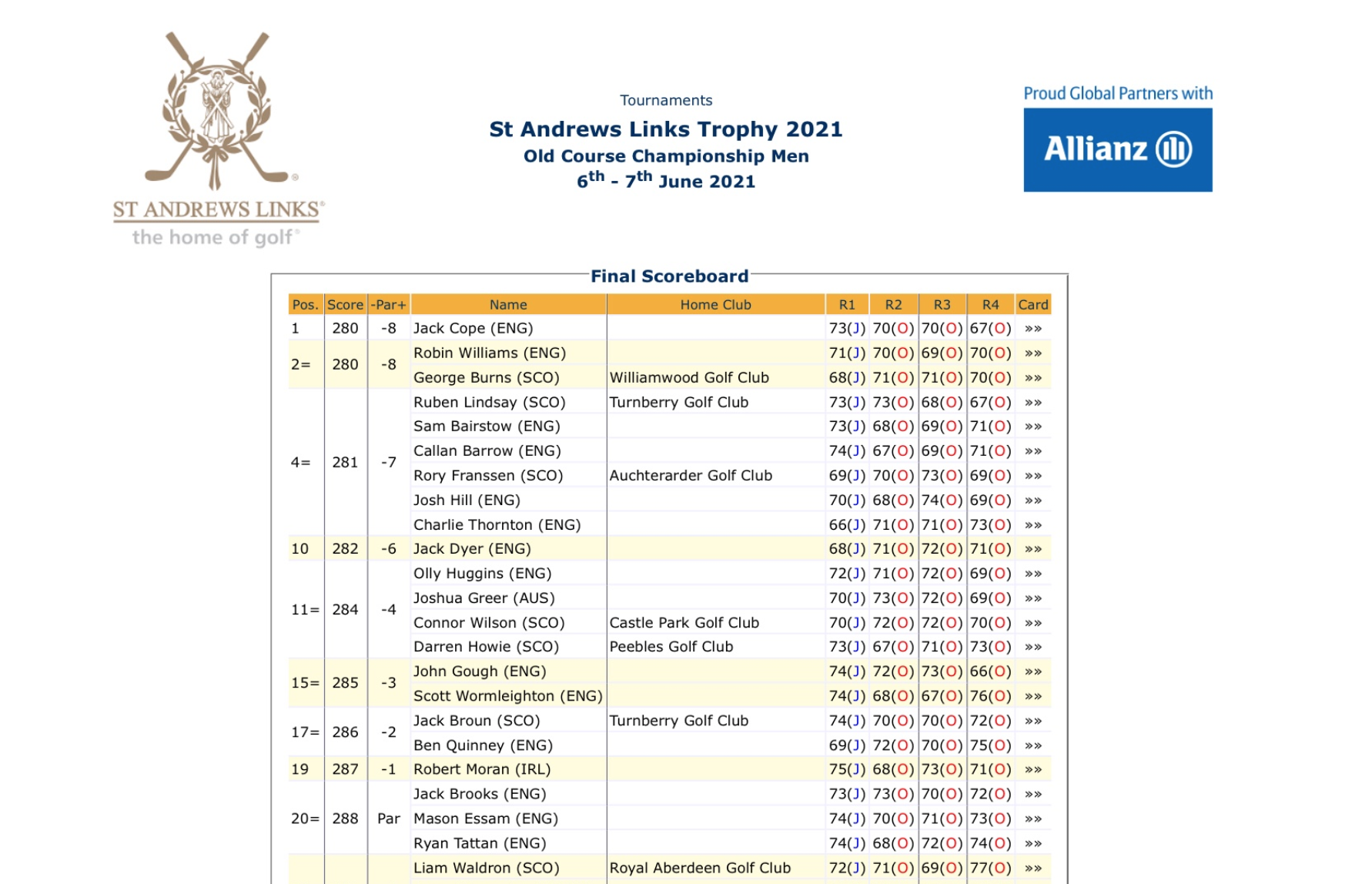 "It's all lessons and when he is so used to leaving shots out there in the UAE and 95% of the time winning, you don't learn the tough lessons. He has the opportunity to learn the tough lesson now.
"Anyway, I am super proud as he had a bit of a mare in the morning falling to 4 off the lead but still had it in him to come back and challenge for the title! Also mighty impressed that he is doing it caddieless! Super proud to be part of this journey!"
View this post on Instagram
Cope, the reigning English Amateur Champion, started the final day five shots behind overnight leader Charlie Thornton but scored home with rounds of 70-67.
He eventually prevailed at the fourth extra hole after Cope and Williams both birdied the 1st to eliminate the Scotsman Burns. Cope and Williams then halved both the 18th and 1st before Cope won with a birdie, impressively driving the green on the most famous closing hole in golf for the second time in overtime.
Jack Cope is the 2021 St Andrews Links Trophy Champion!
After a marathon 4 hole play off he birdied the 18th twice after driving the green both times.
Full highlights will be on our YouTube channel this week
Congratulations Jack! #LinksTrophy pic.twitter.com/Flk0bPKfnV

— St Andrews Links (@TheHomeofGolf) June 6, 2021
"I was committed to every shot I hit out there over those four holes. I probably played the best I played all week tee to green. I guess that was a nice time to really peak," Cope said.
"I love the home of golf. I particularly like the Old Course, mainly because I normally score alright round there which helps. Just walking over that bridge, taking photos, thinking about all the players who have won here and played here. This is very special to me."