By Kent Gray
"Beware the sick/injured golfer" is one of the game's oldest adages, the maxim apparently flowing from the pen of prolific English-born American poet Edgar Guest in 1923. Guest's theory had it that the sick golfer, suddenly focused on what truly matters, is the hardest to beat. A year ago, Joe Heraty put his own emotional spin on that truism when he captured the Sahara Kuwait Championship just a week after his father had been diagnosed with a brain tumor.
Heraty Jnr opened the event with a then MENA Tour record equalling 62 and closed it with the circuit's then lowest final round score of 65 to offer his ill idol the ultimate pick me up.
"It was a tough week, but everybody was pretty supportive which kind of calmed me down. I wanted to win it for him and that gave me extra strength, making the win very, very special," said 26-year-old Englishman.
Fast-forward 12 months and Heraty is back at the scene of his maiden and thus far sole MENA Tour win for the penultimate event of the development Pro-Am season. Thankfully the Heraty men are in a better space too.
"My dad is doing well now and it feels great to come back to the venue of my first win on the tour."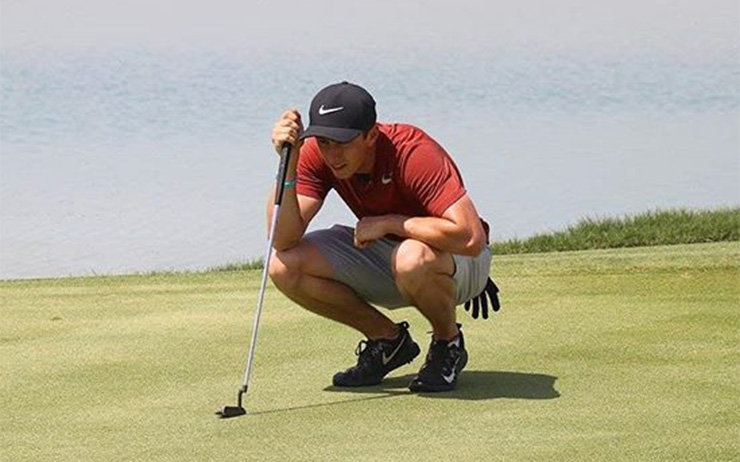 After a injury-disrupted season, Heraty needs to play the Sahara Kuwait Championship to qualify for next week's Tour Championship in Ajman – the top 50 pros and top 10 amateurs make the cut for Al Zorah proving they've played a minimum of seven events.
Related: Elson ends 14-year wait for second tour victory, on cusp of winning multiple European and PGA Tour starts
This will be Heraty's seventh start (likewise for Welshman Toby Hunt) and he's trending nicely having finished 11th and 3rd in his last two starts, the Golf Citizen Abu Dhabi Open and Jordan's AYLA Championship. The season-best in Jordan could have been better to but for an opening 75 but he's comfortably inside the top 50 at 33rd and will be looking to climb higher.
"Hopefully, I will be able to pick up where I left off last year, but I don't want to get ahead of myself," Heraty said." I'm just hoping to play well again and see where that leaves me."
After his victory in Jordan, Jamie Elson tops the order-of-merit race on 32,453 points and has destiny in his own hands with a 10,033 buffer to second placed Luke Joy and just the two events remaining. Conversely, fellow Englishman Joy (22, 420) and Swede Fredrik From (20, 311) know exactly what they need to do to drag themselves back into the OOM title race which promises the winner starts in the European Tour's Omega Dubai Desert Classic, the Maybank Championship in Malaysia, Morocco's Hassan II Trophee and the PGA Tour's DEAN & DELUCA Invitational at Colonial CC. A full Sunshine Tour card for 2018 and exemption to the final stage of qualifying for the Asian Tour also await the MENA Tour champion which would give Elson options and he is also through to the second stage of European Tour Q-School.