By Kent Gray
Pioneering Saudi professional Othman Almulla appropriately had the honour as Golf Saudi launched a nationwide tour of schools to raise awareness of the Saudi International.
The 35-year-old MENA Tour regular visited Riyadh's Tarbiyah Namouthajiyah School in December with the Saudi International trophy and turned teacher as part of Golf Saudi's push to introduce children to the game. Other star players will tag in at other schools in the countdown to the Asian Tour's new $5 million flagship event from Feb. 3-6.
"I hope to see a new generation of both male and female golfers representing the Kingdom of Saudi Arabia across the globe," said Almulla who led SNAG ('Starting New At Golf') lessons.
"We had a great opportunity today to share insights about golf, and particularly the important role that the Saudi International plays in promoting the sport in the Kingdom of Saudi Arabia. This is just the first step in many big steps coming to tell the community about the sport that I love.
"I think the sport of golf is unique because it gives you an experience to test yourself every day. It teaches you patience, perseverance in tough conditions and resilience. While most sports do that as well, the tests that you see on the course are very similar to the ones these students have to get past in life."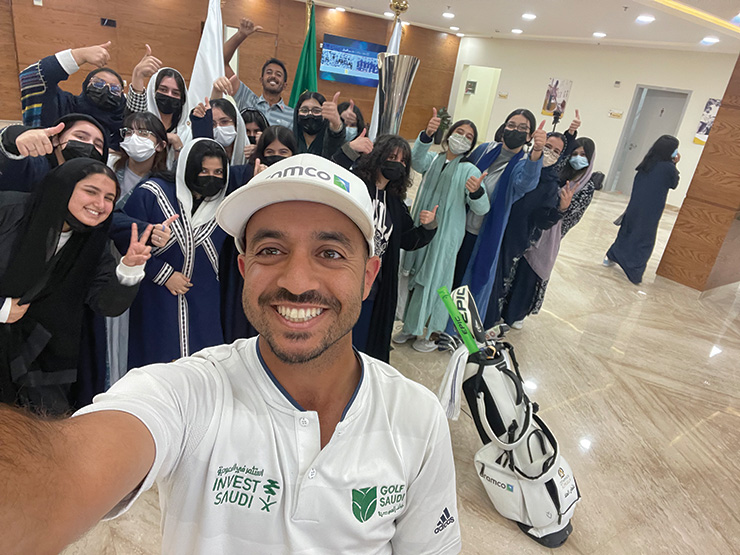 The innovative and globally accepted SNAG certification programme includes all the basics of golf, helping beginners build skills. It can be played both indoors and outdoors, ensuring anyone can learn, play, and teach golf – alongside the sport's core values.  
Golf Saudi is spearheading one of the world's most progressive golf development strategies, with its Mass Participation programme forming the cornerstone of this strategy. The programme remains a top priority for the organisation as it seeks to attract and inspire the next generation of Saudis to take up the game and develop future homegrown champions. Ahead of 2025, Golf Saudi has targeted the creation of 2,200 jobs and developing approximately 29,000 new golfers.
"Our goal is always to bring golf to as many Saudis as possible," said Golf Saudi CEO Majed Al Sorour.
"We want to give young people an opportunity to develop skills and highlight golf's unique values that can aid their development – both in future careers and their everyday lives. Excitement is building towards our biggest ever Saudi International that will continue to impact the golfing landscape here and inspire more nationals than ever to engage in this amazing sport."