SPONSORED CONTENT – Two years after ground was first broken on the old Faldo driving range at Emirates Golf Club, a ground-breaking moment for golf in the Middle East is finally in play.
To the accompaniment of mood (and hopefully swing rhythm) enhancing tunes and a smorgasbord of tempting food and beverage options, Topgolf Dubai officially opened its doors to the public at 3pm on Sunday, January 3.
The 60,000 square foot facility, complete with 96 climate-controlled hitting bays offering spectacular views out over the circular LED-targets and the Dubai Marina skyline beyond, is arguably the most significant development for the game since golf first meet grass in the region at the iconic Emirates Hills club more than 30 years ago.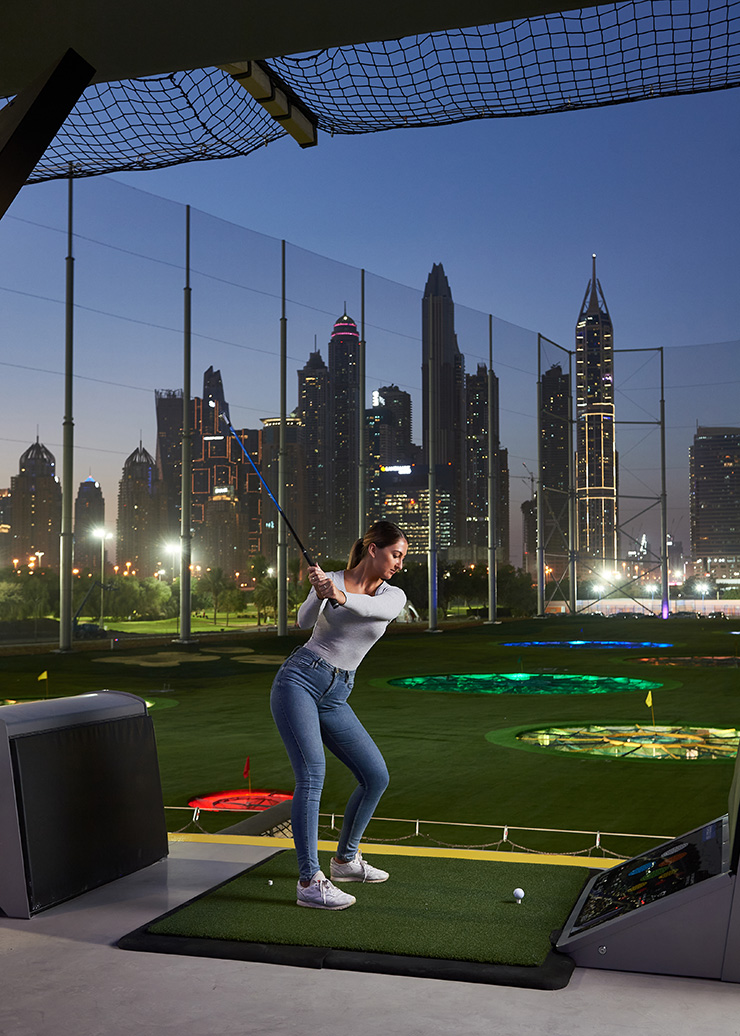 Topgolf brings technology – and a party atmosphere – to the royal and ancient game.
For avid golfers, welcome to a souped-up driving range experience where you can measure your performance and take on you mates in a series of distance and accuracy challenges. For beginners, welcome to the joys of a game where the only thing out of bounds is a bad time. All the traditional barriers to golf, perceived and real, are left at the door. There's no stuffy dress code, no antiquated rules or mysterious etiquette, just good old-fashioned fun. And, if you are lucky, that magical moment you flush a shot for the first time. Indeed, Topgolf should come with a warning to newbies: golf is thoroughly addictive.
"Since its inception, Topgolf's foundation has been built on innovation, fun and inclusivity," said Topgolf International Vice President, Steve Lane.
"We are very excited to be able to introduce the Topgolf experience to the people of Dubai and international visitors from all over the world at our new location at Emirates Golf Club."
Played to the backdrop of music in a three-tier, floodlit driving range, players hit microchipped balls to targets where accuracy and distance are rewarded in a series of different points scoring games. Results are instantly flashed up on big-screen TVs (300 of them no less!) in bays which seat up to six friends/family who can enjoy food and beverage between shots.
"We look forward to inspiring people of all ages and skill levels to come together and create lasting memories at Topgolf Dubai," said Dubai Golf CEO Chris May.
"The venue will offer dynamic digital experiences and exceptional dining and entertainment to visitors. With our iconic views of the Dubai Marina skyline, Topgolf Dubai is a one-of-a-kind experience and will be a must-do Dubai destination."
Golf, music and F&B. Sign us up.
Tempting
Tapping into the region's top culinary talent, Topgolf Dubai offers a menu of American-inspired dishes and Arabic highlights. Think signature burgers to flatbreads with delicious sides and thirst-quenching beverages, all made with fresh, high-quality ingredients.
The venue also features multiple dynamic social event spaces, ideal for year-round celebrations for the whole family, corporate groups and friends.
The Bunker Minigolf and Café is an immersive minigolf experience that pays homage to sport, including race car driving, cricket, falconry, tennis, horse racing, cycling, rugby, football and golf.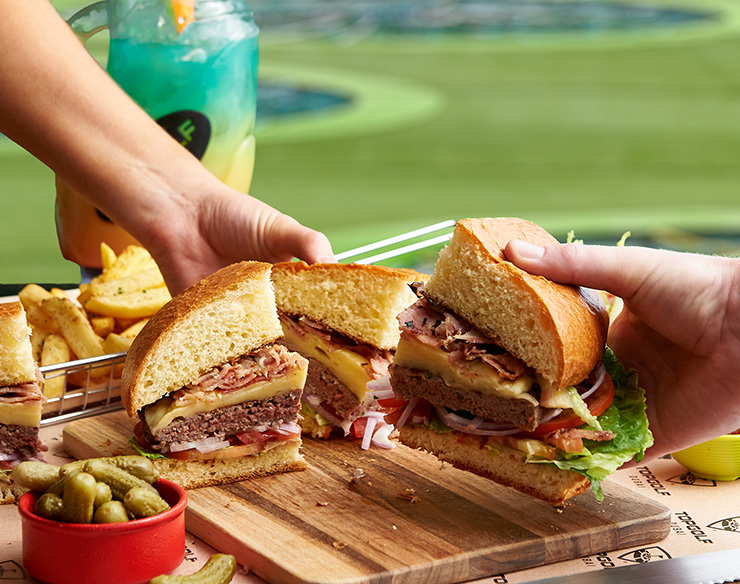 The "beating heart of the city's newest nightlife hangout" is The Yard, a vibrant sports bar featuring live music, sports, daily happy hours and an outdoor terrace; the perfect spot for a beverage after work or to let loose at the weekend.
Visitors can unwind on the top floor in style at The Loft and drink in those stunning Dubai Marina skyline vistas. With a fully serviced bar and private mezzanine overlooking The Yard, The Loft is ideal for entertaining guests with front-row seats to "one of the most iconic vistas in the world".
How does it work?
Buy a Dhs20 membership in the venue to play. You'll use this membership every time you play Topgolf as it is linked the scoring system. Plus, it gives you access to exclusive offers throughout the year.
Head to your bay and swipe each player's membership card or enter your phone number on screen if associated to your membership.
Select the amount of time you/your group want to rent the bay (one-hour minimum) and get ready to play. You can always add more time at your bay. Oh, and eat, drink, laugh and have a ball.
Become a Topgolf Dubai VIP
Those looking for a more private and exclusive experience can also opt for Topgolf's three luxury VIP suites: the Lux Suite, Executive Suite and the Chairman's Suite, each with their own secluded bays equipped with HDTVs and a private bar with premium service.
Topgolf Dubai, Emirates Golf Club, opens January 3 from 4pm, normal times to resume from Monday onwards: Sun to Wed 11am to midnight, Thurs 11am to 2am, Fri 9am to 2am, Sat 9am to midnight. Dhs130 to Dhs180 per hour from Sun to Wed, Dhs180 to Dhs220 per hour from Thur to Sat.
topgolfdubai.ae