He made his name on the European Tour and altered his game in Dubai under the tutelage of Justin Parsons. Now Audemars Piguet ambassador Peter Uihlein talks to Kent Gray about his step up to the PGA Tour.
Peter Uihlein has Boston in his blood. A Red Sox baseball fan first and foremost, he loves his New England Patriots as well and doesn't mind admitting to a wee man crush on superstar quarterback Tom Brady. The Boston Celtics' current run to the NBA playoffs is exciting too.
It makes the sports-mad 28-year-old, well, an All-American kind of guy, matching the status of his collegiate career at Oklahoma State University. Yet Uihlein isn't your typical American, at least not your normal U.S. touring professional that is.
He may hail from New Bedford, Massachusetts, and now reside in Jupiter, Florida, but Uihlein is acutely aware of where he's come from and it's not just the privileged upbringing afforded the son of recently retired Acushnet (Titleist/Footjoy) CEO Wally Uihlein.
Uihlein has seemed destined for the PGA Tour since his Oklahoma State University days where he won the Ben Hogan award as the country's best player in his junior year and spent 52 weeks as the world's top ranked amateur after winning the U.S. Amateur on his 21st birthday.
Related: Five minutes with PGA Tour rookie Peter Uihlein
He's there now, of course, plying his trade on the world's richest circuit courtesy of winning the first of last season's finals events on the secondary Web.com Tour. He doing okay too, 56th in the FedEx Cup standings as we went to press with a T-10 at the CIMB Classic in Malaysia and breakout T-5 at the WGC-HSBC Championship in Shanghai before Christmas contributing chiefly to the $615,000 he'd banked in eight starts, even with three missed cuts.
But he's competed primarily on the Europe Tour since turning professional in 2012 and will never forget or forego his status.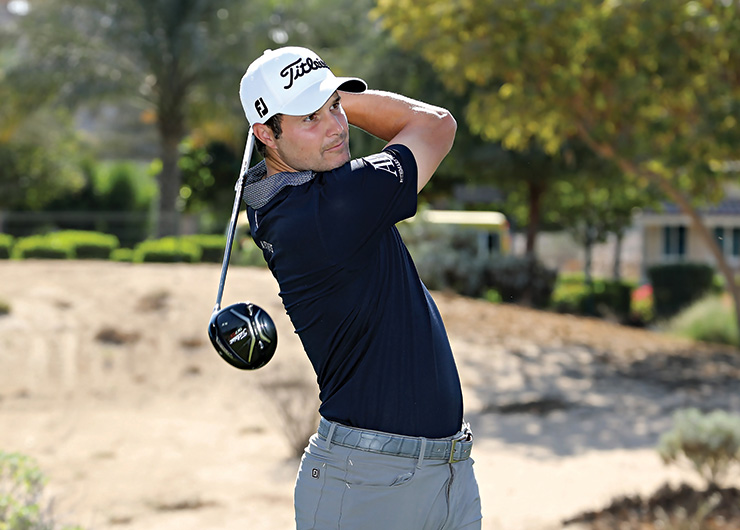 "I don't like when people say is the European Tour a stepping stone for the PGA Tour because it's not," said Uihlein on the sidelines of the Audemars Piguet Invitational at The Els Club, Dubai the day after he'd earned a share of 10th place at the DP World Tour Championship to finish 17th in season-long the Race to Dubai standings.
"It's a great tour, you play great courses, you play great events. In my mind it's not a stepping stone, it's a great place to come out, hone your craft and be ready when you go to the PGA Tour and be ready to go out and compete and win.
"I don't think I'd have been able to do that just staying in America and just turning pro. I mean I was so immature, I was in a bubble, I had no idea what I was doing and to be able to come over to Europe, play on the Challenge Tour and then play a few years on the European Tour and get my feet wet, just grow as a person, and as a player, was something I don't know if I could have been able to do on the PGA Tour.
"There's no way I could have been able just to keep my card, let alone contend, I wouldn't have been anywhere ready enough. I still want to continue to support the tour because they've been great to me throughout the years. It's been fantastic."
Indeed. Uihlein finished 13th in the 2013 Race to Dubai standings after capturing the Madeira Islands Open, an event co-sanctioned by the Challenge and European Tours. The win earned Uihlein full status on the main tour and he cashed in by clinching Rookie-of-the-Year honours that year.
Last season wasn't bad either, especially considering the circumstances. There were six top-10s including a runner-up finish (by a shot) to eventual Race to Dubai champion Tommy Fleetwood at the HNA Open de France which netted his largest European Tour payday of €693,879 en-route to a season haul of €1.63 million.
Uihlein was playing on a medical exemption after a wrist injury curtailed his 2016 campaign to just 14 events in Europe. It necessitated a swing revamp which the 1.85m-tall American entrusted to Justin Parsons. Uihlein has known the Dubai-based Northern Irishman since he turned professional after a recommendation from the famed Harmon family with whom he'd worked as an amateur.
"The thing that I like about JP is he strikes me as a guy who is always learning, he's always trying to get better himself from a teaching standpoint…he doesn't teach a method," Uihlein said. "So for me when I was coming back from the wrist surgery and I had an idea in my mind of what I wanted to do, I felt like he was going to be the best possibility for me because he would help grow with me as well as give me a different perspective of things I was doing prior. He's been great, it's been a very good relationship."
Parsons worked on turning Uihlein's natural draw into a power fade, which has taken some time to get used to.
"It was more just visually; I guess from a comfort point of view. You stand on a tee and you're just used to hitting a draw and then you stand up and you hit a fade, it just changes sight lines. Getting over that, playing your home courses and playing with your buddies gave me confidence to go into a tournament and feel good about were my game was at and where it could go."
Uihlein hopes it leads to a major and maybe even a Ryder Cup appearance. So what will it take to achieve those career dreams?
"For me personally, I think it's more like a technical thing where I've just got to get a little more consistent with my technique and the way my body structure moves and things like that. That's just all part of the process of where we want to get to and I know I keep saying it, [2017] was obviously a very good year, but it was just a step in the right direction of where I want to get too. It was the first time I felt like I haven't taken two steps back to get to one step forward if that makes sense.
"I'm a perfectionist so I get kind of uptight a little bit, a little too high strung and that kind of beats me up a little more than it should. So just learning 'water off a ducks back'. DJ's a great example, he never seems flustered even if he's going the wrong way. So just keep trying to build on things like that is probably where I need to improve the most."
I'm a perfectionist and that kind of beats me up more than it should.
Talking of Dustin Johnson and pals like Brooks Koepka, the Ryder Cup is obviously a lure but all part of that one-step-at-a-time process.
"The U.S. team is very deep, there's a lot of really, really, really good American players right now so if you make that team it's very impressive. So yeah, I'd love to make it obviously and it's definitely a goal but I got to kind of get my feet wet, get my feet through the door on the PGA Tour first and then worry about that kind of thing."
The journey, originating from Boston and continually detouring via Europe, continues.