Peter Uihlein made his name on the European Tour and continues to hone it in Dubai under the watchful eye of Butch Harmon School of Golf Dubai Director of Instruction, Justin Parsons, even though he's now focused on the PGA Tour. The Audemars Piguet ambassador talks to Kent Gray about his relationship with the Northern Irishman, his life changing Web.com Tour victory last October, how his beloved Siberian Huskies got him through a wrist injury , why he can't be told where to play, all things Boston and the superpower he'd love to possess.
"Yeah that was a big week [placing fifth at the WGC-HSBC Championships in Shanghai last October] and CIMB as well was a nice top 10, so those two weeks were big for me in terms of the FedEx Cup standpoint and pushing onto to start of next season and PGA Tour. It was nice to get up there with Brooks and DJ and Stenson and those boys, Rose I think was up there. So it was nice to get your name on the board and hang with those guys.
I first met JP [Justin Parsons] when I first turned pro and came out here. It was right before I went off to India to play my first event I came out to practice here because at the time I was working with Butchy and he said, like, you know, they have a great set-up at the Els Club Dubai, Justin Parsons is out there and he'll look after you. So we came out, meet JP, we chatted a little bit and when I would kind of have a week off or I was playing somewhere like South Africa and had a week off and came to Dubai instead of going home, spent a week out here, JP helped me out a little bit with my swing.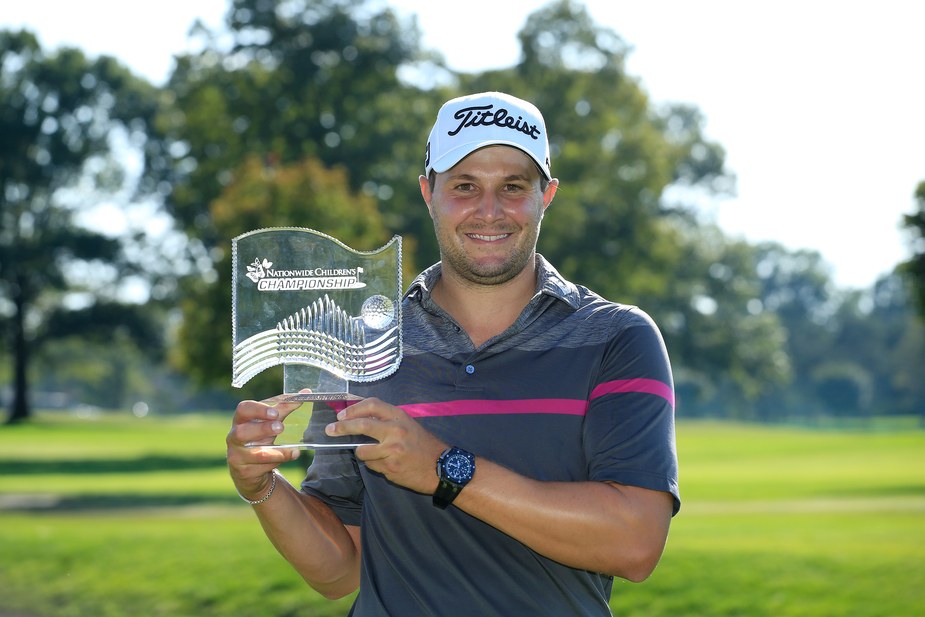 We're on the same page the majority of the time. We may just kind of dance around different things but eventually we get to where we want to get too. It's not much time really. I'll send him a swing and he'll give me a three minute video breaking it down and that's all I need. I don't need somebody who is going to be over my shoulder at all times.
The thing that I liked about JP is he strikes me as a guy who is always learning, he's always trying to get better himself from a teaching standpoint so he's not …he doesn't teach a method. So for me when I was coming back from the wrist surgery and I kind of had an idea in my mind of what I wanted to do, I felt like he was going to be the best possibility for me because he would help grow with me as well as teach me things and kind of give me a different perspective of things I was doing prior. He's been great, it's been a very good relationship.
It's going to be tough to balance both tours, it'll be tricky because unless you get into the top 50, it's tough. I'm going to play…Wentworth, French, Irish, Scottish and then if everything kind of goes where I want it to I'll still have the [WGC] Matchplay, I'm in Mexico, I'll have all the majors, so I'll still have all my events to keep my European Tour ranking ….you know the FedEx Cup ends very early, that ends and I think there's still three of four more events in Europe so I could still play the back end of those and make a push for Race to Dubai …you can finish off the season playing these last three or four events…it's a great schedule.
You want one word? Okay. Augusta? Pristine. Shinnecock? It's a beast. Carnoustie? Nasty! Bellrieve? Is that where [this year's PGA Championship] its at? I don't know anything about it so I got nothing. Le Golf National?  like Paris, I like that golf course, that's a test, a proper golf course.
Yeah, I've been with Audemars Piguet since 2014. They've been great. I've had a couple of rough years with a few injuries and they've stuck by me and been a great relationship and I think something I've always loved. I mean the first watch I've ever owned is when I signed a deal with them so that was pretty cool. All the guys there [at AP], they're phenomenal so yeah it's the best deal going for sure.
GDME: I hope with that Audemars Piguet timepiece you've never missed a tee time? No never, surprisingly. No, I'm one of those guys too, when I'm home, I always know if my buddies want to go to dinner by seven, we're always there early, we're there 6.50, but they don't show up till 7.30 so it's annoying as can be. But no, I've never missed a tee time and I don't like to be …our college coach engrained that in us early so I'm pretty good at that.
It wasn't so bad [the spell on the side lines following a wrist injury]. I spent more time with Chels [Chelsea Gates] my girlfriend and we got a second dog so we had two dogs at home so that kind of eased the process a little bit. I was more on dog duty, wake up in the middle of the night and take them out for walks and things like that so ….Bagger [As in the golf movie The Legend of Bagger Vance], just over three, and Breyer, just over two, no relation, we just got lucky, they hit it off straight away, so I was in dog duty a couple of months but it was great I loved it, it gave me a nice escape, kept my mind off it…instead of being frustrated that you couldn't do anything, at least it gave me some piece of mind."
I like my sports teams, I like my [the NFL's New England] Patriots, Tom Brady, I like my [baseball's] Red Sox, [the NBA's] Celtics now. We also like talking about our dogs, we love, Chels and I, we love animals, we love dogs, she loves cats, we just like all kinds of animals I guess so we're big animal activists.
I'm happy for him [Uihlein's father Wally who retired as CEO of Acushnet (Titleist/Footjoy) on Jan.1]. I'm just curious to see what he's going to do, I mean he's always working so…
If he's going to retire, I mean, I feel sorry for my mom because he's gong to be in her hair all the time. Nah, I mean he's had an unbelievable run, an unbelievable career he's had, he's changed the game really, what Titleist has done from a technological standpoint from golf ball to equipment, to being able to be the No.1 ball forever, you just can't really see it changing as well, so yeah, the run he's had has been incredible so I'm happy for him and he's earned…I mean if anybody's earned a retirement he has.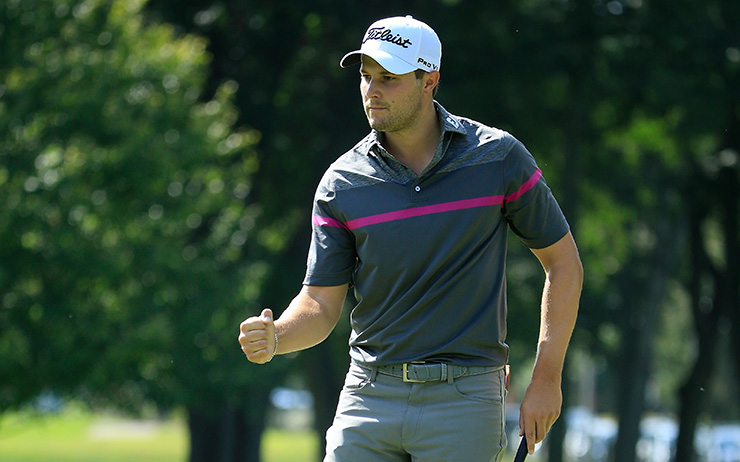 One of the things I did really well this year is I played when I wanted too and where I wanted too. It might not have been logistically the right thing, for example, I played the SA Open and Abu Dhabi [last year] and skipped Qatar. So I went home after Abu Dhabi and then went back out for Dubai whereas people ask why didn't you just play Abu Dhabi, Qatar, Dubai and I was like, I don't want to, I wanted to play SA Open because it's a great golf course and I played well there [Uihlein finished T-7].
I've kind of learned and [his manager's] learned as well, they can't really tell me where to play, because if they tell me where to play, I won't play well, I just wont like it. One of the things I've done this year is I've played where I wanted to play, when I wanted to play and I felt like it helped me be a lot more prepared and a lot more ready. After I won [the Web.com Tour's first playoff event in Ohio last season to gain his PGA Tour card], I really wanted to go back to Europe and play the British Masters and play Switzerland, but I had to play those [three other playoff] events and I didn't play well consequently. So I don't want to blame it on that but it was the only time this year I felt like I was in a position where I played where I might not have wanted too. My mind was set on it. Looking back on it, if I knew Chesson [eventual Web.com Tour No.1 Chesson Hadley] was going to have the run like he was going to have, I wouldn't have had any issues packing up and going to Europe and played a few. But at the time I couldn't do that and I had to play them…but hindsight's 20-20 isn't it? I think that would be a great superpower, hindsight."