Victoria Tip-Aucha insists she's not out to "prove anything" when she tees it up in the MENA Tour's MahaSamutr Masters in Thailand on Tuesday.
The 15-year-old American-Thai will become the first female to play a MENA Tour event after accepting a sponsors invite from MahaSamutr Country Club for the 54-hole event at Banyan Golf Club in Hua Hin.
"I'm not playing to prove anything, but just loved the idea of playing in a men's event. Simple as that," Tip-Aucha said of her historic appearance which is sure to hog headlines as the tour begins its three-tournament Thailand swing.
"This is a new challenge for me and I love challenges because they offer me an opportunity to grow in some way and stretch my creative muscles. I'm really looking forward to it."
Annika Sorenstam, Michelle Wie and Lexi Thompson have all played in men's events in recent years following Babe Didrikson Zaharaias' pioneering feat when she teed it up in a PGA Tour event in 1938.
The developmental Pro-Am MENA Tour isn't at the same level but will still undoubtedly test the slightly built Tip-Aucha.
Born and raised in the US, the teen does bring top form to Banyan GC. She has already won five times on the Thailand girls golf circuit this year including victory at the International School Junior Golf Tournament and ASB Eagle Cup. In the U.S. she won the 47th Virginia State Golf Association Championship and the Junior All-Star at Chantilly National last year.
"Obviously, my immediate goal is to post a strong finish, but I can't really control all of it. What I can control is how hard I try and what I can do. What I can do is to have fun out there and just play the best I can," Tip-Aucha said.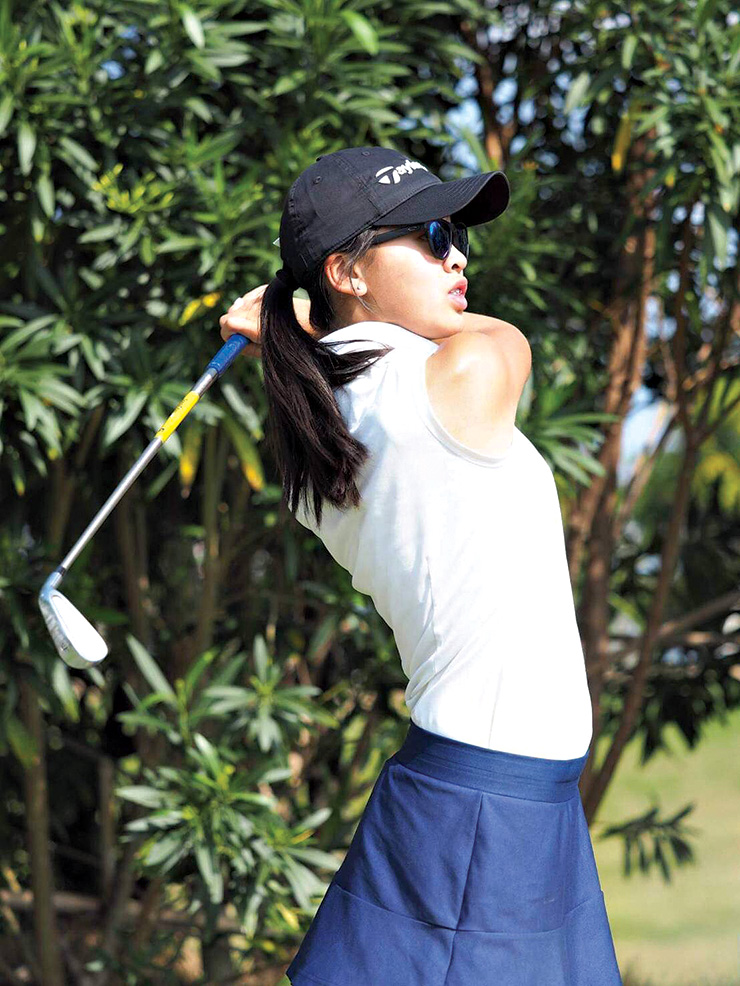 "I hope the experience of playing alongside MENA Tour players will stand me good stead and that will be the biggest takeaway from the tournament."
Tip-Aucha said she was grateful for the invite and "I truly value their [MahaSamutr Country Club] gesture." Veeranat Limprasutr, Head of Business Development and Director of Operations at MahaSamutr Country Club, was playing the mutual appreciation game on the eve of the event.
"We are really delighted to have Victoria join our tournament. She is charismatic, she is skillful and her presence will keep the atmosphere buzzing," said Limprasutr.
"Golf is a game you play against yourself, so it's going to be a Victoria vs Victoria show in her quest to improve and test her abilities. If you look at her achievements, it's so impressive. Our invitation is a step in the process of making her a better player."
Mohamed Juma Buamaim, chairman of the MENA Tour added: "It's indeed ground-breaking for the Tour as Victoria is making her first foray into a men's event. She is a special talent, one who combines feminine grace with power and technique, making her a suitable candidate for a strong ambassador for the future of women's golf."
The MahaSamutr Masters will also see Dubai-based Indian amateur Rayhan Thomas make his first MENA Tour appearance of the season following an impressive T13 finish at the Junior Invitational, regarded as the leading junior tournament in the world, at Sage Valley GC near Augusta National earlier this month.