The Xerox Emirates General Manager on the 19th season of the Xerox Corporate Golf Challenge, blind 230-yard par 3s, Frank Sinatra and the Lions' chances against rugby's mighty All Blacks
1. The Xerox Corporate Golf Challenge has just begun its 19th season, an achievement to be proud of. What makes the series so successful and why is golf such an attractive proposition for Xerox Emirates?
The XCGC has evolved over the years and has therefore managed to remain relevant. We have seen it grow from three qualifying rounds just here in the UAE from 1997 to now being a truly regional tournament with multiple events across the GCC and South Africa. It remains first and foremost a golf competition and we have constantly looked to enhance it every year – 2017 is no exception with the addition of a [grandfinal spot] for the best gross score levelling the playing field for the better handicapped golfers.
2. This is your third 'tour of duty' in the Middle East for Xerox Emirates after you first arrived in March 1993. You've obviously seen golf grow up alongside the city of Dubai which makes your early memories of the game here fascinating. What do you make of the golf offering now?
Golf has really put the UAE on the map. When I arrived I used to play at the Sharjah Wanderers sand course! During the past 24 years the development of the game has mirrored that of the country and we are now blessed with some of the finest courses from a playing, design and experience perspective.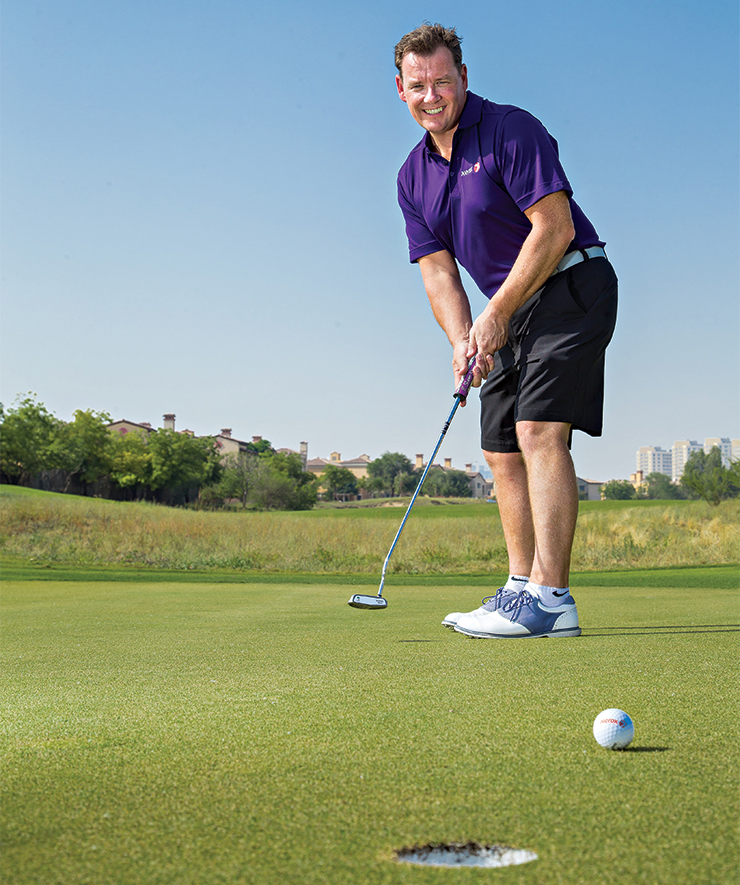 3. They say the best business is done on the golf course. Do you concur?
Relationships here seem to matter more than in other parts of the business world. An opportunity to really get to know a business associate during a round of golf is invaluable, resulting in fabulous networking opportunities.
4. You hail from New Zealand, the land of awesome rugby, more sheep than people, scenery that looks like it's been painted on, and Hobbits. Oh, and some fairly decent golf too. Where do you call home, how were you introduced to the game and where do you recommend we golf in the 'Land of the Long White Cloud'?
I grew up in Plimmerton [near Wellington] next to the sea and we would dive and surf almost every day after school. One of my favourite courses is Queenstown – a stunning location with the Remarkable Mountains as the backdrop! I also love Wairakei [Taupo] for its uniqueness as it is set in the geothermal area of NZ. Paraparaumu Beach is a great course and just up the road from home so I've been fortunate enough to play there a few times.
5. Which country stands out as the best place you've golfed outside of New Zealand? And what's left on your golfing bucket list?Tough question – Thailand? South Africa?
I think I have to say Scotland because of the tradition and age of some of the courses. Gleneagles is great from a total experience angle but I had an amazing trip to the Isle of Arran about 10 years ago – just superb! Tough courses, blind 230 yard par 3's and great off course enjoyment!
6. The XCGC is expanding beyond its traditional Middle East and South Africa boundaries this year. Where are we headed and what is the thinking behind this expansion, both from a golf and business perspective?
We are hoping to add Jordan, Egypt and possibly a venue in Eastern Europe this year. The XCGC in some ways is mirroring the growth of golf across this part of the world. It opens up opportunities to reach business people in new ways for some of these geographies.
7. Which three people, dead or alive, make up your dream fourball?
Frank Sinatra, Sean Connery and my father. It would be such a treat to see my dad meet Frank and I would have a chance against them as they all have higher handicaps!
8. This year's XCGC is the "Race to Earth" with Jumeirah Golf Estates to host the series' 36-hole grand final in December. What's your longer-term ambition for the XCGC?
The partnership this year with JGE is tremendous. It is truly a word class facility and ties in very well with the Xerox brand and the event. I really hope we see the XCGC still around in another 19 years and covering many more countries. We believe we have a great formula but continue to work hard to innovate and remain relevant and enjoyable.
9. As a New Zealander, we're guessing you can't wait for the upcoming All Blacks -British & Irish Lions rugby series. Do the tourists stand a chance in NZ and to draw it back to golf, where in the British Isles would you like to play?
Any kiwi is mad about rugby and I'm no different. I think the Lions have a great chance but they will need to play out of their skins. It is probably the toughest tour in rugby. AB's to win 2-1! Ireland would be my choice – although not technically part of the British Isles, I am using the Lions angle for you to allow me that. Some of the West Coast courses look tremendous.
— Interview by Kent Gray