By Ryan Herrington
By one count, Dustin Johnson's pre-Open Championship press conference dragged on for something like seven minutes and 30 seconds. But the man from Golf Channel reckoned eight minutes. Then again, the Guardian's golf correspondent tweeted that it lasted seven minutes.
Whatever, what is not in doubt is that good old D.J. wasn't at his most loquacious on the eve of his ninth appearance in golf's oldest major and his first visit to Royal Birkdale. Reckoned by many as the best of England's four courses on the Open rota, the Southport links met with the former U.S. Open champion's approval.
"I really like the golf course," he confirmed. "Obviously it's my first time here. But I got over here early; I got here on Saturday. So I've gotten a lot of practice on the course. And I feel like it sets up well for me. But it's like any Open Championship, you've just got to control your golf ball. If you can do that, you can get around here and shoot some good scores."
Speaking of which, Johnson claimed to be ready to get back to the sort of form that saw him arrive at the Masters in April as an almost prohibitive favorite before having to withdraw after injuring himself on the stairs of his rental house the day before the first round.
"I feel good," he said. "I feel like the game is starting to get back to what it was. I'm definitely hitting it a lot better. I feel like the putter is starting to roll a little bit better. I struggled a little bit on the greens at Memorial and at the U.S. Open. But the putter feels good. I've got a lot of confidence in it. After the injury at Augusta, I spent a lot of time working on my swing and kind of not much time working on the short game. So that was not by design, but just kind of how it went. Everything is feeling pretty good right now."
Sailing along nicely, Johnson was asked out-of-the-blue how he felt about the possibility of blood testing on the PGA Tour:
"I don't care. They can do whatever they have to. It's nothing that concerns me, that's for sure."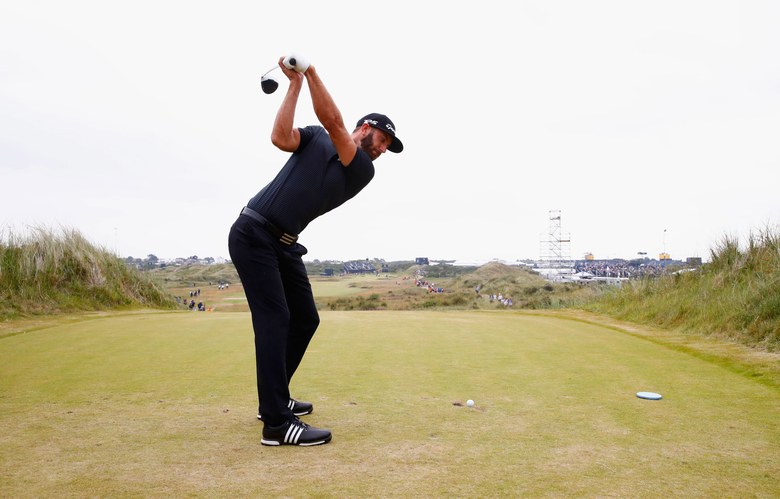 Eventually someone posed to Johnson what seems to be the question of the week at this 146th Open: "With seven first-time winners in a row at majors, do you think it would be better if the talent was more focused on a few names that people could really root for?"
Johnson refrained from addressing a subject that some believe inhibits a player in today's era from dominating—the advancement of modern equipment that presumably lessens an otherwise superior player's skill advantage. Even so, he came up with his most thoughtful response of the day.
"The talent level is so high on the PGA Tour that it's hard to be that dominant—especially right now in this day and age—the talent is so good, from one to 50 in the world," he said. "If you look at tennis, the 50th guy in the world is probably not going to win a major championship, whereas a guy here in the top 50 has a really good shot. It's just different. It's a different sport. It's different levels of talent from one to 50."