Prepare to be amazed by the swing speeds at Friday night's Long Drive World Series debut at Jumeirah Golf Estates


ucas Dornan stumbled across long driving almost by accident. Now the fast-talking, tattooed 31-year-old is the UK champion and one of the favourites for the new Long Drive World Series which will take is global bow at Jumeirah Golf Estates on March 17.
The four-handicapper, from Wentworth in Surrey, will line up alongside eight of the world's buffest big hitters including reigning world champion Joe Miller on JGE's European Tour Performance Training Institute driving range. Dornan trains alongside Miller. So, who's longest?
"My claim is he might be the longest in the world but he's not the longest on his driving range," Dornan says. Let the big-hitting and smack talking begin.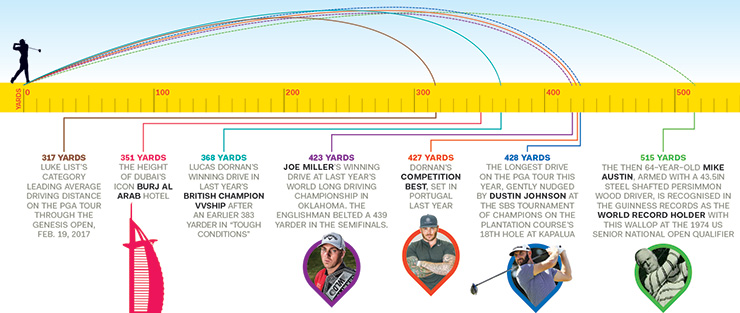 To be honest I was in banking so it was nothing to do with trying to become a professional long drive guy. I just wanted to get a driver that didn't spin up so much. My pitching wedge was going over 200 yards but my driver use to only be 20 or 30 yards longer than most tour pros which I felt, with the swing speed I was going at, shouldn't have been the case. So I went and got fitted for a driver and they didn't have any shafts for me so I Goggled Joe Miller and his coach Lee Box and said can I come down a steal one of Joe's drivers basically and see what I can do with it. I hit 400 yards within two hits so he said give the UK championships a go. I went through the qualifying rounds, kept winning, and ended up winning the whole thing.
My swing speeds are up there with the top two in the world so I know that is the main factor with long driving, is about having the speed. Now I've just got to try and learn the swing better and hone that a little bit more.
I've been practicing with Joe, we're pretty much the same training camp, and I know where I stand next to him and he's gone and won the worlds so I'm pretty confident with what I can achieve in the sport just by going on the barometer next to him. Hopefully if I keep doing the training and the weights , the gym work, No.1 in the world won't be too far away proving the progression carries on.
Hopefully if I keep doing the training, the gym work, No.1 in the world won't be too far away.
The new Long Drive World Series is massive. Lots of money being pumped into it, they're taking the best players from around the world for the first time and bringing them altogether. We're going to see really who is the best in the world because the world championships, a lot of the guys couldn't attend or hadn't played events that would have qualified them because they not based in America, so its hard for a lot of guys to get involved. So this is now putting the best players from around the world and pitting them up against each other in ideal locations like Dubai. The next one is at Royal Ascot in London…so we're going to very cool locations and taking worldwide..
Its great for the sport and hopefully the concept will really take off because it's obviously a much shorter format [than 18 hole golf] and more athletic. So it's being pushed down the route of sports side of things rather than the old man taking seven hours to do a round of golf. We're trying to change the image of the game.
SEE ALSO:
VIDEO: Launch it like Lucas Dornan 
I'm 6ft 1in. My ball speed ranges between 200 and 220, obviously depending on the strike. Club head speed, looking at about 145 to 150 mph. I'm up there as one of the fastest out there and with the new shorter clubs the 150 mark is going to be really tough to get too because with the longer 50" drivers we use to use you could obviously get it going a little bit easier. Now they're shorter.
Do you know what, I've hit balls never got injured, i've done loads of weights, silly weights, way more than I should be lifting, never got injured and I thought I'd try and improve my flexibility with some stretching and I've over stretched it [his left shoulder]. I got in position and kept stretching, stretching, stretching it as much as possible thinking that's the key to getting more flexibility and apparently it wasn't. So I've damaged my tendon and they wanted to have a steroid injection to get rid of the inflammation but we get tested, so you can't be doing anything like that. I'm just going to turn up to the competition cold really and give it a go and see how we get on.  I've just got to work my way into this competition like Tiger Woods at the moment and hope for the best.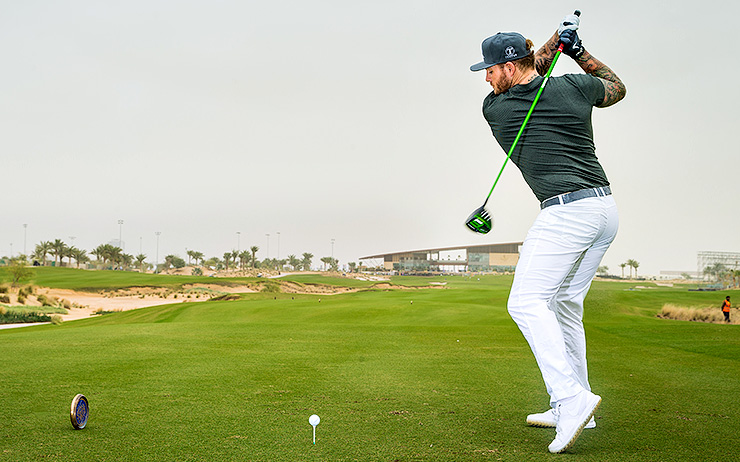 The British Champs were in Manchester. to be honest it was bad conditions, into wind, into rain, into a field, so no run out. The semis I hit 383 yards and I think finals, my last ball because I had to get it in… 368 . But I think if that's in normal conditions they're 400 yard drives. It was just that the conditions were really poor.
I didn't go to the world champs just because my visa came a week before and the cut off was two weeks before. Literally I was on the range practicing with Joe before he went out there and we had a little set and I beat him so my claim is he might be the longest in the world but he's not the longest on his driving range.
Joe [Miller] lives in Hertford so we're about 30 minutes away from each other and we use the same coach so its nice to have that sort of competition and a bit of banter with each other. If you follow us on social media we'll be bashing each other most times.
There's a few things to hitting it long but it comes down to speed. It's like if you can do the 100 metres …you are either fast or you're slow and it's the same with how fast you can generate this club head speed. We're trying to get it going as fast as we can and once you've got that, you've just got to work on your club path and angle of attack and things like that. But without the speed, it's pointless. If you're going slow, you can't get over 135-140 mph, you're not going to be any good at long drive.
Outside of competition, 550 yards…I've driven a par 5 before.
My longest competition hit is 427 [yards], recorded that in Portugal at a European tour event. Unfortunately the grid, after 400 tailed off left so you couldn't keep it in the grid. 427 was the only one that registered but outside of competition, 550 yards…I've driven a par 5 before. It depends on the conditions, if you've got good conditions you can get it out there.
I'm in the gym two, three hours a day – all power lifting, speed work, explosive stuff. Just trying to enhance our fast twitch fibres and muscle density. You don't want to be too balky because it makes you slow so you want to keep your weight as low as possible while increasing your strength as much as possible. Powerlifting, box jumps, ball slams, you name it and then drinking, eating protein based just trying to keep that muscle on while trying to keep the fat off.
Photograph by Kristina Nabieva