By Alex Myers
From planned renovations to unplanned tweaks (RIP, Eisenhower Tree), Augusta National Golf Club's changes through the years have been well-documented. But every once in awhile, you see an old photo depicting how different the Masters course used to play and decide it's too cool not to share.
RELATED: Leaked letter hints big changes coming to Augusta National's 13th hole
Such was the case on Tuesday when former PGA Tour pro turned swing coach Bradley Hughes tweeted out the following image of players teeing off Augusta National's iconic par-5 13th circa 60 years ago:
13th tee Augusta National- approx 60 years ago pic.twitter.com/ber1qjIpGO

— Bradley Hughes (@bhughesgolf) December 4, 2018
By the way, Hughes' Twitter feed is a treasure trove of archival photos and videos, including this one, which makes No. 13 look like another hole altogether. Caddie Kip Henley, whose current employer, Austin Cook, made his Masters debut earlier this year, certainly thinks so:
Almost standing in the creek ! The tee is 60 yards further now and way more to the left. https://t.co/uteY5gcb1t

— Kip Henley PGA loopr (@KipHenley) December 4, 2018
Since it's off limits to fans and media, the 13th tee box (along with the 12th green in front of it) is one of the most sacred — and quiet — pieces of real estate in professional golf. But TV viewers gets to see players tee off, and Masters.com provides a flyover of the hole, which begins at the 2:50 mark here:
How to play Amen Corner, with @TigerWoods. #themasters pic.twitter.com/Q7tUjYAifn

— Masters Tournament (@TheMasters) April 8, 2018
Looks pretty different, huh? With a revised angle and the addition of (tall) trees down the left, today's pros hitting driver really need to shape their tee shots from right-to-left to avoid ending up in the trees and pine straw through the fairway. Or, they can just try what Bubba did in 2014 when he flew the dogleg altogether and resulted in an easy birdie on his way to capturing a second green jacket: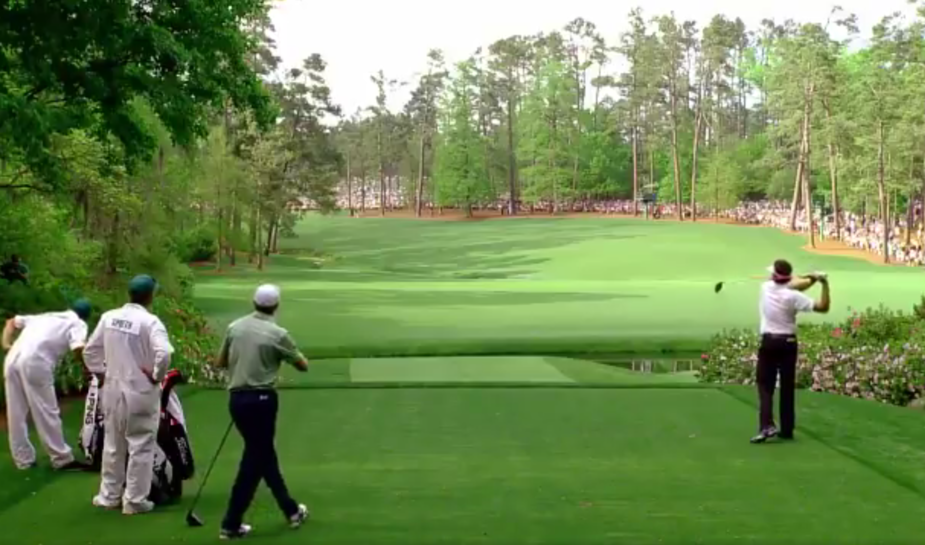 At least, until the long-rumoured changes to the hole take place.