Lydia Ko during her Saudi Ladies International press conference. Matt Smith/Motivate Media Group
Lydia Ko bounded up on to the stage for her press conference on Tuesday like a prize fighter ahead of a big bout — and the Kiwi has plenty of reasons to have a spring in her step ahead of the Aramco Saudi Ladies International.
The world No. 1 capped a phenomenal year by getting married just after Christmas, and is aiming to keep the celebrations going at Royal Greens Golf & Country Club this week.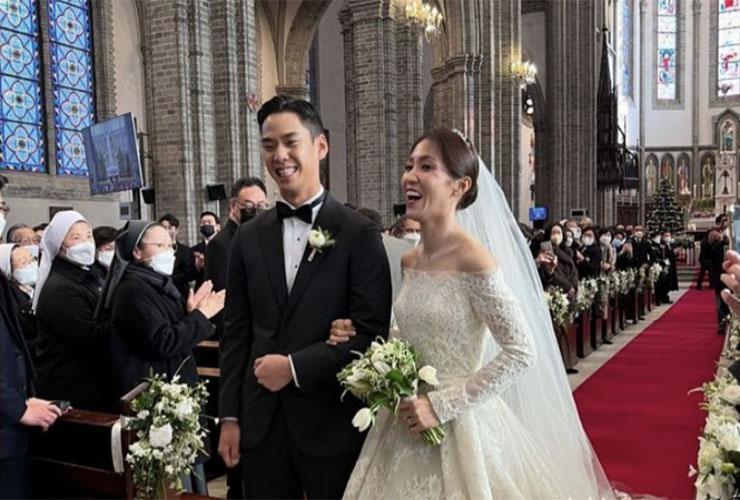 Ko married Jun Chung in Seoul's massive Myeongdong Cathedral to sign off on a 2022 that saw her not only reclaim her spot at the top of the rankings but also pick up three LPGA Tour crowns, including the CME, which earned her the biggest winner's cheque in women's golf history: $2 million.
The Player of the Year took some well-earned time off before returning to Royal Greens — the scene of her 2021 Saudi Ladies triumph, and it looks like she is ready to rumble again."
"I had a long time off since winning the CME [in November] and I have had a few weeks to get ready for this one. It's the start of a three-week stretch for me, so I'm excited to get my 2023 started, and get to be back here where I have a lot of great memories to reflect back on from 2021.
"I think the level of field and the players are even better this time around than in 2021, so I think it's going to be another great week here."
The two-time major-winner is glad it is a little cooler this time around — even if that means contending with the notorious Red Sea wind that whips up at this time of year.
"When I played, it was in November, so I remember it being pretty hot, and these last couple days, the weather has been really beautiful," she said. "It's actually been pretty breezy. I think in ways, it's going to play a little tougher, but I'm excited, this is probably one of the biggest accolade events in Saudi Arabia, so hopefully all of us that came over can put on a good show for the people and inspire more juniors to pick up the game and dream of maybe playing this event in their future."
With the tournament prize fund hiked to a whopping $5 million this year — up from $1 million and now matching the men's Saudi International — Ko is delighted the women are being given a level playing field in Saudi Arabia.
"It is obviously very exciting news that the women get treated the same as the men," she said. "I know this is a great step forward, not only just here but in the women's game in general. That's what I think we're all shooting for, for that gap to be a little bit less even in some of our other events and some of our major championships."
There was no stopping Lydia Ko at Royal Greens back in 2021 🔥

لم يستطع أحد إيقاف ليديا كو على رويال غرينز في نسخة 2021 🔥 pic.twitter.com/6UTyIi4hji

— Aramco Saudi Ladies International (@AramcoLadiesInt) February 13, 2023
When asked by Golf Digest Middle East if there was any more pressure as No. 1 this time around — she also claimed the title back in 2015 as a 19-year-old — Ko replied with a laugh: "I'm really trying not to think about it. I'm out there hitting balls and I don't feel like the World No. 1. Obviously I had a great season last year, and it really couldn't have been any more and better than I could have ever asked for. I won early in my season, and then played really consistently, especially from the middle of the season to the end."
Of course that end came with the added bonus of becoming a newlywed with husband Jun — who is a model of understanding when it comes to Ko's calendar on tour.
"There has been no change to my schedule since we got married," she said. "My husband understands what I do for a job and it is great that I even got to play some golf on my honeymoon [in her native New Zealand], and the transition to come back to when I was practising made it a little bit easier. If I hadn't played for like two months, I think it would have been a much longer time for me to get used to like my own routine and get all my feels.
"Oh, and I made a hole-in-one on my honeymoon. Extra bonus."
And with that she was off, bouncing off the stage once more and ready to get swinging once more.