China's defending champion Yuxin Lin lets rip on the final hole at Dubai Creek Golf & Yacht Club during the opening round of the 12th Asia-Pacific Amateur Championship on Wednesday.
By Kent Gray
World amateur No.1 Keita Nakajima and defending champion Yuxin Lin will begin Thursday's second round right where they want to be but probably didn't count on quite so much company atop the 12th Asia-Pacific Amateur Championship leaderboard.
Japan's Nakajima and China's Lin, both 21, opened with contrasting four-under 67s at Dubai Creek Golf & Yacht Club on Wednesday to share the lead with five others: Alexander Yang (Hong Kong), Jimmy Zheng (New Zealand), Wooyoung Cho, WAGR No.14 Sam Choi (both South Korea) and Australian Lukas Michel, the 2019 U.S. Mid-Amateur champion.
RELATED: Watch this South Korean amateur quite literally make the biggest splash on day 1 at the Asia-Pacific
Michel's countryman Hayden Hopewell, Hong Kong's Taichi Kho, China's Aaron Du and Chinese Taipei's Chi-Chun Chen occupied T-8 place at -3 while UAE No.1 Amhad Skaik and Jordan trailblazer Shergo Kurdi are among 12 players on -2 after a breezy day that saw 33 of the 93-strong field better par.
The projected cut – encompassing the top 50 players and ties – sat at +1 overnight.
Teeing off together at 09:05 local time, Lin and Nakajima could not have had more different starts to their rounds. Lin opened with a bogey, while Nakajima started with a birdie then made a double bogey on the very next hole when his tee shot went out of bounds by inches.
Undeterred by the setback, the Japanese star fought back with six birdies in the next 11 holes to claim sole possession of the lead at one stage, before a late bogey on the 16th pegged him back.
"I was very happy with the way I managed the golf course today," said Nakajima who is aiming to become the third Japanese player to win the Asia-Pacific Amateur after Hideki Matsuyama (2010 and 2011) and Takumi Kanaya (2018).
"That's something I want to keep on doing. The putting was also good. I made some good ones and then I missed a few short ones," said Nakajima.
"I really enjoyed playing with Yuxin. He made some good birdies on the front nine and I also followed him. I did not pay attention to his scores but if I am tied with the defending champion, it's always a good thing. There's a lot of golf to be played so we will see."
The bogey on the first was Lin's only error. He made four birdies before the turn and added another on the 17th hole.
"I thought I played pretty solid today. It was not the best start, but I stayed pretty patient out there and hit some good shots on the front nine," said Lin who hopes to become the events first three time champion after winning in 2017 and 2019.
"I am just trying to stick to the game plan and just stay patient out there.  Everyone is going to make mistakes, so just stay calm and ready for the next shot and really just give my everything on every shot."
THEY SAID IT…
Alexander Yang (Hong Kong) on eagles on the 4th and 13th en-route to a 67
"I think everything just lined up for those two eagles.  I hit a great drive, great approach shot on the green and just made a longer putt. I played solid, so I'm happy about it. My strategy on the golf course will stay the same as it was today.  It worked today, so let's just keep going with it."
Sam Choi (South Korea) on recovering from a tough start to finish on 67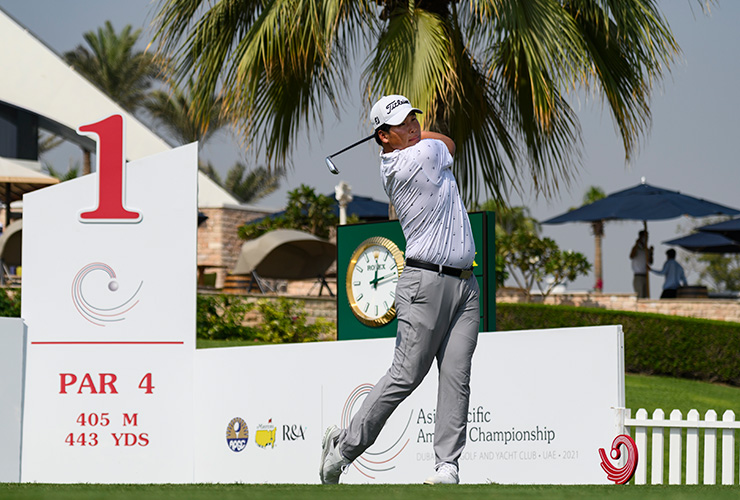 "I started out really, really badly actually. I hit zero fairways the first five holes, and then I kind of figured it out along the way. On No. 2, I hit an 8-iron to six feet from the bunker 163 out, and made birdie and on 5, the par 3, I hit the same thing, an 8-iron, 163 to two feet and made birdie. After that, I hit some really good iron shots coming in and made really good putts, too."
Lukas Michel (Australia) on also tying the lead despite a struggle off the tee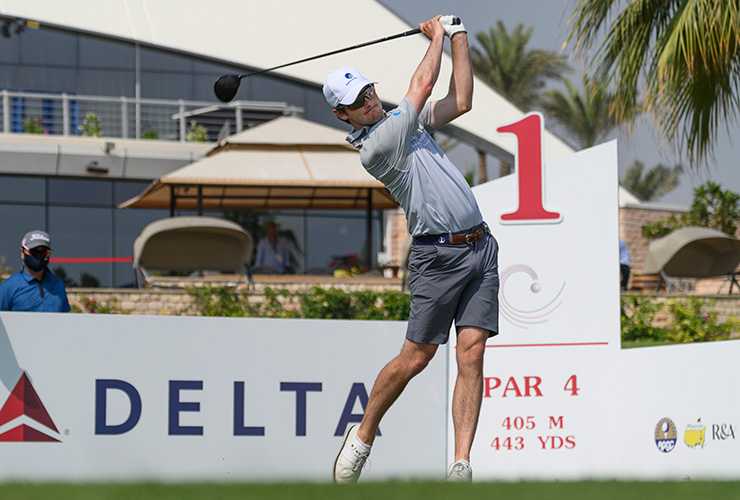 "I definitely didn't have my best driving performance but the rest of my game was really solid. My chipping, putting and approach play was good. I got lucky a few times with driver but I think I was due that. It was not great and when the wind picked up I started to miss more. It was solid early but coming down the stretch it was a struggle and as we know, you need to drive the last two holes well and I didn't.  But I managed to salvage pars and that was good."