For once, maybe the golf gods are on Sergio Garcia's side.
Or maybe it was just the spirit of Severiano Ballesteros that kept his fellow Spaniard's hopes alive at the 81st Masters.
A 4-iron in the air from 212 yards that came off the clubface soft on the par-5 13th on Saturday smacked into the bank just above Rae's Creek and appeared to be headed to a watery grave.
Somehow, it stayed up — be it by the hand of Seve, a two-time Masters champion, reaching down from the heavens, or because of a few blades of lush Augusta National turf slightly longer than usual, aided by heavy rains earlier in the week.
Ballesteros, who died in 2011 after a long battle with cancer, would have turned 60 on Sunday. How poetic then would it be that on Sunday, Garcia will have a chance to vanquish all his demons and win his first career major championship, especially here?
"Him and [Jose Maria] Olazábal … they were both my big idols growing up," said Garcia, who added that Olazabal had sent him an encouraging message on Wednesday night. "So it means a lot.
"I don't want to get ahead of myself, but it would mean ‑‑ I don't even know how much it would mean to be able to join both of my idols as a Masters winner."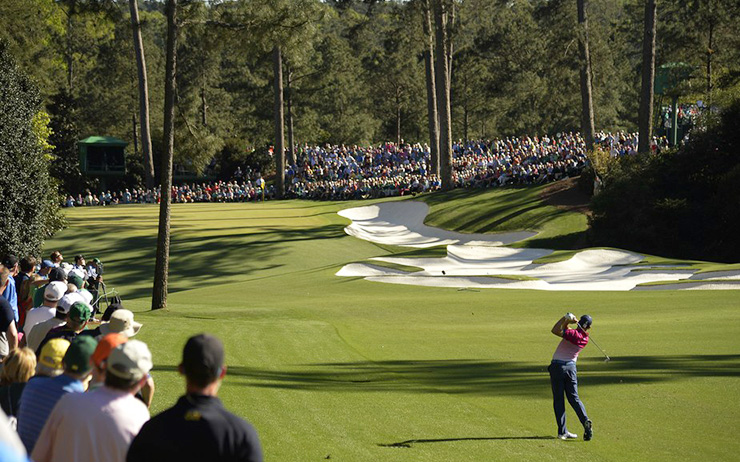 It's stars aligning stuff, if you believe in that sort of thing.
A better explanation would be to examine the man himself.
At 37 years old Garcia is indeed a man. A little grayer, a little heavier, engaged to be married and with a levelness that comes with maturity and age, he is no longer the El Nino with the boyish smile sprinting and hopping up the fairway, nor the petulant El Mocoso (Spanish for brat) who, after losing the 2007 British Open in a playoff whined that he was "playing a lot of guys out there, more than the field."
Five years after that, he took the narrative to another level.
A stroke off the lead heading into the weekend at Augusta National, Garcia faded over the last two days, tying for 12th, and then melting down to the Spanish media.
"I'm not good enough," he said at the time. "I don't have the thing I need to have." Asked what was missing, he said "everything," adding that "I need to play for second or third place."
He wasn't just talking about the Masters: "In any major."
The honesty was brutal but unproductive. Or maybe he needed to hit bottom to get to where he is now.
Who knows. If any psychologist had been able to figure out the enigmatic Spaniard, they'd be rich.
The fact is Garcia is pretty settled in life these days, on and off the course.
His fiancée, Angela Akins, is a former Golf Channel reporter who played college golf at TCU and later at Texas. She's easygoing, upbeat and competitive.
Garcia's future father-in-law, Marty Akins, was an All-American quarterback for the Longhorns before playing professional for the St. Louis Cardinals and the New Orleans.
His future cousin is current Saints quarterback Drew Brees.
"Marty is a very, very positive, very, you know, outspoken and very, very confident kind of guy," Garcia said. "It definitely helps when he's encouraging you and things like that. Those things are nice to see. … So you know, they are positive things to help out, for sure."
So, too, was his play on Saturday, a round in the past that has been a self-fulfilling ego-killing prophecy at a cumulative 38 over par over 13 rounds, including an 81 last year.
"I'm glad I took the scoring average down a little bit," he said following a two-under 70. "That's a big positive."
So, too, is Garcia's once-sour attitude about Augusta National.
"It's definitely improved," he said. "Nothing wrong with Augusta. I think that the main thing that has improved is the way I'm looking at it the last, probably, two or three years, and obviously this year.
"I think it's the kind of place that if you are trying to fight against it, it's going to beat you down. So you've just got to roll with it and realize that sometimes you're going to get good breaks, like has happened to me a few times this week and sometimes you're going to get not‑so‑good breaks. But at the end of the day, that's part of the game."
A testy, clutch 7-footer to save par on the last helped, too. Not that it was that big a deal to Garcia.
"To tell you the truth, I don't think it makes that much of a difference," he said matter-of-factly. "Because even if I miss, I still have a great chance at five‑under.
"So obviously making it, it's amazing, and that's what I was trying to do and I'm glad that I was able to do it. But it's not like, you know, if I miss, I go into [Sunday] thinking, 'Oh, you know, I lost it already because I missed that putt on 18.' No, I don't think it's going to come down just to one little putt."
No, it will come down to something much bigger. — By Brian Wacker