At least 30,000 women and girls in 46 countries are expected to enjoy golf for the first time on June 6 when International Women's Golf Day sweeps the globe.
In the UAE nine clubs have organised official events offering lessons, the first step on a pathway to "skills that last a lifetime".
It's a commendable campaign but Trump International Golf Club, Dubai is determined to go above and beyond in the push to introduce women to the game.
Dubai's newest club has unveiled its #ladiesluvgolf campaign. Set to launch on International Women's Golf Day, the campaign is designed to demystify the sport with easy to follow learn-to-golf videos and regular how-to-articles just for ladies, as well as discounted women's golf lessons and events.
As part of the push, Trump International's experienced PGA golf professionals, Sven Nielsen and Michael Bolt, will continue their popular 'Golf & Coffee Mornings' each Monday and Wednesday from at 8am. Join the fun group lessons between June 4 and 10 and enjoy a 50% discount in celebration of International Women's Golf Day.
"Golf is on a roll, re-inventing itself and growing the game. It's also set its sights on attracting more women to the sport [and] that's why Trump International Golf Club, Dubai is proud to launch it's #ladiesluvgolf campaign," Trump Dubai General Manager Andrew Whitelaw said.
Trump Dubai's Director of Golf, Craig Waddell, agreed the "secret was out" with women discovering golf is a fun, social workout. The Damac Hills-based property is "an easy location for ladies to stop in, learn golf and also enjoy fantastic dining across our four restaurants. "
"Dubai is a cosmopolitan, sporty city and ladies here love to catch up with friends and workout together, so golf is the ideal sport to try," Waddell added.
"They are increasingly being inspired to pick up a club by high-profile professionals, such as Lexi Thompson and Michelle Wei, with these athletes proving that golf is exciting and no longer a man's world.
"Golf now understands the importance of creating diverse ways to grow the game, as well as making it more appealing to a younger generation. In the men's game we now have GolfSixes and the ladies recently had Lexi Thompson even parachute onto the 1st tee! So, we're extremely excited to also be heavily invested in the future of ladies golf here at Trump International Golf Club, Dubai."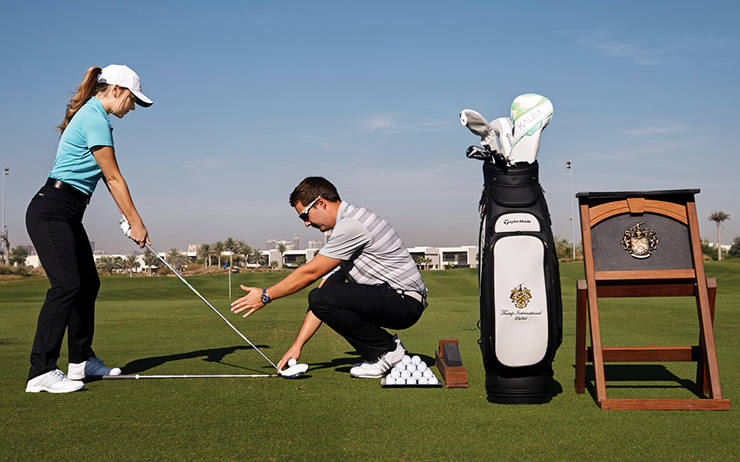 Why not give golf a try?  Join Trump International as it helps ladies to discover how fun and active golf is. Follow Trump Dubai on social media @trumpgolfdubai to discover why #ladiesluvgolf is the the ideal introduction to the game of a lifetime.
For more information email [email protected] or call 04 245 3939.