By Kent Gray
For a measure of Bernhard Langer's remarkable Masters' longevity, consider that the seemingly ageless German was the last winner of the fabled green jacket to wield a persimmon driver.
"That's correct," Langer said from the Champion's Locker Room Thursday in an invite-only video conference organised by his car sponsor Mercedes-Benz. "In 1993, there were two players that were hanging on to persimmon, that was Davis Love III and myself. But even we realised at that point in time we were losing too much distance compared to our competitors and it was time to switch."
Maybe so but it still didn't stop Langer from beating Chip Beck by four strokes for his second win at Augusta National, eight years after emerging from the penultimate group with Seve Ballesteros to edge the late, great Spaniard and Americans Raymond Floyd and Curtis Strange by two shots for his Masters (and major championship) breakthrough.
Fast-forward to a firm and fiery first round at the 85th Masters on Thursday and the 63-year-old was at it again, even if it probably felt like he was still using ancient equipment in this perplexing bomb and gouge era.
Langer's two-over 74 was all the more remarkable for the fact it was his first competitive round since late February as tendinitis in his left knee forced him home to German last month to receive treatment, including painful injections around the knee cap.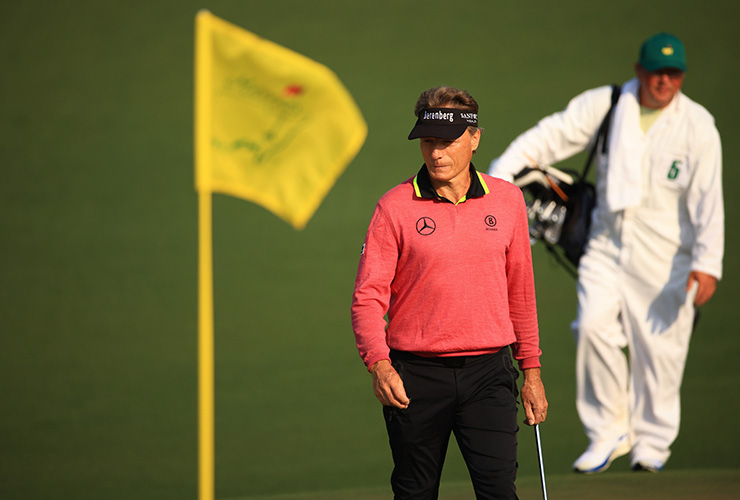 The score left Langer, who revealed that he had also tweaked his back in practice this week trying to make up for lost time, nine shots adrift of runaway leader Justin Rose. More pertinently, Langer is right in mix to extend the record he established last November as the oldest player, at 63, to make the cut at Augusta.
His opening round could have been an even more noteworthy save for dropped shots in his final two holes: a three-putt from just off the 17th green and a failed up and down attempt on the 18th when he required driver and three wood to reach a par 4 the likes of Bryson DeChambeau attacked with a driver and a flick of a short iron.
"He's skinny as a rail when you look at him but man, can he pound that golf ball."
Talking of bombers…close followers of the old-school Langer versus scientific ball bully DeChambeau narrative will remember that Bernhard outscored Bryson by two strokes, 71-73, when they were paired together in the final round of the 2020 Masters in November. Ditto on Thursday when Langer and his four-hybrid shots, sharp short-game and sure putting outgunned wayward DeChambeau 72-74.
It's not that Langer doesn't notice the advancing distance gap. Indeed, the Mercedes-Benz ambassador had a front row seat as playing partner Will Zalatoris "pounded the ball" en-route to a two-under 70 for a share of fourth after the opening round.
"Yeah, it was fun to watch him, I'll tell you the truth," Langer said of 24-year-old Zalatoris, one of just 12 players to dip under par. "He's an unbelievable good player for his age. He's skinny as a rail when you look at him but man, can he pound that golf ball.
"There were a couple of par 3s and I looked in his bag and the first time, I played six iron on No. 4, the tee was up, and he hit 9 iron from the same spot. Then on the 6th hole, I hit 5 iron to the back left pin into the wind and he hit 9 iron again so he's typically hitting three or four clubs further than I do, right.
"He hits his 9 iron as far as I hit my 5 or my 6 iron and he's done that all day long. He hit his three wood further than I did my driver on several tees and when you have that kind of power and length, and then also the spin he gets with that club-head speed, you can really tear courses apart.
"Again, he eagled No. 15, he got a little bit lucky there, he landed in the fringe and it stopped quicker but he made a great putt, and it's easier hitting an 8 iron into that green than a 3 wood [laughs] and that's the advantage he has. He's not only long but also controls it pretty good. I think we are going to hear a lot more from this young man."
Golf's distance debate is only getting louder too.
Langer is proof pure ball-striking, a good short game, a tireless work ethic and a desire to keep on keeping on at the highest level can mask a lack of distance. Sometimes.
As well as ageless golfer, Langer is now also a modern course architect and worries that layouts that we once 6500 yards now need to be in excess of 7500 yards with all the associated land costs and maintenance/water expenses.
Put simply, Langer frets for the future.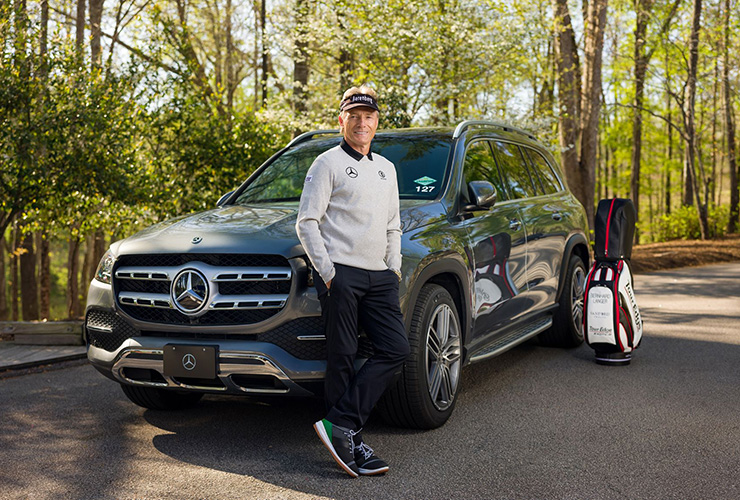 "We've almost missed the opportunity to do something about it. Gary Player said a few years ago, you are going to see somebody hit it 400 yards sooner or later and I was thinking, well I don't believe that quite, but we are almost there.
"And we haven't seen some of the big athletes that are playing other sports. You know, if you take LeBron James and let him play golf, because now you can make a good living, you can play longer than basketball or football, we might get the better athletes to play golf in the future and some of them will be Bryson DeChambeau or longer than him.
"I was wondering if it was possible to maybe make the golf ball larger…"
"There's certain ways you can deal with it, to bring the ball back to help some of the older courses. It would also help some of the newer courses…"
How, exactly, Bernhard?
"I was wondering if it was possible to maybe make the golf ball larger because when I was a kid, I played the 162, the English version [ball], and then we were forced to play the 168 and it definitely went a little shorter because you are pushing more air. So if you were to make a whatever, say a 180 or a 200, whatever it is called, a 2.0 golf ball, a larger one, it wouldn't go as far. Then you could say, well the hole is too small, but you could make the hole slightly larger, that wouldn't be a big problem and maybe that would be one way to bring the golf ball back 20 or 30 yards.
"But you know, there are a lot of experts that have looked at it for many, many years and they're still testing. A few years ago they were saying, 'well we haven't seen a lot of increases in distance', but there's certainly been an increase, I mean I've never heard of anybody carrying it 350 yards in the air and Bryson does that every once in a while."
How about the call for bifurcation, one ball for the pros and another for amateurs?
"I really don't think that's a good idea," Langer said.
"I mean, you could go that way but I don't think so because then where do you draw the line? Because there could be some people at the amateur level, at the club that are as long as we are, or longer and then that wouldn't do that [situation] any good. We've always played by the same rules, we never tried to divert from the amateur rules, or the R&A and USGA rules but I'm not the expert here. There's lots of people that have been looking at it for years and years and they should have some answers by now I think."
What Langer does know is the secret to his on-going World Golf Hall of Fame success: three PGA Tour, 42 (second all-time) European Tour, 41 PGA Tour Champions (second all-time) and seven European Senior Tour titles and counting. And it is all rather simple, if not easily achieved.
"I think my technique and golf swing have got a little bit better over the years. You know, I grew up very poor, couldn't afford golf lesssons, so I started as a caddie, I taught myself, then I had lessons and I had to change many, many things in my swing over the years. I think about 10-15 years ago, I finally reached a point with my swing where I didn't have to make any major changes, where I felt like, okay, I'mkind of settled and I can do the same thing over and over without necessarily trying to make changes to try and improve.
"I think that has helped me to play well into an older age, into my 50s and even 60s. My short game is fairly steady, I'm a decent chipper and pitcher and putter and putting is very important in golf as we know, especially in professional golf where almost half the shots are putts. You really need to focus on putting and be good in that department."
Langer's putter, by his own admission, went off the boil on the back nine Thursday. He was particularly miffed to miss a straight forward, up-hill five-footer on 16.
"Finishing par-bogey-bogey instead of perhaps birdie-par-par left a little bit of sour taste in my mouth but I looked at what some of the other players are doing and two-over is really not that bad. There's a lot of big names, even favourites who are around the same score so we'll see what tomorrow brings.
"It's that sort of course. You have to stay patient. Good and bad are inches from each other many times. It's so easy to make a double or triple bogey just being off a couple of inches, the ball rolls back in the water or goes this way or that way."
A matter of Inches in a game nowadays dominated by those who pound it miles off the tee. Don't be surprised if cunning old Bernhard Langer shows plenty of the big-name whippersnappers in Georgia this week that there is still more than one way to play decent golf.
Bonus Bernhard…
How was this year's Champions Dinner?
It was wonderful as always. The camaraderie between the players is very special. Just to be in the same room with those guys is amazing for me. It was great to see everyone and the evening brings together great legends of the game with the young, upcoming stars. Dustin Johnson served a wonderful dinner and we demolished a few bottles of red wine – but it is a dinner for which the champion never minds paying! We all thanked him and he said: "I am just glad I am part of this circle of winners.
Tiger Woods sent us a message via Ben Crenshaw, who speaks on the golfers' behalf at the dinner. Tiger said how he really missed being at the Masters and that the tournament means so much to him, and that he really appreciates all the good wishes he has received from all the guys in the room. He said he hoped to be back in the mix with us in the near future.
Can Rory McIlory ever win the Masters?
I played with Rory here in the third round last November and he shot 67 and made it look pretty easy. The course is suited to him because Rory hits the ball very high and far, with lots of spin and that is what you need around here. Hitting the ball like that is why Jack Nicklaus won here so many times.
I don't understand why Rory was chasing distance, trying to hitting the ball further like Bryson DeChambeau. Rory hits the ball plenty long and straight. He has realised that was the wrong thing to do and I am convinced Rory will come back to his best but the question is can he do it in the Masters. He is trying to complete the grand slam which adds pressure.
Golf is like life. It has its ups and downs, highs and lows and you just need to work at it and have a good team around you, to guide you in the right direction.
You also played with DeChambeau in the 2020 Masters. What do you make of his approach to the game?
Bryson DeChambeau has taken golf training to another level. He decided he wanted to gain 30 or 40 pounds of muscle to translate into more clubhead speed, and he went after that target very professionally. He thought it through, got professional advice and it is amazing what he has done.
He constantly experiments. Two days ago he told me he was using a driver with a loft of 4.25 degrees. Most of us out here hit between eight and 10 degrees, yet he has four degrees of loft and he hits the ball sky-high. Everything is different about him; his shafts are the same length, his grips are thicker. I take my hat off to him. He doesn't copy anyone. He really does his own thing and in many ways it is totally new to the game.
How did you feel seeing Lee Elder as an honorary starter?
It was a great honour for Lee Elder to be an honorary starter and it was a wonderful idea. Lee was a great competitor and he is a wonderful gentleman and it was not easy for him to play on tour. To me, everybody is created the same, we are all unique and special and it does not make any difference what colour we are.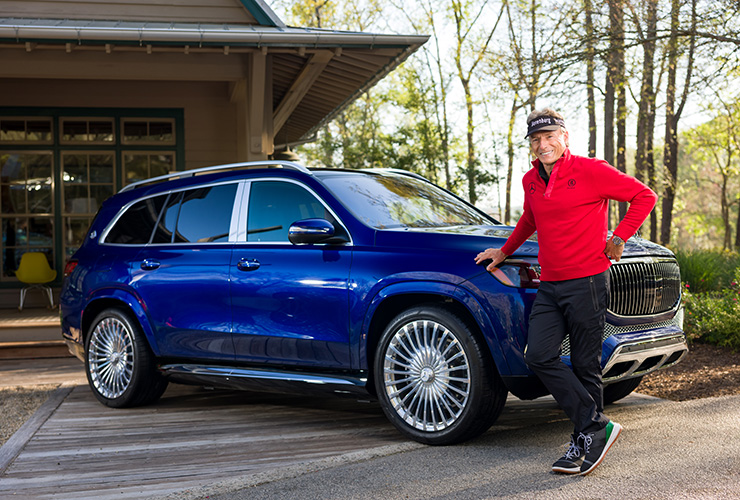 This week at The Masters, all players get their very own dedicated Mercedes-Benz. Do you prefer a shuttle service or driving by yourself like this week at the Masters?
Oh, I like being shuttled but it is always nice to hold the steering wheel yourself. It calms me down and lets me have a relaxed start into the day. The approach to the ANGC's premises on Magnolia Lane towards the club house is always a special sight. In addition, my own vehicle provides me with added safety as part of all the measures to protect against COVID-19.
Earlier this week you were able to experience the Mercedes-Maybach GLS. What do you think of the car?
I really like it. It's a fantastic car, both visually and in terms of luxury and space. This for sure is the benchmark when it comes to a luxury SUV. Mercedes-Maybach stands for luxury at its best and this is the proof point. Beyond the interior and exterior design, which I really like, I especially appreciate the comfort. I guess you can't get more comfort within a SUV. Definitely the perfect choice when you go on a (golf) trip with friends or family.
You also were able to take a seat in the all-new Mercedes-Benz EQS with its Hyperscreen. What were your thoughts when you had a look at this feature?
This for sure is the biggest screen I have ever seen in a car. But it makes perfect sense and means a new level of driving assistance. It is like your personal caddy in your car. With its curved form, it reminds me of a golf hole from above.