Less than a fortnight after its official opening, Greg Norman's latest Vietnam creation won a coveted gong at the 2018 Asian Golf Awards
Vietnam's fabled natural beauty can be sampled at maximum visual voltage in Cam Ranh, an emerging resort destination in the south-central portion of the Southeast Asian country.
Here, jungle-clad mountains pour down to an azure ocean dotted with traditional fishing boats and lush, green islands. A long and gently curving sweep of exquisite white sand is fast becoming the setting for some of the country's top luxury hotels.
About an hour's drive further north is the coastal city of Nha Trang – replete with restaurants, bars and local culinary and cultural riches.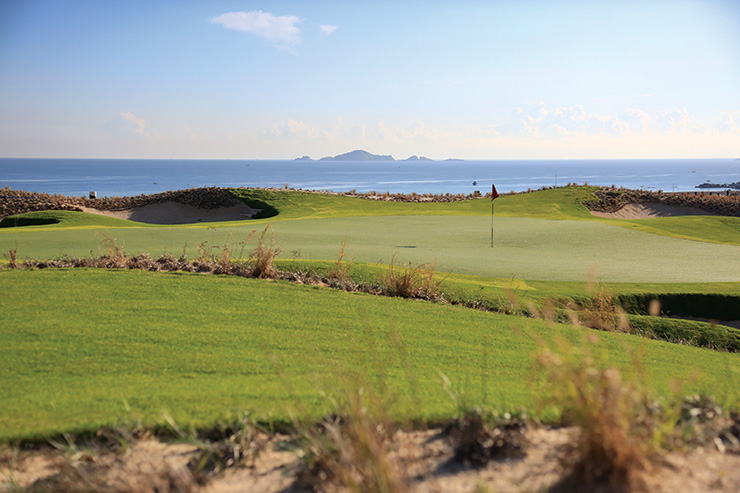 For golfers, though, the crowning attraction of this paradisiacal smorgasbord lies at the southernmost end of the bay, where KN Golf Links is staking its claim as one of the region's finest new layouts.
Having debuted in late October, when designer Greg Norman jetted in to inaugurate his latest creation in Vietnam – his third course in the country – KN Golf Links is fast making its way into talk about the best golf experiences in the country, if not Asia.
"I would put KN Golf Links up there in the top 10 in terms of unique properties I've ever been able to work with," said Norman, who has over 100 designs to his name. "I'm looking forward to the world actually getting to experience playing this fantastic golf course."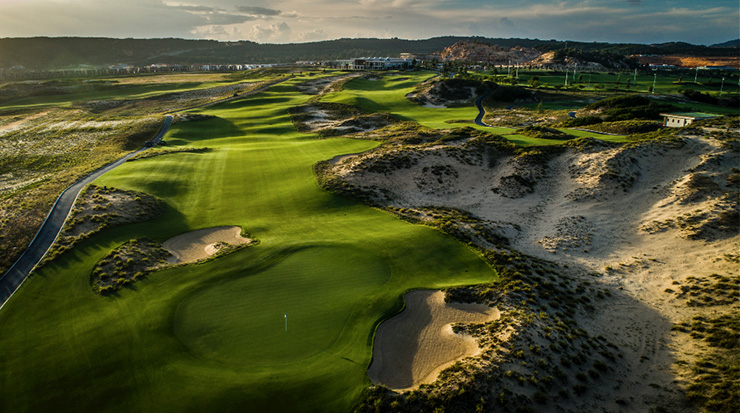 KN Golf Links features 27 holes altogether when the 9-hole, garden-style Oasis Course that runs inland from the clubhouse is factored in.
But most of the conversations so far have revolved around the Links Course, which maximises the rolling contours of the land exemplified by spectacular sand dunes.
It boasts firm fast-releasing fairways, ample run-off areas around the greens and massive boulders, some of which form a striking backdrop to the par-5 17th hole.
"It's not an Irish-style golf course. It's not an Australian-style golf course. It's not a Scottish-style golf course. It's just a damn good links golf course," said Norman, who won his two majors — the 1986 Open Championship and 1993 Open Championship — on links courses.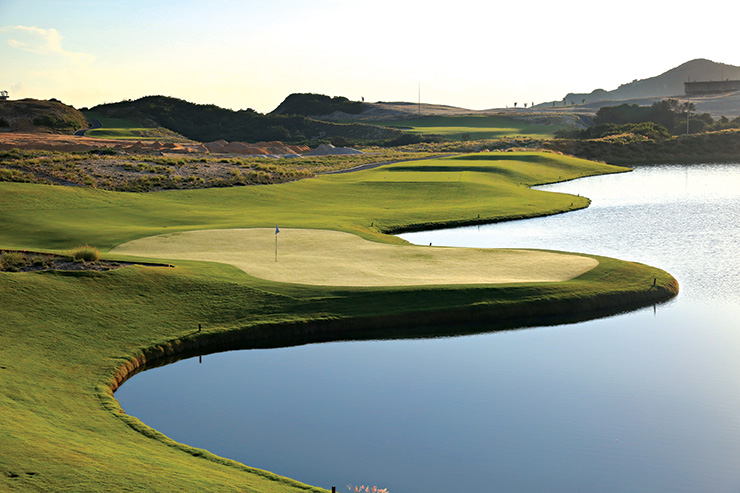 KN Golf Links occupies 90 of the 800 hectares slated to be developed at KN Paradise, an ambitious integrated resort that will also feature at least three 5-star hotels, an array of luxury real estate opportunities, a marina, and a beach club among other entertainment facilities.
Now that the club is officially open for play, it is already making a strong impression. Indeed, it scooped the title of Best New Golf Course in Asia Pacific at the 2018 Asian Golf Awards less than a fortnight after its official opening.
The course itself dips and dives through wild, undulating terrain and offers a series of remarkable viewpoints.
"The scale and topography of the property here lend itself beautifully to a great variety of golf holes," Norman said during a site visit in March 2018. "There's a lot of up and down and natural contouring to the course, so you get these sensational visuals from tee boxes especially and really cool run-off areas where the ball can roll and turn."
Playing highlights of the course are myriad.  The layout is devoid of trees, accentuating its resemblance to one of the classic links courses in the United Kingdom. The rolling topography of the dunes, meanwhile, have resulted in some 50 metres of elevation change from highest to lowest point.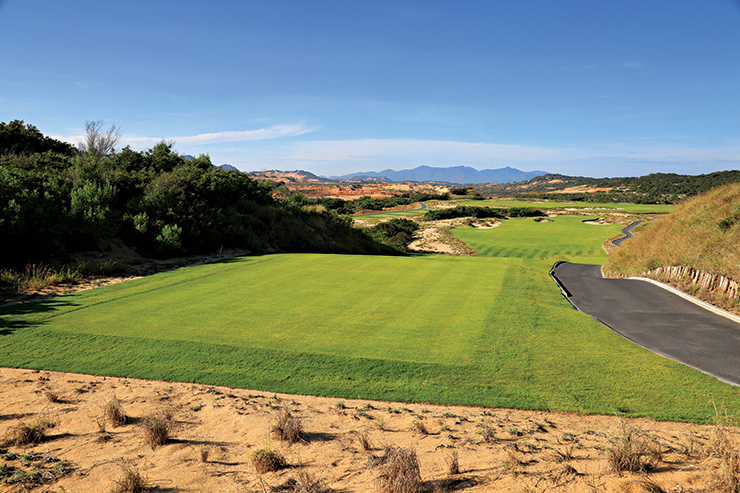 There are numerous fine holes on the golf course. The par-3 2nd is a fiendishly tricky short hole played uphill to a cunningly guarded putting surface. Other crackers include the 10th and 15th, a pair of par-4s that play downhill towards the glittering sea.
Norman's other two creations in Vietnam — The Bluffs at Ho Tram Strip and The Dunes Course at BRG Da Nang Golf Resort — are widely considered the nation's top two courses.
"We wanted 'The Shark' from day one," Mr. Le Van Kiem, chairman of KN Cam Ranh Company Limited, the course's developer, said, using the nickname Norman earned during his playing days. "Given the linksy nature of this site, and the fact Mr. Norman has designed some of the world's great links-style courses, he was the ideal man for the job."
The Links Course at KN Golf Links is reminiscent of both The Bluffs and The Dunes in that it weaves through rugged coastal terrain and offers spectacular sea views from various spots.
The Oasis Course offers a contrasting but also compelling test, with a plethora of water features making for some challenging play.
"The goal is to set a standard here by which all other projects to come will be measured by," said Mr. Kiem, whose company also owns Long Thanh Golf Club, an award-winning, 36-hole venture on the outskirts of Ho Chi Minh City. "Having 27 holes in Cam Ranh by one of the game's all-time greats is a major step in that direction."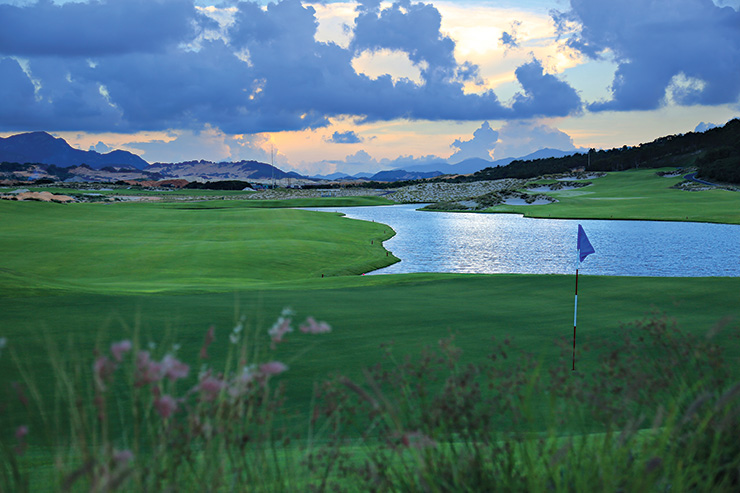 Located less than an hour by air from Ho Chi Minh City and a five-minute drive from the recently expanded Cam Ranh International Airport, KN Golf Links is the first golf course in Cam Ranh and the third in the greater Nha Trang area.
Amenities include a secluded driving range with an instruction studio and 24 bays that face another eye-catching collection of gigantic rocks, and a three-story clubhouse that overlooks the ocean and three small islands about 10 kilometres offshore.
KN Golf Links is being managed by former Al Hamra general manager Simon Mees in consultation with IMG, a leading sports, events and media brand that operates some of the finest golf clubs in the world including China's Sheshan GC, site of the annual WGC-HSBC Champions tournament.
Prestigious company indeed, but KN Golf Links is well worthy of a place among the world golf course elite according to those who should know: including the course's legendary designer.
"If this quality of course keeps coming online (in Vietnam), I think you are going to see people salivating at the prospect of coming here to play," said Norman.