By Robbie Greenfield
The golf around Ireland's capital city is staggeringly good and packed with variety. From epic trophy links to little-known gems, here's why you can't overlook the Dublin area when you plan a golf trip to the Emerald Isle.
[divider] [/divider]
The first thing you have to accept when preparing to tackle an Irish links course is that it can play really, really hard. And by that I mean forget about trying to keep score hard. If you can make peace with this simple truth, you're ready for a golfing experience like no other. You are indeed ready to play the European Club. This magnificent links on windswept Brittas Bay is designer Pat Ruddy's home and his masterpiece. Eccentric and brilliant, it's a fitting reflection of the man himself.
I've played tough courses that have made me want to give up the game by the fifth hole. The sadistic obsession some private clubs have with thick rough and marble greens can leave you seriously questioning how golf can be considered recreational.
But the European Club isn't like that. The carnage here is unpredictable, and always enjoyable. It's not some unrelenting slog featuring one near-impossible hole after another. In fact, if you get into a rhythm, pars and even birdies are not hard to come by. But then all of a sudden you'll take a nine on an innocuous looking par 4 and wonder what the hell just happened. The only certainty is that you'll play all 20 holes with a broad grin on your face.
No, that isn't a misprint. When constructing the course by his own hand, Ruddy believed a mere 18 holes would be an insufficient tribute to the site he bought in County Wicklow, so he built 20 instead.
Rory McIlroy calls the European Club: 'Unbelievable'
Call it Irish logic. The 'spare' holes, 7a and 12a, are two of the best par 3s you will ever play, and since keeping score is unlikely to still be a priority after you've made it past the truly terrifying par 4 seventh, there is no excuse to skip them.
On our visit during the week of May's Dubai Duty Free Irish Open, we were welcomed by Ruddy's son, Gerry, who has inherited all of his father's warmth and humour. "We get guys coming in after a round, scratching their heads and saying, 'man, that was a real struggle'," he chuckles. "And I want to say to them: 'Just out of interest, when was the last time you played golf where it wasn't a struggle? Have you been shooting 71 at every other course on this trip?' But of course I just smile and say 'that's what happens when the wind blows'."
The wind is the primary defense of any links course, and indeed some tracks can be rather straightforward on the rare day when it drops to a gentle breeze. This doesn't apply to the European Club, whose considerable challenge is only magnified by the gusts that whip in off the Irish Sea. Tiger Woods spoke of the 'optical illusions' that greet you on many of the tee boxes, and by that he meant most par 4s look like par 5s. Rory McIlroy calls the course 'unbelievable'.
Don't be fooled by an innocuous clubhouse and a name that lacks the gravitas of Ballybunion or Royal Portrush. For me, the European Club is among the three or four best courses I have played in my life (including most of the classics in both Ireland and Scotland).
This treasure, an hour south of Dublin, is just one of many compelling reasons why Ireland's capital city and its surrounding area is worthy of far more than just your passing attention. If it's your first time in Ireland and you want to squeeze some golf into a broader itinerary, the Dublin area presents arguably the strongest case. If you're planning a more extensive and dedicated golf trip, don't overlook it. The European Club is not the only gem on this stretch of coast.
But it is not just the links courses for which Ireland is famed. Our base for the week was the magnificent K Club, host venue for the 2016 Dubai Duty Free Irish Open and a layout that is every bit as parkland in style as the European Club is a links. Tournament host Rory McIlroy told us that from 2017, he wants to move this rejuvenated event to an exclusively links rota, but his thrilling victory on the K Club's Palmer course, not to mention title sponsor Dubai Duty Free's affinity for the venue, means the future direction the tournament will take remains unclear for now.
There is talk that the European Tour might move the DDF Irish Open to a slot in July, directly before the Scottish Open, creating an unprecedented 'links swing' that culminates with The Open Championship and serves as a tempting proposition for the PGA Tour's biggest stars to play more golf in Europe during the build up to the season's third major. This seems like an excellent idea in theory, given that the likes of Phil Mickelson and Rickie Fowler already play the Scottish, and there's no doubt that Ireland's national open could benefit from some more favourable weather.
They talk about having all four seasons in a day here, but May is an even more temperamental month, and during my trip, the appropriate time frame for this curiously Irish phenomenon felt more like 15 minutes. Following Rafael Cabrera Bello's group down the 10th hole on Sunday's final round, I had just peeled off my sweater for about the 12th time that afternoon when the sky abruptly turned black and from nowhere, hail stones the size of ball markers were thundering down on stranded spectators who shuffled hurriedly beneath a bobbing mass of umbrellas towards the safety of the spectator village. Rain, wind, sun, thunder, lightning, and now hail. We'd had it all in the time it takes to walk from tee box to green.    
I am a diehard fan of links golf, so was not expecting to love the K Club, but our stay here quickly put paid to that false assumption. The hotel is simply stunning, with an extraordinary level of service that is as attentive as it is cheerful. The lawns that overlook the peaceful River Liffey show there is more to Ireland's natural beauty than its rugged coastline. The river is a prominent feature of the Palmer golf course, particularly on the 16th and 17th holes. You might recall McIlroy's amazing 3-wood from 270 yards that found the green on 16 and turned the tide in the World No.4's favour. Well, having dumped my own approach shot into the Liffey with just a wedge in my hands, I have a new appreciation for what will surely rank as one of the shots of the year.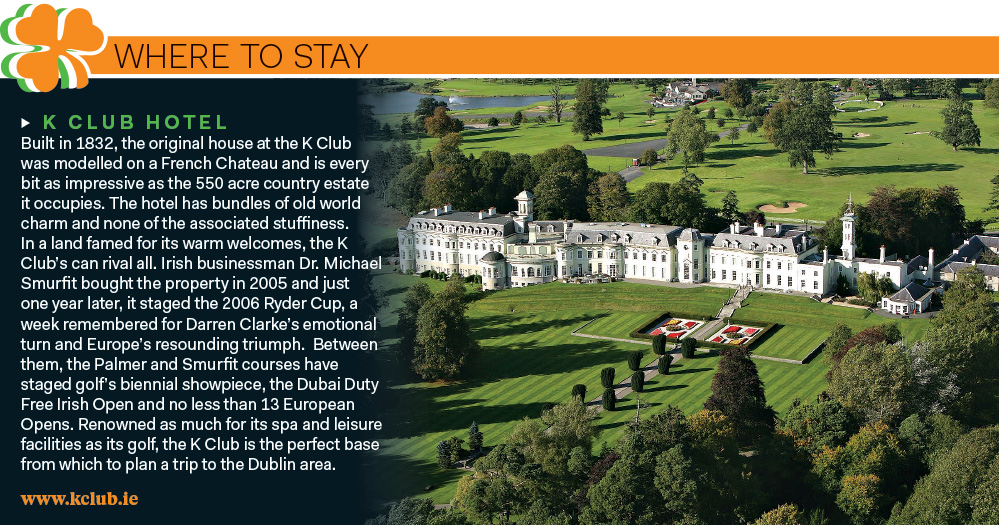 The location of the K Club in County Kildare is a big part of its appeal. It's only 40 minutes from Dublin's city centre, but occupies a vast estate of rolling countryside that feels tranquil even in the presence of 25,000 Irish golf fans. It's much easier to get around in the Dublin area than it is in the more remote parts of the country (like the southwest and far north) and most of your prime golfing targets can be reached in less than an hour by car.
Our first stop was Portmarnock Golf Club, Dublin's most famous links course situated on an exposed peninsula just a short drive north of the city. A crumpled piece of land dotted with numerous clumps of yellow gorse, the championship course here is revered, and for good reason. Padraig Harrington calls it 'the fairest links in Ireland', and sure enough, this is a course for the purist. Hidden trickery is an accepted part of most links golf, but the challenges of Portmarnock unfold in clear view, leaving you in no doubt as to the varied demands of each and every shot. It's firm and boy is it tough.
There are three nines at the club, but it's the red and blue nines that comprise the championship links. When you're not used to this style of course, the first thing you must do is recalibrate your distances. The greens here are firm, and they're quick, which means you have to get used to landing the ball short and bouncing it in. Skilled links players will seldom play a full shot, instead opting for a variety of punches, bunts, three-quarter swings and low stingers. It takes some getting used to, but this is golf at its most creative and most fun.
Portmarnock is one of the most famous historical clubs in the world, but our next port of call fell firmly into the hidden gem category. The Island Golf Club, just a few kilometres north of its acclaimed neighbour, is not a regular on Ireland's must-play list. But here's the thing: it should be. As well as taking in the classics, a golf trip to Ireland should also be a journey of discovery, and this charming club near the small town of Malahide fits that bill.   
Quirky and bursting with character, the course weaves amongst impressive sand dunes dressed in fescue, its fairways and greens peppered with well-placed sand traps. The Island is one of the country's oldest clubs, but its reputation as a world class links has been growing of late. Ranked 13th on Golf Digest Ireland's Top 100 list this year, the club plays host to regional qualifying for The Open Championship.
The final course we visited is also no stranger to hosting big events. Killeen Castle is a parkland course designed by Jack Nicklaus and set in the grounds of a wooded country estate in County Meath, 40 minutes northwest of Dublin. Best known for staging the Solheim Cup in 2011, it's a young course in a historic setting and if you need a break from the links, this picturesque estate is the place to head. Ireland and its capital city truly is the golf destination that has it all.