By Kent Gray
Practice just got real purpose and a whole lot more fun at Trump International Golf Club, Dubai, with the introduction of TrackMan Range on the club's floodlit practice facility.
In a Dubai first, players can get the sort of feedback the world's best players and coaches rely on courtesy of a system that delivers eight of TrackMan's most essential ball data points.
It's as simple as downloading the TrackMan Range app to your mobile phone or tablet through the Google Play Store or IOS App store and then choosing a selection of game improvement options.
Not only can you get an actual handle on how far you hit each club (let's be honest, it's typically shorter than we tell ourselves and especially our mates), you can also play a series of games to sharpen up any practice session.
Keeping in line with Dubai's 2020 vision. We at Trump Golf Dubai strive to deliver the ultimate golfing experiences in the region, coupled with the latest in technological advancements.
Another step towards the future of golf in Dubai.#trumpgolfdubai #trackman #taylormade pic.twitter.com/f1eFBXfWDM

— Trump Dubai (@TrumpGolfDubai) February 17, 2020
Golf Digest Middle East was particularly impressed with the option that recorded shot dispersions to a selected pin, adding a competitive element to practice that was fun practicing solo. With up to six players able to share a bay, practice sessions could even have some real spice and will certainly banish the pointless bashing of balls onto the distance.
Coming soon, TrackMan Range will also allow players to play a virtual round at one of the game's most prestigious courses or a famous hole over and over thanks to the system's "ultra-precise course renderings and hyper-real graphics".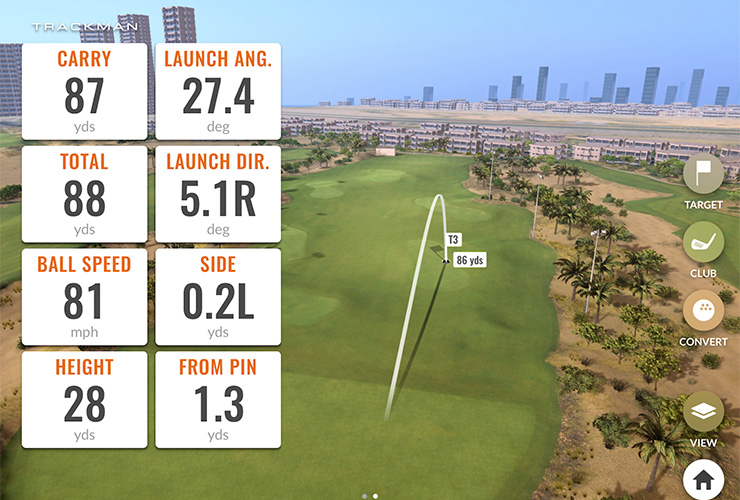 "It's fun," says Trump Dubai General Manager Casper Schonfeldt.
"It's one of the new technologies in golf. We feel it's been a great investment, really well received by members. Young people love it, beginners love it and good players love it because it is a great tool to practice with."
Head professional Sven Nielsen sees real benefits to game improvement starting with "simply knowing how far you hit each club."
"The games are also great fun," said Nielsen. "A lot of our junior members have used it already and love it. When you're having a bit of fun with your mates, you get up to six people per bay, you can hit to different pins, you can see who can make the most points. We were just doing it just there [at a media day launch], it' a lot of fun, it's good, it's exciting."
The TrackMan Range experience is included as part of the package in any 18-hole green fee.