By Alex Myers
Welcome to another edition of The Grind where we went from wondering last week if Tiger Woods would play in this year's Masters to simply hoping he'll play in any Masters ever again. Needless to say, it's been a rough few days, but most importantly, Tiger is still a living legend. And at the very least, he got to see how much he means to the world with everyone from fellow GOATs like Michael Phelps to former President Barack Obama tweeting him well wishes.
Sending my prayers to @TigerWoods and his family tonight—here's to a speedy recovery for the GOAT of golf. If we've learned anything over the years, it's to never count Tiger out.

— Barack Obama (@BarackObama) February 24, 2021
And then there were all the golfers who honoured Woods by wearing his traditional Sunday red shirt. Arizona State alum Phil Mickelson even bought one with the logo of rival University of Arizona because that's all he could find while playing in Tucson.
Only one way @PhilMickelson would wear red.

To honor Tiger. pic.twitter.com/EN8oZ4bPdq

— PGA TOUR Champions (@ChampionsTour) March 1, 2021
Nicely done, Phil. Tiger tweeted how much he appreciated all the gestures, but I'd also like to think that the most competitive person this planet has ever seen took note of who didn't wear red on Sunday and that he's already planning another epic comeback. Anyway, I've got my red shirt on, too, as we dive into everything else happening in golf. In the meantime, get better, Big Cat. You'll be missed.
WE'RE BUYING
Collin Morikawa: With a win at the WGC-Workday Championship, Morikawa became the second player to win a major and a WGC before turning 25. We'll give you one guess who that other player is. Morikawa has now won four times in 39 PGA Tour starts as a pro. That's virtually the same winning percentage he had in college when he won five times in 48 starts. Remarkable. No wonder this guy is already up to No. 4 in the Official World Golf Ranking.
Speaking of rankings, Morikawa, who entered the week ranked No. 213 in strokes gained/putting on tour, ranked 10th in the stat for his second tournament since switching to that claw grip. In other words, Happy learned how to putt. Uh-oh. And after that mishap at the PGA Championship, he's also learning how to better handle trophies:
.@collin_morikawa is a seasoned pro now thanks to his 2020 PGA Championship mishap. 😂pic.twitter.com/UVgH5AZoTG

— Golf Digest (@GolfDigest) March 1, 2021
Again, uh-oh …
The Korda sisters: Another week, another win for golf's sport's most-talented family. This time it was Nelly Korda holding off Lexi Thompson and Lydia Ko at the Gainbridge LPGA for her fourth career LPGA victory. This, just five weeks after older sister Jessica won for the sixth time in her career.
The Kordas matched Annika and Charlotta Sorenstam in 2000 as sisters to win back-to-back tournaments on the LPGA Tour. But the Kordas are also on pace to win every event this season. Hey, you can't win every event if you don't win the first two, right? Anyway, did I mention the Kordas and Collin Morikawa were on the cover of recent back-to-back issues of Golf Digest? That bodes well for current cover boy Viktor Hovland …
Annika Sorenstam: Recent headlines hadn't been particularly kind to the GOAT of women's golf, but no one could criticize her performance on the course. After being retired for more than a dozen years, Sorenstam returned to action and made the cut at Lake Nona. Yeah, yeah, she was basically playing in her backyard, but that's still really impressive. Imagine going more than 12 years without doing something and still being able to hang with the best in the world? If I didn't drive a car for 12 days, I'd probably forget how.
Branden Grace: First of all, props to Grace for winning with such a heavy heart and for even being able to get through this interview in which he talks about recently losing his dad to COVID-19:
Five weeks ago, @BrandenGrace lost his father.

Today was an emotional win @PuertoRicoOpen. ❤️ pic.twitter.com/5lq8knytZg

— PGA TOUR (@PGATOUR) February 28, 2021
So sad. But undoubtedly, his pops would be proud. Talk about someone putting together a sneaky-good career, Grace's victory at the Puerto Rico Open gives him two PGA Tour wins to go with nine Euro Tour titles. Still only 32, he's also the only golfer to shoot 62 in a major. And like we've mentioned before, with Viktor Hovland recently lifting the Puerto Rico Open curse, there's a good chance we'll see him win again soon. If Grace could just get himself on the cover of Golf Digest, then he'd really be cooking.
WE'RE SELLING
The Tiger tribute police: I was joking about Tiger taking names of those who didn't wear red. Sort of. But man, Golf Twitter needs to chill a bit. Everyone does things their own way, and whether it was due to sponsors (silly, but I get this is a business) or a delayed shipment (Morikawa), it just wasn't in the cards for everyone to come out in red and black. I was half expecting someone to complain Justin Thomas' shirt wasn't RED ENOUGH!
But as we saw by Morikawa getting emotional talking about Tiger after winning, that doesn't mean those who didn't wear red didn't show their appreciation or support in other ways. We also have no clue which players have been in touch with him directly. And again, thankfully, Tiger isn't gone for good. So there will be other chances to honour him in the future. And by then, everyone better have figured out how to get a red shirt to wear! Kidding. Sort of.
Playing The Concession: If you're a weekend hacker like myself, that is. Wow, does that place look tough. Sure, Morikawa wound up winning at 18 under, but the course also lived up to its nickname, The Concussion. Max Homa joked about running out of balls, Viktor Hovland made a quadruple bogey out of nowhere that cost him the tournament and take a look at this absurd scorecard from Matt Kuchar:
Apologies for not getting to this on Friday … Matt Kuchar with a GEM of a #psychoscorecard in his second round pic.twitter.com/gfxtJJ2qIG

— Shane Bacon (@shanebacon) February 27, 2021
That's an even-par round with seven birdies. And an eagle! How?! That being said, watching the world's best constantly on edge made for very entertaining TV so I wouldn't mind this course getting another tournament in the future.
Cam Smith's mullet: It was fun for a few weeks, but the Aussie continues to show up to tournaments looking like this:
Rough. And it's not even practical now that we're into the Florida Swing. Isn't that much hair in the heat and humidity uncomfortable?! But now that we know he has a wife and two dogs, though, it makes more sense.
Cam Smith's girlfriend is wheeling their dachshunds around the course and it's amazing.

One of them is named Kendrick, not sure on the other. pic.twitter.com/LNTcyVFQ6B

— Rick Gehman (@RickRunGood) February 27, 2021
The dude is totally settled down. Who does he have to impress?
ON TAP
The PGA Tour continues the (extended) Florida Swing by heading to Bay Hill for the Arnold Palmer Invitational, AKA that tournament that Tiger Woods used to basically win every year. Seriously, the guy hasn't won the tournament in eight years and yet he still has won it eight times. EIGHT! GOAT! No one else has won this event more than two times, by the way.
Random tournament fact: Included in those eight wins are a pair of walk-off putts in back-back years. Let's take a fun trip down memory lane, shall we?
What a legend.
RANDOM PROP BETS OF THE WEEK
—Anyone will ever match Tiger's eight wins here: 1 MILLION-to-1 odds
—Rory McIlroy will win this week: 9-to-1 odds (Actual odds, favourite)
—Phil Mickelson won't be wearing that Arizona shirt again: LOCK
PHOTOS
Some of Sunday's sea of red:
Sunday red ❤️@ANNIKA59 | @PGATOUR | @GainbridgeLPGA pic.twitter.com/o2FHDPPUGf

— LPGA (@LPGA) February 28, 2021
🔴⚫️🐅 pic.twitter.com/VCWNYA8doI

— Tony Finau Golf (@tonyfinaugolf) February 28, 2021
Rory in Tiger red and black. "Don't wear it as good as he does, but it'll be all right." pic.twitter.com/S8TJze3U47

— Ryan Lavner (@RyanLavnerGC) February 28, 2021
It's OK, Rory. No one does. And how about this Tiger tribute at St. Andrews?
View this post on Instagram
Beautiful.
TWEET(S) OF THE WEEK
— Collin Morikawa (@collin_morikawa) March 1, 2021
Good stuff, guys, but show some respect. Tiger is a Stanford guy, after all.
VIRAL VIDEO OF THE WEEK (ON THE COURSE)
Rory McIlroy and Justin Thomas became the latest participants victims in the European Tour's "Chase the Ace" series. Here were the impressive—but not quite impressive enough—results:
50 balls each to make a hole-in-one…

Step up @McIlroyRory and @JustinThomas34.#ChaseTheAce5050 pic.twitter.com/n3rYSPPRKV

— The European Tour (@EuropeanTour) February 23, 2021
At least they only hit 50 balls a piece. Anything more might have driven them both mad.
VIRAL VIDEO OF THE WEEK (AWAY FROM THE COURSE)
Props to our Shane Ryan for asking Will Zalatoris about his likeness to Owen Wilson. And props to Will for responding with a darn good impression of the actor:
And the Oscar goes to @willzalatoris. pic.twitter.com/sPExoBbtOF

— Skratch (@Skratch) February 25, 2021
Love me some Owen Wilson. Makes me want to get a "Zoolander"/"Wedding Crashers"/"Shanghai Noon" marathon going. You know, the classics.
QUOTE OF THE WEEK
"Tiger means everything to me. … I don't think we say thank you enough, so I want to say thank you to Tiger." —An emotional Collin Morikawa after winning. He's right. So, thank you, Tiger. You've meant more to people than you could ever imagine. Even a lowly golf scribe like myself.
THIS AND THAT
According to an NBC report, a Florida man is believed to have died while searching for a lost golf ball in a lake. Guys, I know golf balls have gotten pretty expensive, but trust me, they're not worth that. … This is the first time since 1994 that there hasn't been a player with multiple PGA Tour wins 20 weeks into the season. That's NFL-like PARITY right there. … Last week marked the first time that Phil Mickelson didn't win when he's played on the PGA Tour Champions. It was nice of him to let someone else (Kevin Sutherland) claim the trophy this time. … Xander Schauffele had his streak of 16 straight starts finishing in the top 25 snapped, meaning he didn't quite catch Rory McIlroy's 17. Tiger Woods has the longest such streak at 38—actually, he has the four longest streaks. GOAT! … Speaking of streaks, congrats to my former colleague at The Journal News, Kevin Devaney Jr., for picking winners for an incredible four consecutive weeks on the PGA Tour. It might be time to get this guy on our Be Right podcast. … And finally, fingers crossed, we may have a golf fan on our hands: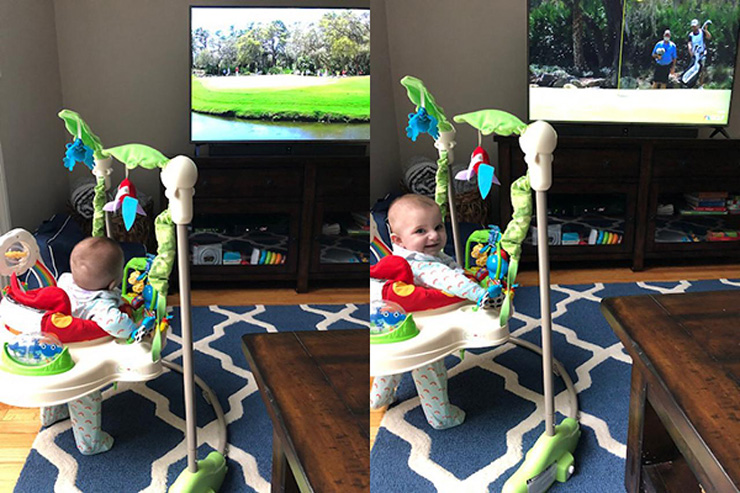 Just doing my part to try to #GrowTheGame.
RANDOM QUESTIONS TO PONDER
Will anyone in my house ever (willingly) watch golf with me?
Is "Wedding Crashers 2" still happening?
Tiger, can I get you anything?