It was a nice day until it wasn't, whipping winds off the Pacific arriving late and bending the flagsticks that once looked so inviting into yoga poses. If that sounds dramatic, talk to Will Gordon, who owned a share of the lead at eight-under in the Pebble Beach Pro-Am when the gales arrived on Thursday. Gordon did his best to get to the clubhouse with his card intact, but you can only do so much against forces beyond your control, and he finished bogey, bogey, triple. Even for a tournament infamous for its fickle weather, Gordon's fate seemed cruel, a reminder that good things can get sticky, and in a hurry.
Of course, those who run this 86-year-old event don't need a reminder of that.
Jordan Spieth is playing this week. So is Viktor Hovland and reigning US Open champ Matt Fitzpatrick. The high-profile attractions end there. They are the only players in the World top 20 competing in the Pebble Beach Pro-Am … and Spieth and Hovland are here in part to satisfy their respective sponsors. Widening the circle to the top 50 doesn't add many more names (Seamus Power, Tom Hoge, Kevin Kisner and Kurt Kitayama, for those scoring at home) to the list. There are just 21 in the top 100 and more than half the field is ranked outside the top 300.
Shocking as those figures are, they aren't an aberration. According to the Official World Golf Ranking, Pebble ranked 38th out of 47 PGA Tour events last year in strength of field. The season before that it was 41st. For a tournament whose history is intertwined with celebrity and fame, it's a tad ironic there's a shortage of golf stars who warrant marquee billing. And it begs the question of why the pro-am has lost its lustre? Or, perhaps more importantly, can the tournament regain its shine?
Few non-majors have the prestige that Pebble boasts, a patina developed through its iconic setting, a winners' roll call that's a who's who in the sport and the tournament's roster of celebrities and the public infatuation of them. Conversely, that hue, while very much earned, creates an aura around the past that was not necessarily aligned with its present. The strength-of-field numbers previously noted need context: Though Pebble has not ranked as low as those figures in the past 20 years, it's also never been inside the top-15 best fields in a given season. Even at its best, it's been far from great.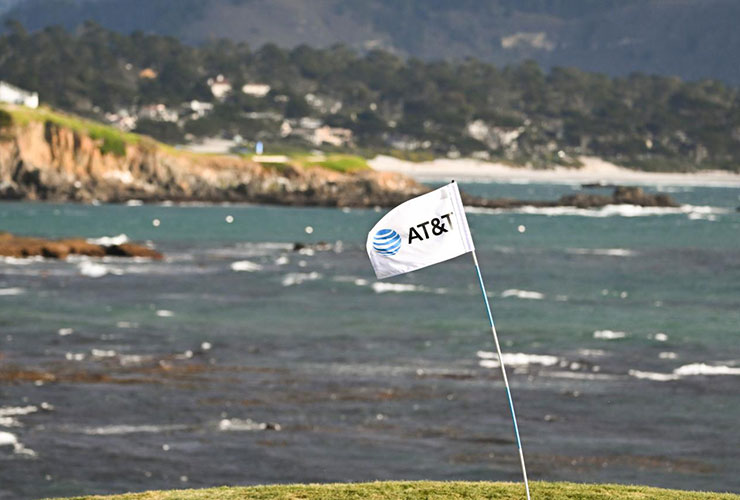 Historically, the problems have been threefold. For starters, the weather. In general, players are not fans of competing in temperatures that hover in the low 50s Fahrenheit, to say nothing of playing in rain and fog that is prone to causing delays. Which leads to the second often-cited issue, pace of play. Even while spreading the field over three courses, the Pebble Pro-Am is notoriously slow, with rounds routinely taking six hours to complete. Finally, for all its accolades, Pebble Beach Golf Links also has the reputation for owning some of the worst greens on tour, a byproduct of Poa annua grass and the greens' small dimensions that lead to more foot traffic through putting lines.
Recent years have added other issues. Primarily, the schedule. The WM Phoenix Open's move from before Pebble on the tour calendar to after has turned the TPC Scottsdale gathering from a rank-and-file event to the 'Greatest Show on Grass', and that was before the tour granted Phoenix designated status in 2023, the purse jumping to $20 million. In turn, the domino effect put Pebble in a bind, as it's no accident that Phoenix's jump has coincided with Pebble's struggles.
This year, most of golf's best players will be appearing in Phoenix, followed by the Genesis Invitational in Los Angeles in two weeks, the Arnold Palmer Invitational and the Players Championship. That means four starts in a five-week stretch for the tour's stars. It's a heavy workload and playing in Pebble would make it five-for-six — another reason why so many top players are sitting out.
The schedule also becomes problematic when factoring in the DP World Tour, as a number of top Europeans and a handful of American stars compete on the Desert Swing and thus pass on that Middle East-to-Monterey commute. Pebble also has clashed with the Saudi International, an event that offered serious money to top players. The tournament lured away Pebble regulars like Dustin Johnson and five-time AT&T winner Phil Mickelson, both former champions who eventually moved to LIV Golf.
Multiple player representatives and sources familiar with the tournament's operations expressed to Golf Digest a change in perspective from players towards the pro-am. For decades, there was a belief that the chance to rub shoulders with power brokers and industry titans who either played in the event or attended any of the myriad social gatherings around the Clambake was an unspoken but inherent asset to the tournament. Some players understood this better than others. Multiple sources with the tournament pointed to Mickelson and Paul Casey — who is also competing in Saudi this week — as guys who took full advantage of the networking opportunity.
However, that asset isn't viewed the same way it once was, according to multiple players and player representatives. One former top-10 player told Golf Digest that he realised after a dozen trips to Pebble he hadn't signed a single business deal through the pro-am, so he stopped playing. Another player said he would play as a favour to an equipment manufacturer, but when he switched club brands he was no longer compelled to show up. One agent relayed that the majority of business is run through agents or managers, particularly for players younger than 30, while another pointed to the fact that the game's sizable purses and bonus money have curtailed the need for top players to grab as much off-the-course endorsements as they can.
Tournament officials who Golf Digest spoke to acknowledged these issues, yet to a person they point to the schedule as the biggest obstacle. It's also an obstacle they feel can and will be hurdled.
Though the current PGA Tour season has seen the advent of designated events, the schedule moving forward is likely to undergo drastic change, multiple sources familiar with the tour's planning told Golf Digest this week. "The biggest thing about 2023 is that it gets us to 2024," one player said — a nod to the alterations made last August against the emergence of LIV Golf. Multiple sources with the tour insist the schedule for 2024 and beyond remains a work in progress.
What seems to be universally acknowledged is that AT&T, the sponsor at Pebble Beach as well as backer of the Byron Nelson event played in Dallas in May, will be taken care of. The company has been a loyal partner to the tour since 1986, and its former chairman, Randall Stephenson, is on the tour's Board of Directors. There's an obligation to reward this loyalty, multiple sources around the tour suggest.
How the tour accomplishes this remains a question. There is the chance Pebble switches dates with the Farmers Insurance Open at Torrey Pines or Genesis at Riviera, or that Phoenix is pushed back a week. Naming Pebble a designated event in 2024 or a future year is easier said than done. Two players told Golf Digest this week that the size of the fields in designated events continues to be debated, and that number needs to be decided before determining what tournaments receive that status.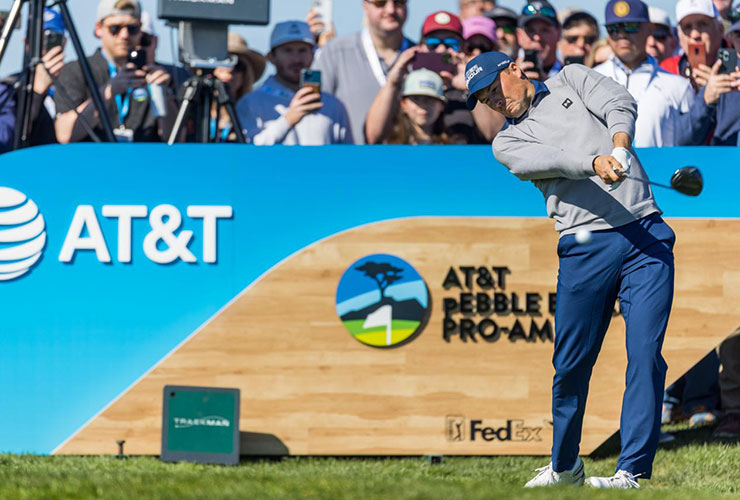 On Wednesday, Jordan Spieth expressed his desire to see the pro-am get some love, but acknowledged the challenges in doing so.
"I don't know exactly how it could work because I don't even know how it's all going to work in any elevated event going forward. And that's trying to be figured out soon," Spieth, who is endorsed by AT&T, said. "This is the unique one where it's a pro-am. Most of the tournaments are going to want to be an elevated event. I would imagine even if that requires a little more of a [financial] commitment, I don't think AT&T would shy down from that. It's a little trickier than your typical elevated event, given the format. But I think something can be done. I think it's extremely important that it does get done here."
Spieth makes a valid, politically correct point. The "am" of the pro-am is not loved by all, so requiring everyone to play that format if the tournament becomes a designated event seems unlikely. Likewise, amateurs are part of this tournament's heritage, and multiple tournament officials assert they will not sacrifice that element to chase designated status. The tournament's focus on celebrities is occasionally ridiculed, particularly when they're shown more than tour pros on the television broadcast. Yet, as one tournament official pointed out Thursday, two of the biggest galleries were seen following actor Jason Bateman and football star Gareth Bale. During lean years like this, A-list amateurs are part of the on-site sell … sometimes more than the players.
There's also the not-so-insignificant detail of the Pebble itself, which, save for a certain club in Georgia, is arguably the most famous course in the country. Multiple sources familiar with the tour believe the tour should be maximising its relationship with Pebble Beach even more. One idea on this front would see the tour playing at Pebble Beach for three days instead of two, a move that would mean a more limited field.
However, most within the tour believe the first step in its utilisation of Pebble is improving the field. On Wednesday, Spieth openly pondered what could have been if such a gathering happened this week.
"Can you imagine at this point … Rory [McIlroy] and [Jon] Rahm, the hottest two players in the world right now, coming down, 16, 17, 18 at Pebble Beach?" Spieth asked. "A bunch of others in the top 10 in the world gunning them down. It's hypothetically must-watch television. I would love to see it happen somehow."