By Kent Gray
Moments after winning his second professional event as an amateur, Rayhan Thomas responded to a congratulatory message from his now U.K.-based putting coach John Howells. The calm exchange, amid the furore of yet another glorious milestone in a career still so adolescent, speaks volumes of the 19-year-old's temperament and steely focus on the future.
Howells, formerly of the Butch Harmon School of Golf at the Els Club in Dubai, commended Thomas for his golf, noting 17 under through 54 holes at The Royal Golf Club was impressive given the Bahrain course's sometimes "quirky" nature. He followed up with a question for which he already knew the answer: "So I'm guessing the putting is working?"
Thomas' retort? "Putting was solid son, still needs work though".
Related: Dubai prodigy Rayhan Thomas wins second pro title in Bahrain
Having just turned 19, Thomas has every right to over hype his five storke victory at the 11th King Hamad Trophy, a sensational follow up to his Dubai Creek triumph on the MENA Tour two seasons ago. A professional career, after a stint at one of collegiate golf's ultimate finishing schools, Rickie Fowler's old Oklahoma State University, beckons but Thomas is able to put the win into longer term context, as excited as he inevitably was in the moment.
"I'm not sure people know how hard he works but it really is something special about the kid," Howells told GolfDigestme.com afterwards.
"He's always looking to improve and it [the WhatsApp exchange] just gives you a nice insight into his mind. Credit to his Mum and Dad [Neena and John] and to [his swing coach] Justin [Parsons].
"He's going places that guy. His attitude is brilliant."
The past 12 months have been topsy-turvy results wise for Thomas but he'd dedication to improving has never waned. But for a slow start to October's 10th Asia Pacific Amateur Championship, a four-over 74, he could have won invites to next year's Masters and Open at Royal Portrush but was still quietly chuffed with his second placing in Singapore. His game was coming back, as it was there for all to see in Bahrain in what he described as a "very clinical" display.   
"The last win was at the Creek in the MENA Tour so it's been a while since the last big win. I'm just proud of myself that I was able to keep a very clean and crisp job over the last three days," Thomas said.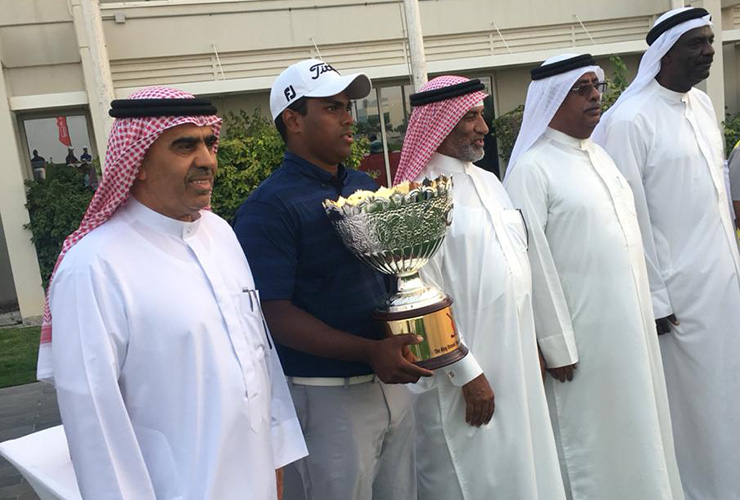 "I had two bogeys all week and both in the first round, I was bogey free the last two rounds so just very clean, very tight, I didn't really make many mistakes which is essential.
"The only way anybody was going to beat me is if they caught up to me. I just felt if I kept doing what I was doing, keep it clean, it was going to be very hard for anybody else. So very happy with the way I played and it's good to see my game is progressing nicely."
Thomas' victory is further validation for the Middle East's very own finishing school, the MENA Tour which will resume in the New Year after a 15-month restructuring hiatus. Yas Links-atached Luke Joy, a regular contender on the regional development circuit, won the King Hamad Trophy last year and finished his defence T-19 on -2, 14 shots adrift on Thomas, while the MENA Tour's first life member, 10-time winner Zane Scotland, earned a share of 15th place alongside former European Tour player Jamie Elson on -3.
Thomas was toying with teeing it up in the Indian Amateur Championship but is now unlikely to do so as he knuckles down to his studies in the final year of correspondence school. He will play as many of the new MENA Tour events as possible before heading to college in the United States next summer.
"Hopefully I can keep this form up and take it into the next events, probably next year. I'm not too sure what I'm in playing next, probably won't be playing anything for a while.
"So a lot of prep work, keep this form going and hopefully keep winning."
There are no guarantees in golf but as Howells points out, it certainly won't be for the lack of effort.