With the new year comes some new arrivals, as TaylorMade has added to its revolutionary P·700 family — unveiling the all-new P·770, P·7MC and P·7MB irons.
While geared towards the better player, the P·770 and its brothers are slimmed-down siblings to the ever-popular P·790 range, offering a little extra forgiveness while maintaining distance.
The slimmer design brings a blade-like appearance along with a whole heap of technology lurking below the surface.
Let's take a look at the three new P·Series additions.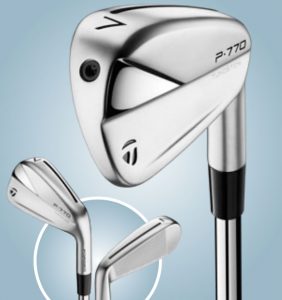 P·770
RRP AED 6,395 from 4-iron to pitching wedge
The all-new P·770 features a compact, tour-proven shape with a thinner top line, less offset in long irons and a shorter blade length when compared to P·790.
It features FLTD CG, a strategic design that positions the centre of gravity lowest in long irons and progressively shifts it higher throughout the set. This encourages easier launch, trajectory and spin as we progress up the clubs, along with a sweet sound and feel. The addition of SpeedFoam Air technology supports the face with a material 69 per cent less dense than the original SpeedFoam, which was seen in the earlier P·770 generation.
The thin face incorporates Thru-Slot Speed Pocket and Inverted Cone Technology to increase ball speed and allows forgiveness low in the face.
It will be interesting to see where the new technology-packed 2023 version places in the Golf Digest Hot List when it goes in front of our panel of experts early in the New Year.
What they said
"P·Series irons need to be technical, elegant and timeless and the new P·770 design has all of that in spades. We wanted to take as much performance and hide it on the inside. The technology we have poured in creates a product that we believe is truly one of one in this space."
— Matt Bovee, Director, Irons Product Creation
Specifications
• Better player category
• Hollow head foam filled
• Internal tungsten weight
• Forged body, sole slot
• Weight screw in toe, progressive CG
• Stock lofts: 4-iron 25.5°, PW 46°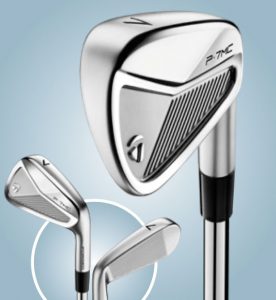 P·7MC
RRP AED 6,395 from 4-iron to pitching wedge
With precision and a hint of forgiveness, every angle of the P·7MC has been analysed to meet the performance demands of the game's best ball strikers.
It incorporates minimal offset and perimeter weighting into a classical shape for ultimate control. A narrow sole and tight leading edge ensure consistency through the turf. TaylorMade's Compact Grain Forging process uses 2,000 tons of pressure, leading to a tighter grain structure for the best possible feel and strength properties.
The club has a forged 'Metal-T' in the cavity. The face is machined to ensure precision TaylorMade's most aggressive score line geometry for exacting shot-making.
This club has a lot to live up to as it took Gold on the 2022 Golf Digest Hot List. Will it make the grade this time around? We shall see …
What they said
"There's no better feeling than a solidly hit forged iron. For pure ball strikers, the consistency of P·7MC rivals anything in the marketplace today and has been a favourite among skilled golfers. For players who chose to combo, our cohesive design language allows you to seamlessly pair it with either P·770 or P·7MB. No two golfers play the game exactly alike, and one of the things I love about our P·Series family is the ability for golfers to personalise a set to match their needs and maintain aesthetic unity."
— Matt Bovee, TaylorMade Golf, Irons Product Creation
Specifications
• Better player category
• Forged head
• Muscle cavity back
• Stock lofts: 4-iron 26°, PW 47°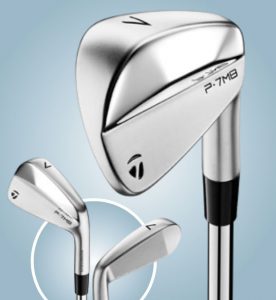 P·7MB
RRP AED 6,395 from 4-iron to pitching wedge
The P·7MB was again designed with the best ball strikers in mind, and TaylorMade brought in the best to ensure they got it just right.
Through feedback from top pros Rory McIlroy and Collin Morikawa following extensive testing, the all-new P·7MB has emerged with a shorter blade length, new sole geometry and progressive offset to control shot shape and trajectory.
The narrower sole than previous incarnations meant TaylorMade engineers had to add slightly more bounce to the leading edge, resulting in a completely different feel through the turf.
The P·7MB's shorter blade length allows for an updated backbar using symmetrical geometry. This allows for more mass to be positioned directly behind the face to support the point of impact and elevate feel. Again, let's see if the 2023 enhancements allow it to earn a spot among the greatest irons on the planet.
What they said
"The narrower sole width of P·7MB is a direct result of testing and feedback from Rory, Collin and our TaylorMade Tour pros. Rory and Collin worked with us to identify the right sole geometry and bounce. Having two of the best players being a driving force behind the design has us extremely excited to bring it to the marketplace."
— Matt Bovee, Director, Irons Product Creation
Specifications
• Better player category
• Forged head
• Muscleback
• Stock lofts: 4-iron 26°, PW 47°