The author, one of Erin Hills' designers and a Golf Digest editor, relishes the chance to see his course host the world's best
By Ron Whitten
My trip to the 2017 U.S. Open at Erin Hills turned out to be an ego trip.
That happens when you're one of the co-designers of Erin Hills and your ugly mug is flashed, even briefly, on television. Along with my fellow designers, Dr. Michael Hurdzan and Dana Fry, I made the most of every opportunity. We became bona fide celebrities de jure, albeit undercard division, filling airtime in that dull Sunday through Wednesday lead-up to the main event.
It was enough exposure that people in the gallery would walk up and ask for our autographs. I signed so many hats (and flags!) that, by Tuesday, I made sure I had my trusty Sharpie in my pocket as I headed to the course. Forgot my sunglasses one morning, but not my Sharpie.
One guy asked me to sign the back of his flag, so as not to soil Jordan Speith's signature. Another asked me to pose for a selfie, which I did, and then shook my hand, saying, "Terrific course, Dr. Hurdzan."
Like any good Kardashian, I had my entourage. My wife Lynn and I had rented a five-bedroom house on the edge of North Lake, 15 minutes from Erin Hills, and our five daughters, three sons-in-law and five grandsons all joined us, as did a niece and her husband from Omaha. The USGA had provided me with tickets for all, some Hospitality, some Gallery, so I had to play Scrooge on a couple of mornings, picking who deserved air conditioning that day. On Thursday I played Solomon, allowing one daughter to have breakfast in the Rules Hospitality tent before surreptitiously switching tickets with another daughter so she could also sample the buffet line.
My family played its part, particularly at the Monday afternoon USGA Architects Forum, in which Mike, Dana and I pontificated for an hour on the virtues of Erin Hills, each of us
proving that we've yet to grasp the sound-bite mentality that is essential to today's media. Had Adam Barr not let the Whitten Clan into the media tent to watch the event (and cool off), I suspect it would have lacked a quorum.
But enough about my family. This column is about me, budding narcissist.
Mike, Dana and I made two appearances on Golf Channel, one Monday evening, the other early Wednesday morning. The first time, we climbed the Golf Channel tower to the "Live From" set, incredibly cramped for such a rickety structure, and as a make-up artist dusted our noses, we watched Rich Lerner, Brandel Chamblee and Frank Nobilo discuss whether U.S. Open courses should now measure 8,000 yards. At the end of the segment, the first of the nightly rainstorms rolled in and a crack of lightning struck uncomfortably nearby.
"Talent off the set," the director shouted. "Down to the rain room." Chamblee and Nobilo shed their microphones and were hustled downstairs. I expected to follow, but instead, microphones were put on Mike, Dana and me, and we took chairs at the desk, the open air backdrop of a storm rolling in behind us. I looked at Lerner, still at his seat, and thought, "Isn't he talent, too?" But, pro that he is, he stayed to conduct a quick interview with the three expendables. Anchors, I presume, are grounded.
I returned to the tower early Wednesday morning and found it empty. So I sat on the steps, thinking that sooner or later the "Morning Drive" crew would show up. A writer walked by, said hello, and asked why I wasn't with Mike and Dana on the practice range, where they were talking with Matt Ginella. So I ran to the practice range, found I had plenty of time to get miked up, but they stuck me on the side of a slope of the tee box next to Dana. He's about my height but looked half a foot taller than me in the shot. Seeing my profile on a rebroadcast that evening, I looked like Danny Devito as The Penguin.
The rest of the week, I strutted around the gallery each day, awaiting recognition. One morning, a small scrum behind the eighth green caught my eye, so I investigated. It was Bob Lang, the original owner of Erin Hills, signing hats with his signature and tag line, "Golf is a Journey." He saw me and motioned me over.
We proceeded to entertain a dozen spectators with a five-minute comedy routine, me mostly the butt of his jokes. But I got in one good jab.
"Back in twenty-oh-three, Ron gave me a copy of his book," Bob told our modest audience, "and Ron inscribed it, 'Someday I'll write a book about Erin Hills, and I'll call it, Golf is a Journey.' You remember that, Whitten? Isn't that right?"
"Yes," I responded, "and you stole my line."
That got a big enough laugh that a marshall shushed us up.
On Sunday, the plan was for Mike, Dana and me to walk down the 18th hole with the U.S. Open champion, whomever that might be. But I wanted to walk the entire course first. I selected the twosome of Patrick Reed and Russell Henley, both four strokes back of leader Brian Harman at the start of the fourth round, and three groups ahead.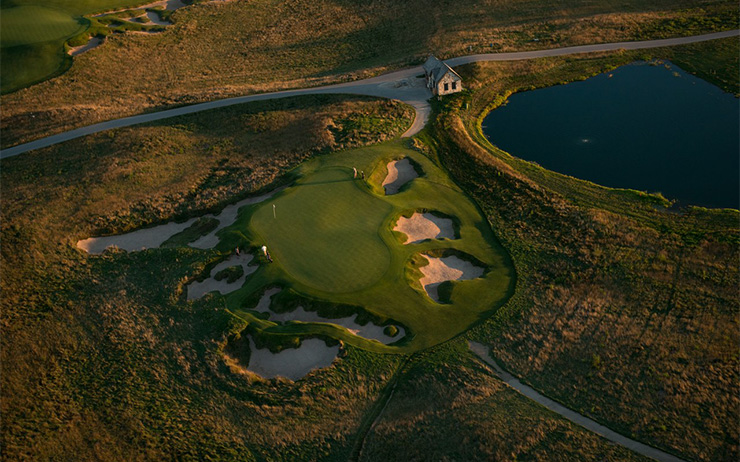 I'd been given a lime green lanyard which got me inside the ropes, and the unwritten rule is that such a lanyard is tethered to those perimeter ropes. But I wanted to walk down the middle of every fairway on my golf course that Open Sunday, despite not having a lime green Walking Access badge. Figuring it's better to seek forgiveness than permission, I simply slipped under the rope after Reed and Henley teed off, and I strolled out into the middle of the first fairway, following them at a respectable distance, acting like I belonged there.
No one questioned my presence, so I followed the group for the next four hours, soaking up the grandeur, pretending the polite applause was for me. I did contribute a bit on the 12th. After Henley smothered his second shot, from the first cut of rough, into deep fescue, he and his caddie headed far too far into the gunch in search of it, so I trotted over to where I'd seen the ball go in, pushed back the thigh-high grass and said, "Here's your ball."
"Don't touch it!" the caddie shouted, and I took that as a thank-you.
Henley salvaged a bogey at 12, but then bogeyed the par-3 13th, four-putted the 14th and took a horrendous 8 on the short par-4 15th, a score that undoubtedly contributed to making 15 the hardest hole that last day. Reed, meanwhile, played steady golf, playing magnificent recoveries every time he missed a green, but he failed to sink a single birdie putt in my presence. Sorry, Patrick.
At the 15th, I spotted Hurdzan, so I left the Reed-Henley pairing. Mike and I quickly surmised that Brooks Koepka was likely to win this thing, and after we watched him birdie 15, we decided to follow him home. When Koepka then birdied the par-3 16th, we knew it was all over.
On the 18th, Koepka hit a towering 3-wood tee shot, followed by another to the slope below the green of this massive par 5. As Mike and I walked a short distance behind him, I kept looking for Dana, but never found him. Perhaps he was still with Harman, hoping for a miracle.
As Mike and I proudly marched shoulder to shoulder down the 18th of Erin Hills, sure enough, an official in a lime green shirt approached us. "Off the fairway," he said. "You don't have Walking Access."
"It's the last hole," Mike said. "We're the architects. Cut us some slack." The official did.
A lot has been made of the fact that, during my many interviews leading up to the U.S. Open, I repeatedly predicted that, if the wind didn't blow, the winner would shoot 16-under par. People were amazed that I'd hit Koepka's score on the nose. I don't understand why. To steal a line from Paul Simon: As if I didn't know my own bed?
Once every 25 years I turn into Carnak. Back in 1992, when the U.S. Open was played at Pebble Beach (the last par 72 Open until Erin Hills), I bet longtime Golf Digest editor-in-chief Nick Seitz that Tom Kite, who hadn't even qualified for the Masters that year, would win it. Kite did, and I won a whole ten bucks.
I won another ten bucks this year, this time from golf architect Stephen Kay, with whom I designed my first course, Architects Golf Club in New Jersey. Stephen and I have a running wager on every major, alternately making 12 picks in advance of each event. Yes, among my dozen picks this year was Brooks Koepka. Surprised?
As if I'd never noticed the way he brushed his hair from his forehead.