Warren Little
Swing coach Pete Cowen is seen on the driving range earlier this year at the European Tour's Omega Dubai Desert Classic.
By Daniel Rapaport
PONTE VEDRA BEACH — Amid some of the worst ball-striking of his career, Rory McIlroy has sought the opinion of a legendary swing coach with a penchant for turning around struggling players.
After shooting a seven-over 79 in the opening round of the Players, which included a quadruple-bogey 8 on the 18th hole, McIlroy was seen hitting balls on the TPC Sawgrass driving range in front of the watchful eye of Pete Cowen.
"Opinions, that's all," Cowen told Golf Digest. "They are only my opinions."
Cowen, 70, has worked with a number of major champions, including Brooks Koepka, Graeme McDowell, Louis Oosthuizen, Danny Willett, Darren Clarke and Henrik Stenson.
McIlroy and Cowen have worked together before, as Cowen was once the head coach of the Irish men's golf team, which McIlroy was a member of when he was as young as 14 years old.
Still, seeing the two work together at a tour event is a notable development given McIlroy's longtime relationship with Michael Bannon, who has coached McIlroy since he was a young child in Northern Ireland. Bannon has not been able to travel to the U.S. much given COVID-19 restrictions.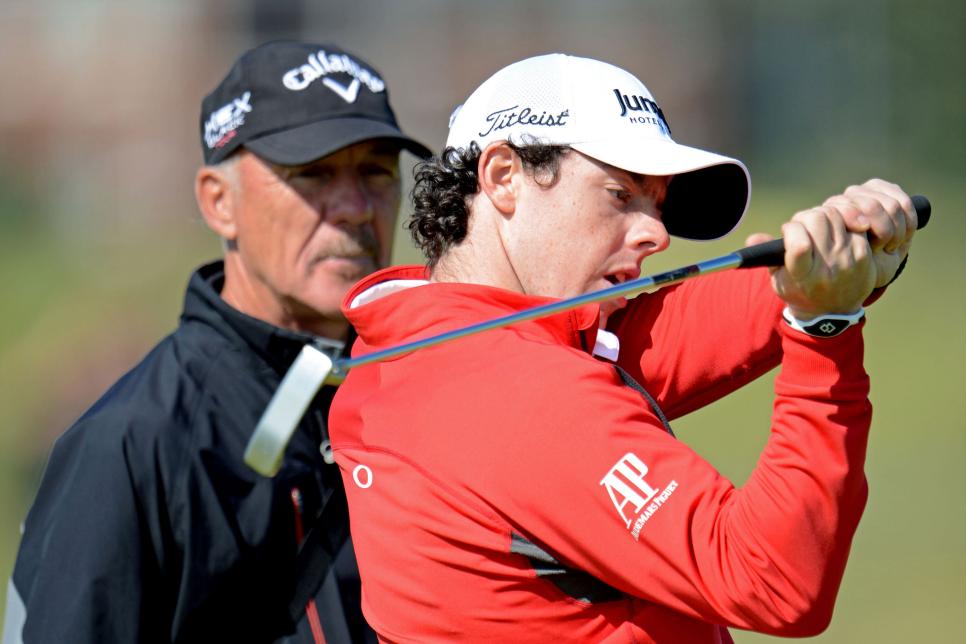 It is not clear whether McIlroy wants to go a different direction with his swing or if he simply wants another opinion from a fresh set of eyes, but one thing is clear: McIlroy's ball-striking—particularly with his short irons and wedges—has been off since he returned from the tour's three-month pandemic hiatus last June.
He ranks third on tour in strokes gained/off the tee but 87th in strokes gained/approach, 137th in approach play from 50-125 yards and 174th in approach play from 125-150 yards. McIlroy says he has struggled with getting the club "stuck" behind him in transition, which forces him to manipulate the clubface to deliver a square strike. In their session on Thursday afternoon, Cowen repeatedly encouraged McIlroy to get his hands more in front of his body on the downswing.
"I think that's where I'm sort of struggling to come to terms with it and sort of trying to figure out what I need to do because the good stuff is there," McIlroy said Tuesday. "It always will be. I'll always be able to figure it out and find a way.
"But it's when it goes slightly off, how do you manage that and how do you—I feel like over the last few years, I've been really good at when my game hasn't been fully there still be able to shoot 69, 70, still being able to get it under par, where I feel like the last few weeks when it hasn't felt quite right, I'm sort of treading water and I'm just trying to shoot even par, and that was sort of what it felt like last week."
McIlroy went into the COVID-19 break ranked No. 1 in the world but has since dropped to No. 11, and the four-time major winner has not won since the WGC-HSBC Championship in November 2019.