Rickie Fowler "loves" the way it's going in this Masters. The week has been "nice." It's so "cool" that Augusta National demands "imagination and creativity."
He's "enjoying" everything because it's all "great." Such a "blast," dudes. Nine times in the press room this week he has invoked the word "fun."
By my count he's up to 22 variations on that theme, a song of optimism and good feeling sung so sweetly that even when he talks about Augusta National's "scary shots" he goes on to say, "But when you pull off those scary ones, it's rewarding."
He's a kid on the elevator to Cloud Nine.
Wait. A kid?
He's 28. He turned pro eight years ago. This is his seventh appearance in the Masters. He has been a PGA Tour star so long that he, and only he, a kid, ever dared tee it up looking like a popsicle—an all-orange outfit suggested by the colors of his alma mater, Oklahoma State.
A kid?
He's small. There's an imp's look to him, and a lot of people who come to see him play show up in their popsicle suits, too, mini-Rickies, boys 7 or 8 years old who glued tiny mustaches to their tiny faces when Rickie tried the mustache thing to look grown up. Or to look dashing. Or maybe he just forgot to shave there for a year.
Anyway, he shot 71 on Saturday. He begins Sunday's final round one shot behind the leaders, Justin Rose and Sergio Garcia. And when Fowler met the assembled literati to explain himself, what do you think he said about Sunday? Sunday in the Masters heat can leave bravehearts unable to draw it back. Warriors may have sleepless Saturday nights thinking of Sunday's dreadful possibilities.
"It's going to be fun," is what Fowler said.
First sentence.
Then, "I'm looking forward to it."
And, "This is by far the best I've felt at a major."
Expectations of major championships are a golfing prodigy's burden. Fowler was the world's top-rated amateur while at Oklahoma State. In 2014, he finished in the top five in all four majors (tied for second in both our Open and the Brits'). Only two players had ever done that, Jack Nicklaus and Tiger Woods. But Fowler won none and hasn't had a top-10 finish in a major since.
That was then, this is now.
The best he has ever felt?
"I mean, just this week, how I feel physically, mentally. From how my game feels, how I feel just about life. I feel great on the golf course. It feels like I'm right where I'm supposed to be. It doesn't feel out of place. Yeah, I get nervous on some shots out there. You get nervous on the first tee. But I'm settling into rounds very well. I'm thinking clearly. I'm not rushing. Just, it feels good out there."
The Masters is an extraordinary event in golf. The Augusta National course can be a walk in the park. It also can be diabolical, never more so than on the back nine Sunday. There we identify the contenders and the pretenders. Golfing Immortality awaits the winner. When Fowler says, as he did Saturday, that he began to feel comfortable here only in the last four years, he is acknowledging the Masters mystique. More important for his peace of mind, he embraces that aura.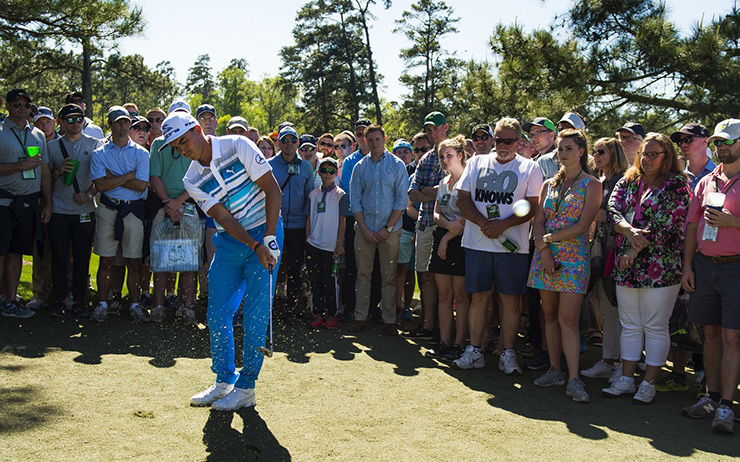 He "loves" the old-school scoreboards, their numbers put up by hand. Not alone among his contemporaries but one of a few, Fowler arose before dawn Thursday for the "fun" of watching Jack Nicklaus and Gary Player hit ceremonial shots opening he tournament—just as he did a year ago when Arnold Palmer walked onto the first tee for the last time.
Fowler's good play this week, he said, is the product of time spent well—in the gym with trainers and on the practice tee with teaching pros Butch and Claude Harmon. "Just kind of always heading the right direction," Fowler said, "not going too long without seeing Butch or Claude … and putting the time in the gym and making sure I'm healthy and in a great spot. We've put a lot of work in, and it's nice to see it pay off."
It has paid off in the most important ways it can pay off at Augusta National. On greens that demand precise placement and putting that is at once bold and cautious, Fowler's short game has been sensational. "Putting's been nice," he said. "Making good par saves." Five under par for the tournament, Fowler has done his best work on Augusta's set of par 5s. There he is 10under par: 4-5-4-5 Thursday, 3-4-4-6 Friday, and today all 4s.
One more question for the kid …
"All week, Rickie, you've been speaking positively, words like 'fun' keep returning. How much fun are you having out here? On a scale of 1 to 10, how much fun?"
"Ahh … 11½." – By Dave Kindred