HOME GROWN
Rayhan Thomas is not just the first amateur golfer to win a MENA Tour event. He's also a poster boy for the future of golf in both India and the Middle East. In this exclusive interview with one of the most likeable and focused teenagers you could ever meet, Thomas talks pressure playoffs, his love of yoga and the sacrifices required to become one of the best 16-year-old golfers on the planet
Story by Robbie Greenfield
[divider] [/divider]


 elf-confidence is the lifeblood of every top athlete, but it comes in two very different guises. With some, it manifests itself in cockiness and even arrogance. Then there's the other form of confidence – equally strong but quiet, like a powerful current. This is the type possessed by Rayhan Thomas. When you meet Rayhan, you quickly get a feeling that this kid is going places. And at 16, his precocity goes beyond his exploits on the golf course. "What is more important: talent or hard work?" I ask him during our interview. "Hmm," he thinks for a second. "When talent works hard, that's a pretty good combo."
---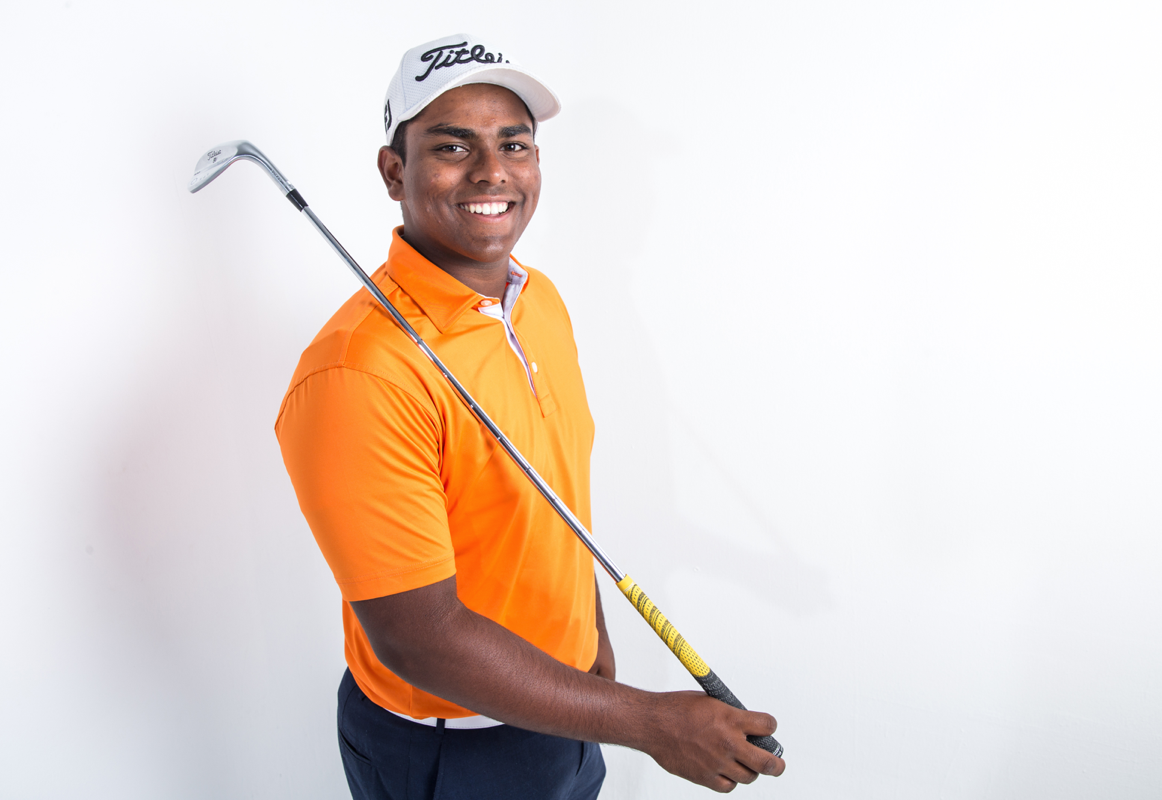 Around two years ago, Thomas made the decision at just 14 years of age to make the most out of the considerable talent he's been blessed with. You can't lead a normal teenage life and work towards becoming a professional athlete at the same time. For those who try to do both, inevitably it's the dream that dies. And so Rayhan accepted that in order to achieve his goal of becoming a top golfer, his life would have to be very different to those of his friends.
Last year, Rayhan, together with his parents John and Neena, and coach Justin Parsons, took the difficult decision to leave school and continue his studies at home through an online course that gave him the freedom to focus on golf and play tournaments without skipping classes.
The academic adjustment has been a relatively straightforward one for this bright young man, but leaving his friends behind was a wrench. "That was the biggest sacrifice I made, giving up a big part of my social life. I miss my friends a lot," he told us during last month's shoot. "But then when a win comes along and you get to experience that feeling, it's worth it."
And what a win it was. Last month at his home course, Dubai Creek Golf and Yacht Club, Rayhan made history when he became the first amateur golfer to win a MENA Tour event, on the occasion of the tour's 50th tournament. It has long ceased being a surprise to see Thomas' name near the top of a MENA Tour leaderboard, but winning at 16 was a remarkable achievement.
golf in DUBAi's David Spencer called it the 'most significant thing to happen to golf in the Middle East since Tiger Woods hit balls off the Burj Al Arab in 2004', and if that sounds like hyperbole, I can add that in 12 years of covering golf in the region, I've never seen anything to match it on a local level. Dubai has always had a flair for staging the biggest events, but watching a young Indian lad come through a junior program at the Creek, and then continue to progress to a point where at 16 he has become one of the best players on the MENA Tour, puts this region on the map not simply as one of the European Tour's favourite stop-offs, but as a legitimate producer of exciting golfing talent.

Furthermore, this was no one-off victory on his home track. In the last five MENA Tour events, Thomas' worst finish is a tie for eighth. Top players are able to score well on every type of golf course, and Rayhan's runner-up and third place finishes in Thailand, together with his even more impressive win at the Scottish Boys tournament last summer, have shown that even at his young age, he has a versatile game.
The most exciting aspect though, is the scope he has for far greater improvement. Thomas will get bigger and stronger, and more technically skilled. "He's just so good at playing the game," says Stephen Hubner, director of golf operations at Dubai Creek. "It sounds like a simple thing to do, but we all know it's not. Rayhan has that ability to navigate his way around a course in the fewest possible shots, and all the ball-striking prowess in the world can't buy you that."
In the last five MENA Tour events, Thomas' worst finish is a tie for eighth.
[divider] [/divider]
Rayhan Thomas: The Interview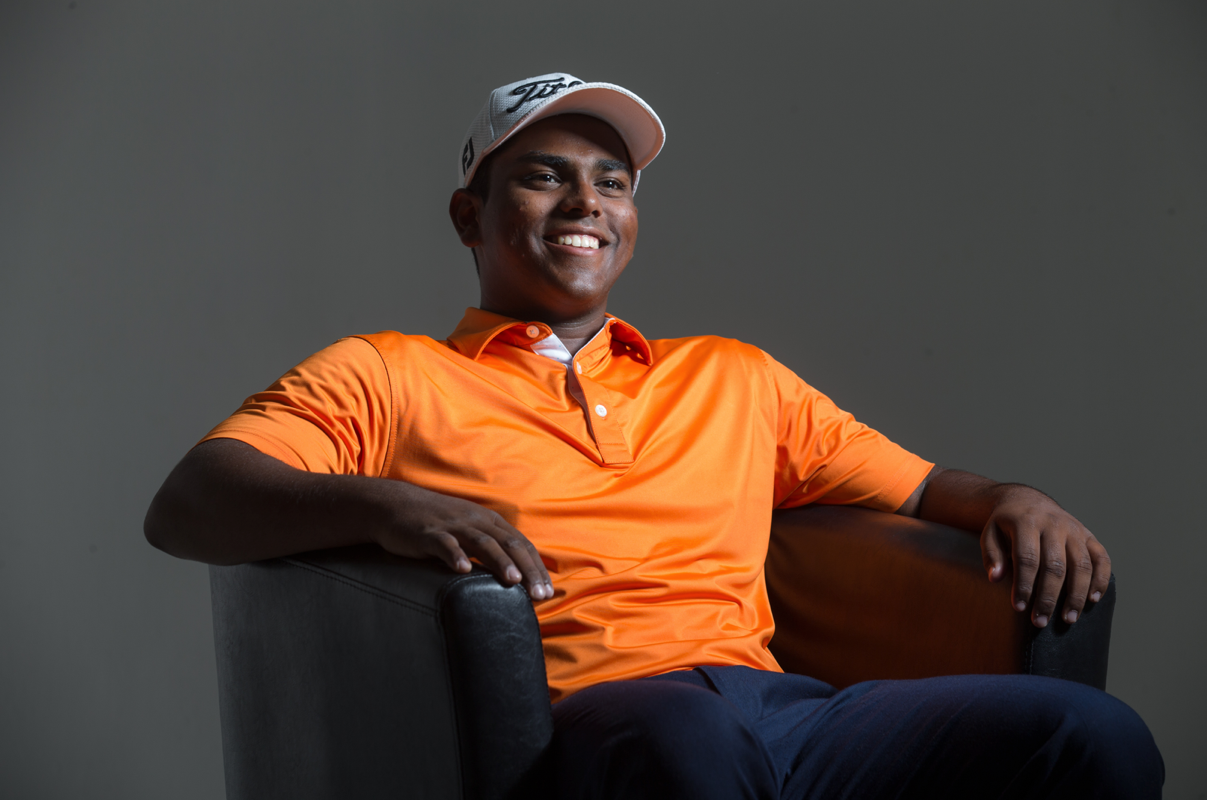 Now that you've had time to let the achievement sink in, how do you put into words what winning on the MENA Tour means for your career?
It's mainly about confidence. It has set a platform for the rest of the season, and going ahead it gives me plenty of confidence for the rest of the MENA Tour and the other amateur events that I'm going to play this year.
Have you been surprised by your success on the MENA Tour?
Last year did surprise me, yes. Getting into the playoff that I lost at Dubai Creek [to Jake Shepherd] and finishing in the top 15 in a few other events, it came as a bit of a shock. But this year with all the practice I had put in and the good results I had in Thailand, I expected to be able to content this time around.

Was there a particular moment during the victory that stands out?
The last full shot I hit in regulation was from the waste bunker on the right of the 18th fairway. The pin was tucked right and I knew I needed to make a birdie to win. I was going for it, I didn't want to get into another playoff, but I pushed the shot ever so slightly and the wind took it right of the green. It pitched on the bank, hit a rock by the water hazard and bounced back onto the grass! My heart was in my mouth but in the end, a good result.
Your win created quite a stir, both on the MENA Tour and in the wider world of golf.
The reaction has been amazing from the guys on the MENA Tour who I look up to. Getting recognition from guys like Zane Scotland, Luke Joy and Jake Shepherd has meant a lot. And to have professionals like Thomas Bjorn, Chubby Chandler, Darren Clarke and other Indian golfers like Anirban Lahiri and Jeev Milkha Singh take notice on Twitter, it has been very exciting for me.
Getting recognition from guys like Zane Scotland, Luke Joy and Jake Shepherd has meant a lot.
What has been more important in your evolution as a player: learning how to hit the shots or learning how to cope with the pressure?
My Dad always said I have the shots, and I have a good imagination when it comes to playing, but I never really developed the mental stability. I guess at 15 you don't really have that. So this year I started doing some yoga and focusing on techniques to keep calm and visualise things better. I think that has been a key to the success I've had this year. When I hit a bad shot, I try to accept it and move on. I can't change what's just happened, so there's no point smashing my club or tossing my ball in the water. I stay calm and go ahead and play the next shot. When I'm faced with a tough shot or a pressure moment, I've worked hard on my inner dialogue, reminding myself that I've hit the shot tons of times before, that I've done the work and practiced enough to expect to hit a good shot. As a golfer you have to be present. I've worked on closing my eyes, focusing on my breathing and paying a lot of attention to the different sounds around me, to be in tune with the environment. Once I open my eyes, everything is blocked out and it's all about the next shot.
How do you strike the balance between your studies and your golf career?
I've started studying from home, which is all online, so I get to travel and study at the same time. But it's all about having a routine in place where I know what I'm doing and what I have to focus on. Whether that be practicing in the morning and studying in the afternoon, or the other way around. And of course having a Mom that's always behind me and making sure I'm on top of things has been very important!
How big a role have your parents played in allowing you to pursue this dream?
They've put in a lot of time, money and effort in order to give me this opportunity. Everything from taking me to events, to the coaching that's required and the time to practice and play. But more than that they've given me the values and the morals, together with the confidence that I can do something with my life and be a success if I work hard enough. There's no one in this world that I trust more than my parents and any successes I have in golf, I owe to them.
[divider] [/divider]
The expert take on Rayhan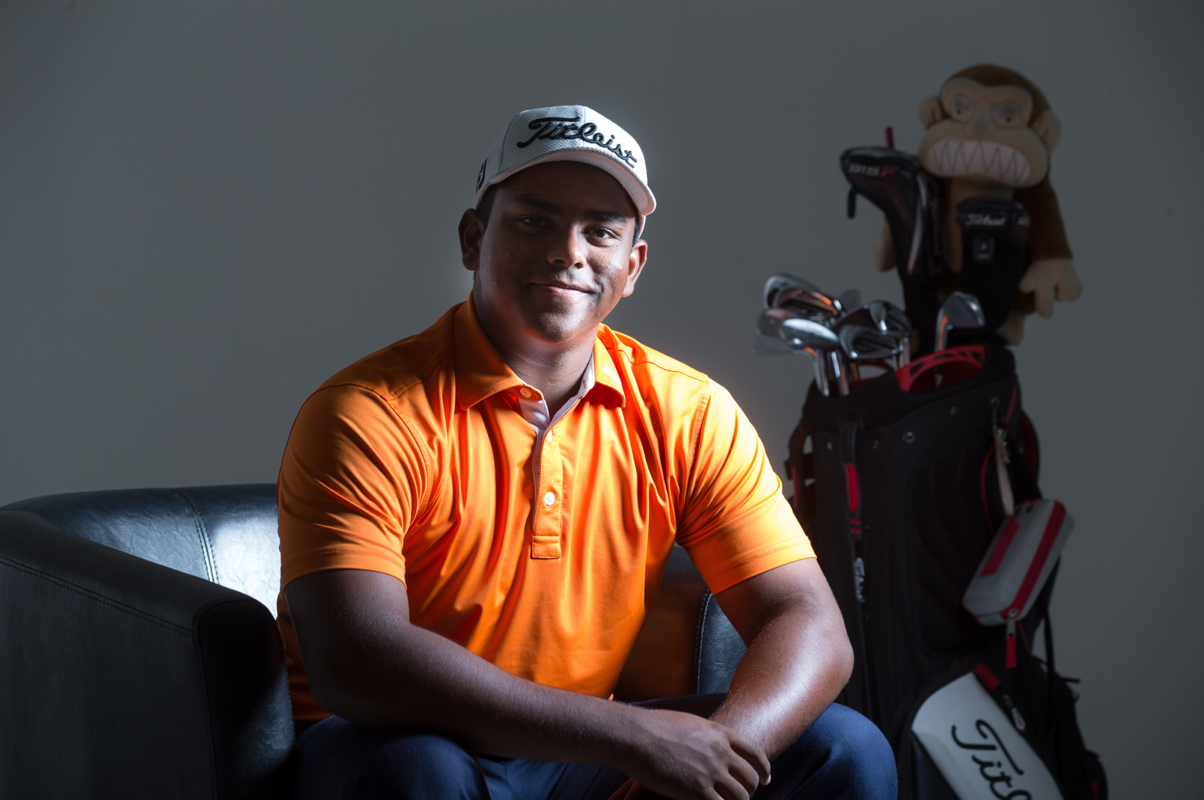 Justin Parsons
Director of Instruction at the Butch Harmon School of Golf and Rayhan's coach
"Rayhan has essentially been living like a professional athlete for the last 18 to 24 months. Over that time, he has become increasingly exposed to the kinds of things that professional tour players have to deal with on a daily basis, and as a result, he has made a lot of progress.
One of the big challenges we had with Rayhan was to ensure that he stayed very motivated and very realistic, based on the level of competition that was available to him. I think in the past, nobody has helped local golfers here to understand that being the best amateur in the UAE doesn't come with any guarantees. You're a big fish in a small pond – a top junior amateur here might not even be in the top 30 or 40 for their age group in the UK, for example. For all the facilities that we have here – and believe me they are among the best on the planet – the challenge we have is that this is a very small pool of elite talent. And as we all know, it's competition that breeds success.
We have to help promising golfers come up through the ranks without getting caught up in the hype that builds up around them. In my own role as Ray's coach, I have to constantly remind myself not to get carried away with what he's achieving. We need to stay focused on his progression and his improvement. Rather than bask in his successes, we try to use them as a platform to keep moving forward, and Rayhan completely gets that. One of the first things he said to me after winning the MENA Tour event at Dubai Creek was, "so what do I need to do better?" He had just won a professional event at 16 and he was asking me how he could improve!
At 16, Rayhan is a brilliant golfer. But relative to what he's going to have to be like at 19 or 20, when hopefully he'll be preparing for that transition into the professional ranks, we still have some way to go. He's much more consistent technically than he was a year ago, but the biggest shift in Ray has been in his attitude to every facet of his game.
I can see a scenario where he'll get an awful lot better in the next few years. He's still developing physically. He's got three or four years of improving things like his body awareness, his balance and coordination. A lot of young players hit a ceiling, but more often than not that comes down to attitude. They aren't prepared to work hard enough. That is not the case with Ray. He loves goal-setting and he loves achieving those goals.
I think Ray made a decision that he was going to be the best version of himself that he can be. He realised that would entail a different lifestyle. You need to look deeply within yourself if you want to make a career out of golf. If you choose that path of real dedication, the sacrifices you need to make in order to achieve something require missing out on the things that your friends take for granted. Rayhan has accepted that. And without that acknowledgement and drive, you really don't have a shot at success at the highest level.
Ray loves accepting challenges, and he does his best to knock them down. One of those was to contend in three or four MENA Tour events, which he did, and he won one. That was a bonus, and a feather in his cap to go alongside his terrific win in the Scottish Boys tournament over the summer.
Rayhan will always belong to Dubai. The MENA Tour gave him a platform to develop his game, which we've never had before. Previously once juniors started to win Amateur Men's Opens here, there was nowhere for them to go. Now we've got this amazing platform where they can take the next step on the MENA Tour. It has given elite junior golfers something to aim for and aspire to, and we can't underestimate the job golf in DUBAi have done in building a tour with nearly 20 events and world ranking points available to its players, not to mention the chance to gain entry into some huge tournaments.
So where does Rayhan go next? Ultimately, he would love to have a successful college career in the U.S., and then earn a place on one of the main tours. There are no guarantees in golf, but the way he is going, I have every faith in him."

Luke Joy
Professional Golfer and MENA Tour winner
"People often talk about the fine margins in golf, and it's true. When I played the Omega Dubai Desert Classic a few years back, I realised that I wasn't all that far off. The thing is, there are a lot of very good golfers out there who can hit 'wow' shots and impress people with their ball-striking. But only a small minority of those have the mindset required to compete successfully at the highest level. To see that in Rayhan at such a young age, that's the most impressive thing about him for me.
My advice to Rayhan? Stay in control of your world.
Rayhan is naturally talented, but he's also applying himself accordingly. And it's really, really hard to do that at 16. It takes so much discipline. There's a misconception that golf is a soft, cozy profession. It's tough and it's very lonely. It's really important to build that little team around you. You see that at every tournament. Each player has a team of four or five people around them, and Rayhan is already building that. Having supportive parents who aren't too pushy is massive, and Ray has that too.
My advice for Rayhan? To keep doing his own thing. He's going to get pulled all over the place. He's going to have a lot of people advising him, and pushing him to do stuff. But he has to stay in control of his world. He's an awesome chap, and he holds himself fantastically well. I think he has a very bright future ahead of him."

Mohamed Juma Buamaim
Vice-chairman and CEO of golf in DUBAi
"I first got to hear about Rayhan through his achievements in the Dubai Golf Trophy and there's no doubt that he's very talented. He's a special case, not only because of that talent but because he has a very good family who take care of him. They don't push, but they support him, emotionally and financially. They are going about it the right way.
When Rayhan played earlier this year in Thailand, he travelled without his parents and the [golf in DUBAi] team looked after him. But if you walked into the spike bar after a round, you always saw Rayhan at the top of the table, holding court! He's with guys like Zane Scotland and Lee Corfield – seasoned pros – and he's talking to them with confidence. He can handle it all, and yet still he's not rushing anything.
The whole approach he has is very impressive, and that comes down to the way you conduct yourself as well. The other players on the tour sit and listen to Rayhan because they view him as an equal. And I hope that one day, we have an Arab boy who comes through and emulates what he has done.
Do I think this will happen? I hope so, but truly, until things change I don't believe it can. The way things are; it's tough to see a kid from the Arab world emerge like Rayhan has done in the next five years. Perhaps in Morocco it's possible, but they have their own difficulties. The easy opportunities afforded to the Arab players are a frustration for me. They should have to earn their stripes, like Rayhan is doing.
If we look at the Moroccans for instance, some of them have tremendous talent. But their failure is that they haven't integrated enough. They have played against each other, but not enough against international opposition. To succeed at the top level, you have to test yourself in every conceivable situation and against every level of opponent. And Arab golfers haven't done that. The Arab golf federations have to ask themselves: what is it they really want to achieve? By spending all this money, is it just to have a national team? Should the national team remain amateurs? Everything is geared towards the national team, like other Olympic sports, but golf is different. It's very difficult to have four good professional golfers from any given Arab country in the next 10 years. So you have to support the individuals. This fixation with team competition is the wrong way to go about developing elite talent.
Arab golfers will not succeed without being put head-to-head with players of all nationalities. It's the only way they will get the discipline required to achieve something. This business of handing out things for free isn't going to get us anywhere. You can have all the best facilities and the best coaches, but without discipline it means nothing.
No matter who you are, as an up-and-coming golfer you have to win big at each level before progressing. You will not be ready to turn pro unless you've won at every level as an amateur. And the professional world of golf will simply overwhelm those who aren't prepared for it.
In my opinion, the golf federations need a rethink. They need to go away from this idea that it's an amateur body. There's no shortage of money here. If we were a poor country, then of course you could understand it. But we're not; we have the funds and we have the facilities, and now the MENA Tour provides the platform. So there's really no excuse not to bring kids through.
As for Rayhan, I admire the fact he's focused equally on his golf and his studies. He's building a great foundation. What we need is a college here in the UAE where kids can study and play golf at the same time. The MENA Golf Tour has provided the competitive platform, but there's still a lot to be done to ensure that we continue to develop players like Rayhan in the future."