By Kent Gray
As Tommy Fleetwood fretted over the Race to Dubai calculations in the scorers' hut while Justin Rose was wilting badly with the sun going down on Earth, Jon Rahm simply got on with his own giddy ascent into golf's upper stratosphere.
The 23-year-old Spaniard sealed his European Tour Rookie-of-the-Year title in grand style by clinching the DP World Tour Championship at Jumeirah Golf Estates by a shot from Thai Kiradech Aphibarnrat and Irishman Shane Lowry.
A five-under par circumnavigation of JGE's Earth layout got Rahm to -19 and the job done and it certainly helped that he was playing pretty much oblivious to the order of merit points drama swirling around him. In the end Fleetwood was able to exhale a season-long sigh of relief after the boffins with the abacuses had done their calculus.
For Rahm, it was a third title of a phenomenal 2017 and a second Rolex Series title on the European Tour after his Dubai Duty Free Irish Open win in July. It saw the boy from Barrika not only leap-frog countryman Sergio Garcia into third in the final Race to Dubai standings, but will also see him up to fourth when the new Official World Golf Rankings are released in the morning.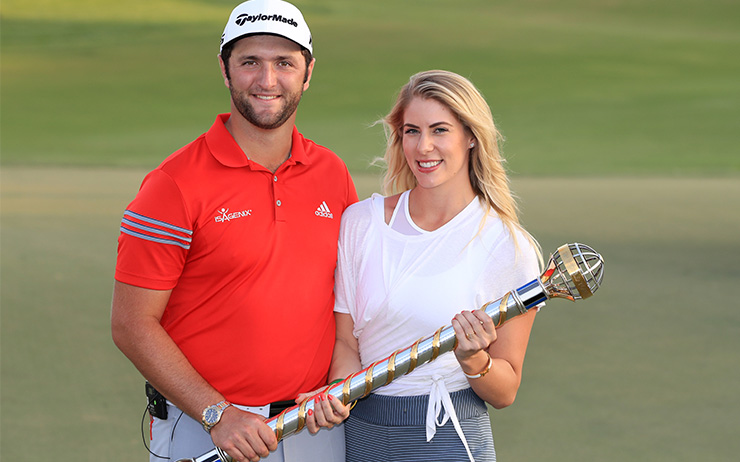 "When you accomplish something in life, it's always a great feeling. When you do something that you had in mind, but you know, wasn't a goal at the end of the year and you accomplished something that was years down the road, is just such an incredible feeling," said Rahm
"It's like, you know, when you have kind of like an errands list and you finish two hours before, it's a very similar feeling. It's very, very special."
"I'm extremely honoured and humbled to join my name to the winners of this event: Lee Westwood, Robert Karlsson, Alvaro Quiros, Henrik Stenson, Rory [McIlroy], Matthew [Fitzpatrick], I mean, they are all great players. Some of them European Tour legends. It's just great to just join that and get my chance to put my name on that great trophy. It's a great feeling."
Started with a chip in. Ended with a trophy.

Relive @JonRahmPGA's winning round in under three minutes ? pic.twitter.com/5OB7lt3Weo

— The European Tour (@EuropeanTour) November 19, 2017
So how do you possibly cap a year in which you've finished third in the Race to Dubai, fifth on the FedEx Cup and risen to No.4 in the world?
"I mean, getting higher up than No. 4, hopefully more wins. I don't know, I don't know to be honest. I'm a really ambitious person.
"So in my mind, you know, this is my first year; I know it's going to be hard to top my first year because it's a really, really good first year. In fact, it's a really good year in general, period.
"Hopefully I can keep playing like this and hopefully I can win again next year, keep going, maybe coming out to this tournament with a chance of actually winning The Race to Dubai. It didn't feel good to mathematically have no chance to win it. Hopefully I can play better and actually have a chance."
So does that mean we'll see more of Rahmbo on the European Tour next season?
"I mean, I'll try. It's just hard to be honest. You know, having to combine both tours and the start of the year on the West Coast and the PGA TOUR being so close to the home for me, being defending champion at Torrey Pines [Farmers Insurance Open], it's just going to be hard to go away from that and come here.
"To get it done the last week [of the season], you know, I don't know if it shows anybody else or not, but it does prove to myself that I belong to be here. I belong to be on The European Tour and I belong to be on the PGA TOUR. It's a great week for me mentally in that sense. You know, hopefully it reinforces my position to maybe be considered for The Ryder Cup next year."

There's no question of that.