Photo by Antonin Kélian Kallouche
Adrian Meronk is coming off the best 12 months of his career, but the giant Pole is not content to reflect on what he has already achieved and is mapping out a more-successful season in 2023 — with a spot on Luke Donald's Ryder Cup team firmly in his sights.
Never hard to spot on the fairways, thanks to his 6ft 5ins frame, signature fluorescent shirts and shock of blond hair, the 29-year-old burst onto the golfing scene last summer with a sensational surge to claim the Horizon Irish Open at Mount Juliet, closing with a birdie-birdie-eagle-par streak to finish three clear of Ryan Fox, pocket just shy of €1 million and take home his first DP World Tour title. 
It was the crowning achievement in a campaign that saw multiple top-10 finishes — including the Dubai Desert Classic and DP World Tour Championship — and an eighth-place finish in the season-long Rankings race. 
That momentum has carried over into the new season and Meronk already has a title under his belt as he claimed the ISPS Handa Australian Open in Melbourne in December — and he has no plans to ease up.
"Last year was the best of my career so far, and I was really pleased after Ireland how I finished the year in Australia," he tells Golf Digest Middle East. "So I am coming into the new year and new season with a lot of new experiences and also a lot of confidence ahead of the Hero Dubai Desert Classic.
"I am looking forward to topping 2022. I know it will be difficult but I believe I can go even further this time around and I have been preparing for the tournaments that lie ahead."
With Europe taking on the US at Marco Simone Golf Club, Rome in September, Meronk has already had a taste of team golf this year, holing the winning putt for Continental Europe against Great Britain & Ireland at the Hero Cup in Abu Dhabi. 
"I started my year with the Hero Cup here at home, and that was exciting and an honour to be part of that set-up, with this being a Ryder Cup year too," he says, explaining how, like many golfers such as Tommy Fleetwood, Rafa Cabrera Bello, Adri Arnaus and Adrian Otaegui, he has relocated to the UAE to take advantage of the year-round golfing climate.
"I have been spending a lot of time here in between tournaments and I know all the courses well," he says. "Even when I was playing at Jumeirah Golf Estates at the 2022 DP World Tour Championship in November, it felt like my home from home — it had a real home-course feel for me, so to start the year with events like the Hero Dubai Desert Classic in the UAE is a great way to kick things off." 
While things have certainly taken off on the course, Meronk still enjoys flying under the radar when not competing and is "not quite" at the Rory or Tiger levels of fame.
"Yeah. Not quite," Meronk says with a laugh.  "To be honest, at home in Poland — a bit like Viktor [Hovland, who can go about his daily life in anonymity in his native Norway], I guess — nobody really knows golf, so I only get recognised on the courses. It is a good thing as I am quite relaxed and do not get too many people pestering me. Even in Dubai, where there are a lot more golf fans, I am relatively free to go about my business. Again, it is really only at the courses where people recognise me and stop me to wish me well and say hello. 
"It suits me, as I am not chasing fame or anything like that. But it is always nice when someone knows you, congratulates you and tells you they follow your career. I love those gestures."
But back to 'Mission 2023' and Meronk is determined to become more of a household name, with the Dubai Desert Classic front and centre after last year's near miss.
"I am aiming to get off to a strong start," he says. "The Rolex Series events in the UAE are big ones to help be bag some big Ryder Cup points. That will be on my mind, as well as all the other guys, as we get closer to Rome in September. The Hero Cup was a great warm-up, getting to know the other guys as well as Luke Donald, the captain. It is a good experience for sure and hopefully the UAE Swing and Desert Classic will set the tone for the rest of the year."
One thing that irks Meronk, who entered the top 50 in the world for the first time on Christmas Day, is the current state of the Official World Golf Rankings, where recent changes mean points are slanted in favour of the PGA Tour, with larger fields being rewarded rather than the quality of the players taking part — with the likes of Jon Rahm labelling it "laughable", and Tiger Woods admitting it was a "flawed" system.
"After the changes, it has been really unfair for us playing on the DP World Tour," says Meronk. "We are getting much less ranking points than the PGA Tour guys, even when the fields are very strong, with the likes of Jon Rahm, Viktor, Rory McIlroy, Matt Fitzpatrick all playing. "If I had performed like I did in 2022 even two years ago, I would have been inside the top 50 easily much earlier. But last year I barely made it in, despite playing against some of the best in the world and the top 10 in the world. So it is pretty unfair for us guys at the moment."
With full PGA Tour cards on offer for the top 10 in the Race to Dubai rankings that are not already eligible on the US tour, Meronk is also targeting a berth there to help advance his career. 
"That is another one of my big goals this year," he says. "I am playing the Masters, plus some more invites off the back of that, so I will be looking to get used to the environment over there in America and hopefully that will help me in the years to come. It has always been my goal to compete on the highest level and, right now for me that is the PGA Tour. That is my goal.
"Looking further ahead, I would see myself competing in the biggest tournaments in the world and on the PGA Tour, being consistently in the top 20 and among the best players in the world. I believe I belong there and I will do everything I can to get there."
---
A chance meeting to build on success in the UAE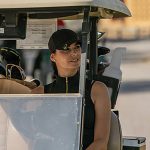 "It was a chance meeting with Adrian at one of the golf courses of Dubai where it all began. Being Polish myself, we struck up a conversation. It was early 2021, the same time that I was launching White Eagle Sport — a golf events management company, organising corporate golf days and golf tournaments for the brands. What impressed me the most was his humility and hard work. Soon after the decision was made and Adrian became the brand ambassador for White Eagle Sport in March 2021 as we believed he would be the next superstar in golf. The rest, as we say, is history and he proved us correct. His humility and hard work remain the same even after the success he has enjoyed over the last two years. That is the main foundation and values of our company. We are proud to have him as our brand ambassador and hope to see him reach greater heights."
Marta Biswas — founder and CEO, White Eagle Sport