By Alex Myers
Welcome to another edition of The Grind, where we barely waited for the digital ink to dry on the joint statements from Phil Mickelson and Jim "Bones" Mackay's breakup before applying for the open gig. It was upsetting to hear they're parting ways after 25 years, but watching Phil do Phil things up close and getting to engage with Mickelson in discussions centered on gambling, golf-course physics and clean energy solutions? Sign us up.
But while we're sad to see Phil and Bones break up, we're happy that Jordan Spieth and Michael Greller are here to take the torch as the PGA Tour's most entertaining — and inseparable — tandem.
How about that celebration, including the simultaneous club AND rake toss? And how about the perfect timing, right when golf fans everywhere needed a pick-me-up? Thanks, guys.
WE'RE BUYING
Jordan Spieth: So much for that "slump." Spieth won the Travelers Championship in spectacular fashion with a clutch bunker hole-out that added to his legend. Spieth is now second in scoring average and fourth on the FedEx Cup list, and he's done that despite only ranking 39th in strokes gained: putting. Instead, he's mostly relying on impeccable iron play that has him leading the tour in strokes gained: approach-to-the-green. (Not that you could tell by those final two approach shots on No. 18.)
It's time we stop thinking about Spieth as some scrappy guy who needs to make a lot of putts to contend. He's one of the world's best players because he's one of the world's best ball-strikers. And the rest of the tour could be in for a long summer.
Travelers Championship: This Connecticut event benefitted from a star-studded field (thanks to a new PGA Tour rule and smart, aggressive recruiting) and a fantastic finish to emerge as one of the most talked-about non-majors of the year. It helps that it's held on a beautiful golf course that has a closing four-hole stretch that ranks up there with any tournament – and always provides a dramatic conclusion.
Andres Romero: About 10 years ago, before I was a full-time golf writer, I was told I needed to find some golfers to root for other than Tiger Woods (my idol) and Bill Haas (my classmate at Wake Forest). I settled on Anthony Kim and Andres Romero, thus cursing them for the next decade. But over the weekend, Romero, now ranked 837th in the world and playing on a sponsor's invite, returned to the winner's circle at the BMW International Open. "This is going to be life-changing," Romero said after. We're happy for you, Andres. Now if only AK would make a comeback. . .
This guy's golf bet: A pro golfer is halfway to predicting all four 2017 men's majors and winning millions on the greatest bet ever.
https://twitter.com/OfficialBakes/status/876716342761619456
Yes, this is real. No, this pro golfer is not Phil Mickelson.
WE'RE SELLING
Rory McIlroy's putting: After saying he'd give his new putter "one more week," he gave it one more day before holding open auditions for FIVE different putters. Then he gave the next putter one day as well before a third TaylorMade produced a Sunday 64, but McIlroy also hit 17 of 18 greens (and missed a nine-footer for par on the one green he missed). You know things are bad when a former World No. 1 looks like one of those guys hogging the practice green at a Golf Galaxy:
.@McIlroyRory hard at work pre-round narrowing it down from 5 putters…#TravelersChamp pic.twitter.com/7bVYRf0QjG

— bridget kathryn whelan (@bridgetkwhelan) June 24, 2017
President Trump's golf etiquette: Say what you will about the man's politics, but based on his love of golf, we expected him to treat golf courses better than to drive a golf cart all over the green:
https://twitter.com/barstoolsports/status/877880160242028550
Yes, it was his own course, but others, including the field for the upcoming U.S. Women's Open, would like to play it in top condition. Then again, POTUS has nothing on the. . .
People vandalizing GC of Houston: For a third time since 2016, the site of the Shell Houston Open suffered severe damage from hooligans.
Our vandals have returned. 🙁 Please share! @GCOHsuper pic.twitter.com/7Cr0cZXV8V

— Golf Club of Houston (@GolfClubHouston) June 24, 2017
Disgusting.
Burning clubhouses: This was a scary scene from last week's Ladies European Tour event, which was eventually cut short and concluded by having a playoff between the 36-hole leaders. Fortunately, as with that freak blimp crash near Erin Hills the week before, no one was hurt.
@LETAccess the Club house is on fire!!!!!!!!!!! pic.twitter.com/z1rxXt5v0f

— Linda Henriksson (@Lin89da) June 24, 2017
Note: Saying "the roof is on fire" is a lot more fun that seeing the roof actually on fire.
ON TAP
The PGA Tour heads to the D.C. area for the Quicken Loans National. For a second time this year, Tiger Woods will be playing the role of host. . . from home. Also on the docket this week is the 24th HGGA Championship, AKA my annual golf trip, AKA as that tournament I painfully finish runner-up in every year.
Random tournament fact: The HGGA returns to Myrtle Beach, the site of my last win in the event in 2011. If I go a seventh straight year without taking home our coveted but haggard green jacket, there's a good chance there won't be a Grind next week.
RANDOM PROP BETS OF THE WEEK
— Someone will win the Quicken Loans on a walk-off bunker shot: 1,000-to-1 odds (These guys are good.)
— Someone will win the HGGA Championship on a walk-off bunker shot: 1 MILLION-to-1 odds (These guys aren't good)
— Rory McIlroy is NOT done switching putters: LOCK
PHOTOS OF THE WEEK (NOT INVOLVING SPIETH & GRELLER)
Fresh off winning his first major championship, Brooks Koepka went on a Vegas vacation with girlfriend Jena Sims and others:
https://www.instagram.com/p/BVnw5AdlYHq/
Photos also emerged of the U.S. Open trophy being filled with Fireball.
Enjoy, Brooks, but be careful. I learned the hard way at my bachelor party what too much Fireball can do to you.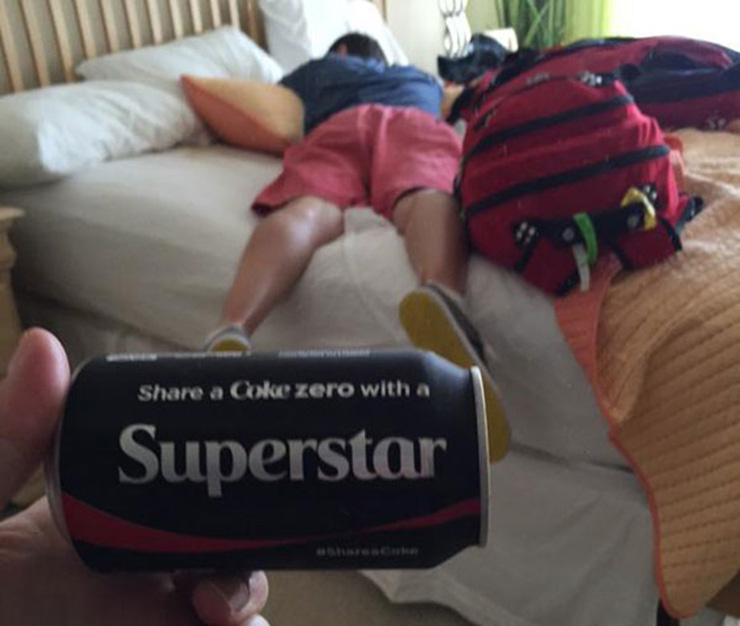 VIRAL VIDEO(S) OF THE WEEK
Back to the two player-caddie combos in the spotlight. First, this collection of cell phone videos of the Spieth-Greller win and celebration:
Chills. pic.twitter.com/jImh2DjXXb

— PGA TOUR (@PGATOUR) June 26, 2017
And then this homage to Phil and Bones. You might want to have a box of tissues handy:
Phil and Bones: 1992 – 2017 pic.twitter.com/tOeEqaT3Sy

— Skratch (@Skratch) June 20, 2017
QUOTE OF THE WEEK
"That's just Jordan doing Jordan things." – Daniel Berger. Props to Berger for handling that finish so well. And you can't sum it up any better.
THIS WEEK IN DUSTIN JOHNSON-PAULINA GRETZKY RICKIE FOWLER-ALLISON STOKKE PUBLIC DISPLAYS OF AFFECTION
https://www.instagram.com/p/BVx2GjfH9DP/
Aww, that's cute. Also cute? Rickie trying to keep up with Allison in a footrace:

THIS AND THAT
A golf cart chop shop was seized during a drug raid in The Villages. Yes, the Florida retirement community. WILD stuff goes down at The Villages. . . . Comedy Central's newest show, "Hood Adjacent With James Davis" premieres Wednesday, June 28 at 9 p.m. ET. Why do we care? Because this rising star is an avid golfer and we did a fun Q&A with him. Check it out, and check out the show. . . . Congrats to Joel Beall and Ryan Herrington for winning Golf Digest's second annual Trainwreck tournament. The plan was to post a photo of my two co-workers holding the trophy, but there was no trophy because it had been sent back to be fixed. #AmateurGolfProblems. . . And finally, a word of advice: Do NOT use Q-Tips to clean out your ears. I did last Friday for the first time in months and now I can't hear out of my left ear. You've been warned.
RANDOM QUESTIONS TO PONDER
Will my ear ever un-clog?
Are we crazy to take a golf trip to Myrtle Beach in July?
What will Phil Bones do next?