History will show that Tiger Woods was the second-best player at Bellerive. But in terms of electricity, drama, emotion, you name it, not even Brooks Koepka could rival the 42-year-old Woods. A round that began with Woods four strokes off the lead saw him shoot 32 on the front nine without hitting a fairway, pull within a shot at one point, and ended with a birdie for 64 and a rousing ovation from an adoring St. Louis crowd. Even compared to his 14 major titles, it's hard to think of a round that had more, as these photos from the day underscore. —Sam Weinman
After a disappointing par to start the round, Woods made his first birdie of the day on the second hole.
He followed with another after a superb tee shot on the par-3 third.
Incredibly, Woods didn't hit a single fairway on the front nine. Here he is on 5, where he managed to recover and make par.
RELATED: Tiger Woods didn't win the PGA. It just felt like he did
But he rallied to get up-and-down out of the bunker for birdie on the eighth hole.
Followed by another birdie on the par-4 ninth.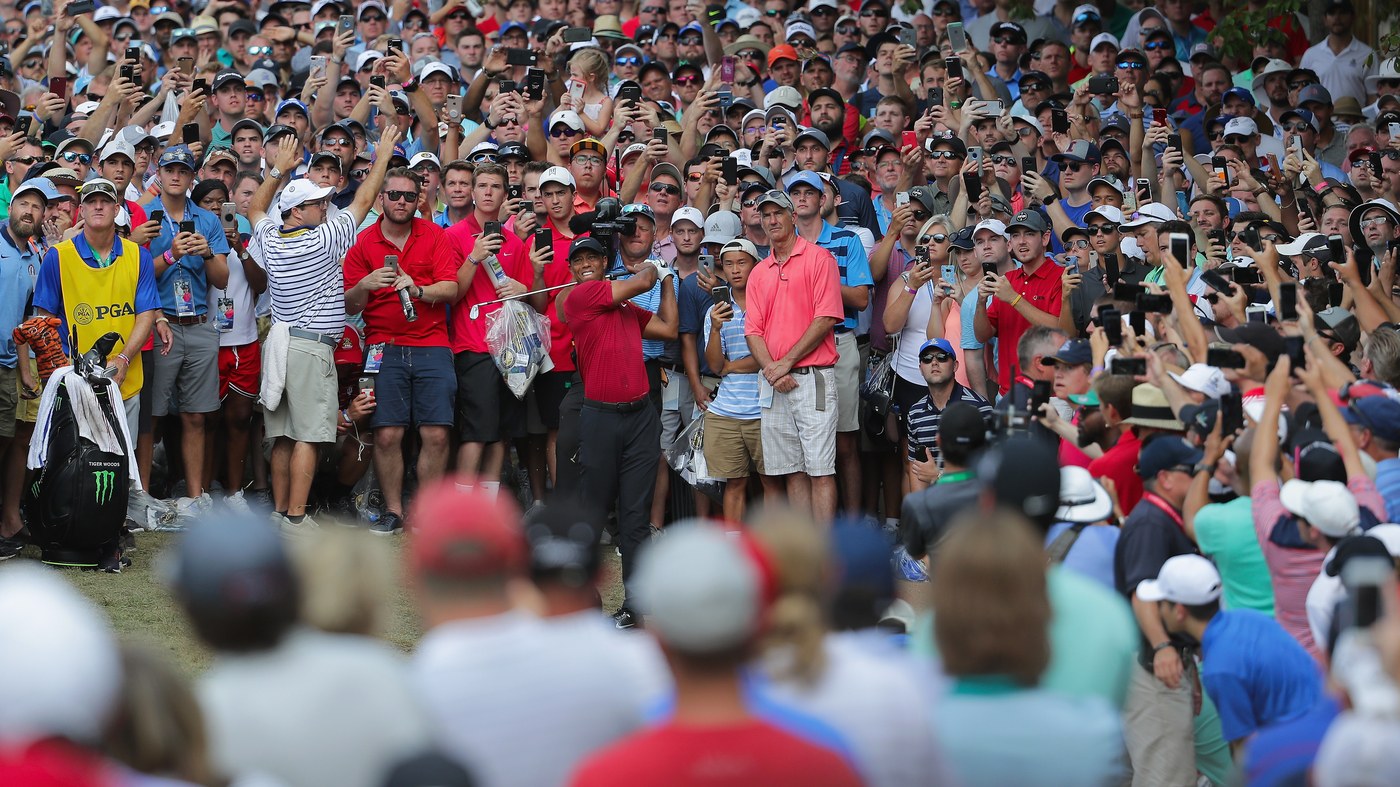 He looked to add another on the short par-4 11th, but his birdie attempt improbably hung on the lip.
But again, he rallied with the first of consecutive birdies on No. 12.
Followed by another remarkable approach on the 180-yard par-3 13th.
Woods' seemed to lose momentum after his bogey on 14, but his iron game was stellar from the fairway, and he summoned another brilliant approach.
But when he needed a perfect tee shot on the par-5 17th, he lost it into the trees, leading to this moment of frustration.
Fortunately for him, his ball was playable from the hazard, and he managed to chip back into the fairway and eventually save par.
He ended his round with one last birdie for a 64, his best final round ever in a major, and good for solo second place.