CHARLOTTE, NC – AUGUST 13: Justin Thomas of the United States poses with the Wanamaker Trophy after winning the 2017 PGA Championship during the final round at Quail Hollow Club on August 13, 2017 in Charlotte, North Carolina. Thomas finished with an -8. (Photo by Stuart Franklin/Getty Images)
By Alex Myers
The final round of the 99th PGA Championship gave us another first-time major winner, a couple of heartbreaking finishes, and some amazing highlights. Let's wrap it all up with one last edition of winners and losers.
Winner: Justin Thomas
What a performance to capture a first major championship, specifically, what a nine-hole stretch from holes 9-17. Thomas made the turn after draining a long putt on No. 9 and the mojo carried over on No. 10. The 24-year-old yanked his tee shot left, but the ball hit a tree and bounced out to the middle of the fairway, and then, after seemingly leaving his birdie putt hanging on the lip, this happened:
Wait for it … wait for it … GOT IT. #PGAChamp pic.twitter.com/FUR5HciqxM

— PGA of America (@PGA) August 13, 2017
Hey, when it's your day, it's your day. And it's also Thomas' season. With four wins, including a major, JT is now in the driver's seat for PGA Tour Player of the Year. Of course, no one was more proud of Justin than his dad, Mike, a longtime PGA professional.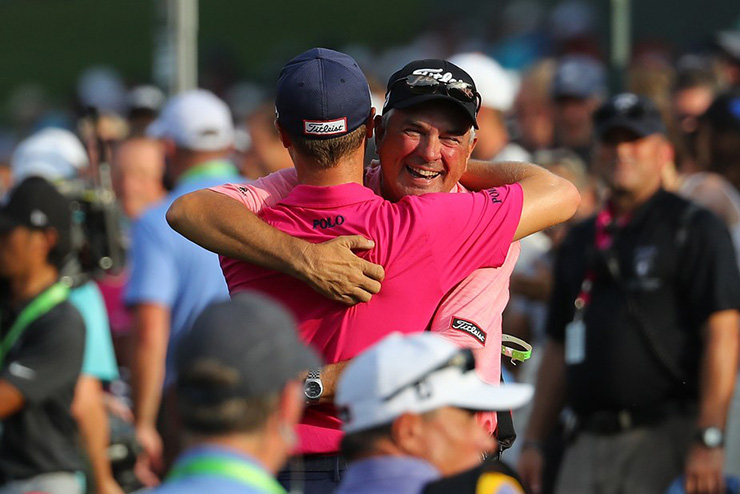 He'll probably nitpick a little — like with that closing bogey — but there's not much to critique about his Sunday 68, especially the way Thomas stepped on everyone's throats with that birdie on 17 that all but clinched the Wanamaker Trophy. What a talent. And what a fun player — remember the 59 in Hawaii and the 63 at the U.S. Open? — to watch. Jordan Spieth didn't complete the career Grand Slam this week, but the #SB2K17 crew did.
Loser: Hideki Matsuyama
No one had more expected of him entering Sunday — and possibly, this week — after his five-shot victory at the WGC-Bridgestone Invitational. And the man didn't need a Sunday 61 this time, but just a 69 that looked very attainable when he got to two under on the day and in first place with a birdie on No. 10. But it was the start of a rocky back nine in which the World No. 3 only made one par and finished T-5. There will be more opportunities for the 25-year-old for sure, but he had major No. 1 in his hands, and he let it slip away.
Winner: The PGA Championship
So much for Quail Hollow's setup causing a yawnfest over the weekend. At one point late on Sunday, there were five guys tied for the lead and despite difficult conditions, players still produced roar after roar. All it took were some slightly more friendly pin positions — and some great golf. No matter how it happened, though, the season's fourth major delivered some serious drama yet again.
Loser: Kevin Kisner
This was the toughest result to watch of all. Kisner had a two-shot lead early in the round and was in great shape to win his first major in wire-to-wire fashion. And he was still part of that five-way tie late until bogeys on 11 and 12. But back-to-back birdies on 14 and 15 pulled him to within a shot entering Quail Hollow's Green Mile, and, well, it didn't end so great for him. Kisner bogeyed 16 and doubled 18 when he took on a back-left pin needing a miracle hole out for a playoff. We applaud him fighting to the end, but finishing T-7 after leading for so much of the golf tournament had to hurt — especially in the wallet.
Winner: Patrick Reed
Captain America finally thrust himself into contention at a major, firing a final-round 67 and flashing some of those fist pumps golf fans are so used to seeing at the Ryder Cup.. A closing bogey cost him solo second place, but on the bright side, he won't have to answer anymore questions about not having a top 10 in one of golf's four biggest events.
Loser: Louis Oosthuizen
We say "loser" in the most positive way possible for Oosthuizen, who shot 70 to finish T-2. Still, the South African is quietly putting together one of the all-time "what if?" careers. Oosthuizen has now finished runner-up in all four majors. And in honor of that, he posted this:
Just finished my career grand slam second's .. "I'll rise up" pic.twitter.com/083aRityWn

— Louis Oosthuizen (@Louis57TM) August 14, 2017
Wow. Louis definitely wins for the year's best reaction to a close call. At least the 2010 British Open champ has won one major, though. Unlike. . .
Winner: Rickie Fowler
Fowler made four consecutive birdies from 12-15 to momentarily flirt with seriously contending. It turned out to be too little, too late, but the 67 gave him another strong finish (T-5, his seventh career top-five finish in a major) for a man still in search of a first major title. And when he looks back on why it didn't happen this week, he just has to look back to the first round and that triple bogey on the fifth hole. He and Spieth also displayed great sportsmanship to stick around on 18 to celebrate with their buddy, but for Fowler, it's a second consecutive major in which he's only been providing support. As happy as he is for his friends, the patriarch of the #SB2K17 crew has to be a little frustrated his time hasn't come yet.
Loser: Rory McIlroy's season
McIlroy had a solid Sunday to move into the top 25, but afterward he brought up the rib/back injury that has bothered him all year. The four-time major champ said he'll fly to Northern Ireland to see his trainer and assess his schedule for the rest of the season. "I don't know what I'm going to do. You might not see me until next year. You might see me in a couple of weeks' time." If we don't see him, add another chapter to the FedEx Cup champ curse.