(Photo by Stuart Franklin/Getty Images)
By Joel Beall
The PGA of America is fond of saying, "Behind every good player is a club pro." The same can be said for men and fathers. In the case of Justin Thomas, they are one and the same.
Justin's father, Mike, has been the head professional at Harmony Landing outside Louisville for almost three decades. His grandpa, Paul, was also a club pro, serving in Zanesville, Ohio. The PGA is in Thomas' blood, making his victory at Quail Hollow poetically apropos.
"I can't put it into words," Thomas said after his round. "It is (terrific), and to have dad here, and let alone a PGA, but to have him here…it's great. It really is."
Thomas is far from the first son of a PGA professional to win the Wanamaker; he's actually the eighth player to do so. Conversely, Thomas' family bond with the game has always been at the forefront of his story.
When his father was busy giving lessons or tending the shop, Justin would be on the course or practice area. "My first words as a baby supposedly were 'bag of balls,' about my wanting to go to the range at Harmony Landing," Thomas once told Golf Digest.
Mike also served as a starter for PGA Championships, and brought Justin to the event. Sometimes, as Justin pointed out, to the chagrin of other members.
"They were probably annoyed with me running through dining rooms," Thomas said during the trophy ceremony.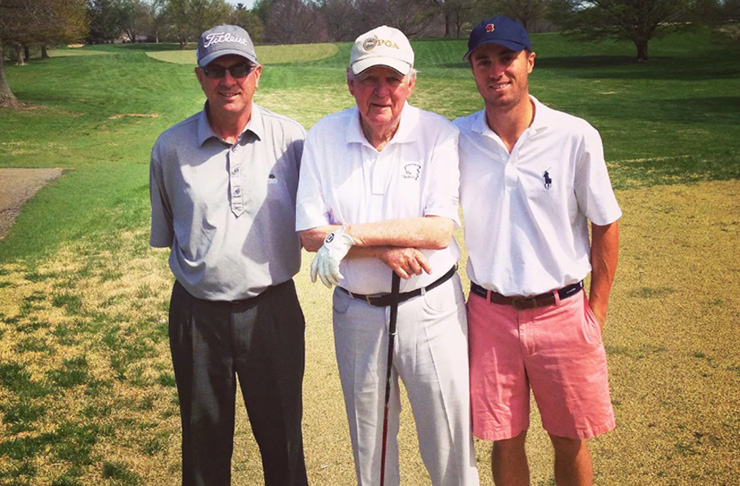 His father remains a vital part of his team, his go-to teacher for his swing. Moreover, as he told Golf Digest's Guy Yocom, his grandfather's influence still rings true to the fledgling star.
"He has a saying," Thomas told Yocom in 2016. "'Some days it's chickens, and some days it's feathers.' All it means is, no matter how good you get, you can't be at your best all the time. The nature of the game is that you'll run hot and cold, and the ball will take funny bounces. I try to remember that, but it's tough for me. I don't like bad golf."
Besides their positions as club pros, both Mike and Paul were players in their own right. Mike competed collegiately at Morehead State, and spent time on the mini-tours. Paul was in the field in the 1962 U.S. Open at Oakmont.
Perhaps the Thomas family prowess is best explained through this tale on Harmony Landing's 16th hole, a 144-yard par 3.
"For years it was the only hole I could reach in regulation," Thomas told Golf Digest. "When I was 6, I made a hole-in-one there, hitting my cut-down driver. My dad had made an ace there, and so had my grandpa. Three generations scoring aces on the same hole. How many families can say that?"
Very few, and further proof that, at its core, golf is a game about fathers and sons. A sentiment on full display in Charlotte.