By Kent Gray
Organisers remain hopeful starts in Abu Dhabi's annual European Tour stop will be up for grabs at the 3rd Abu Dhabi Amateur Championship later this year.
The 54-hole event at Saadiyat Beach Golf Club, which offers valuable World Amateur Golf Ranking (WAGR) points, has been confirmed for December 14-16 despite the on-going uncertainty created by the coronavirus pandemic.
Last year's champion Josh Hill and leading Emirati Ahmad Skaik earned spots in the Abu Dhabi HSBC Championship. In a media release, the tournament said spots in January's scheduled Rolex Series event at Abu Dhabi Golf Club were "potentially" available for the 2020 winner and leading local.
Matt Waters, Group Director of Golf for Abu Dhabi's Troon International-managed cluster encompassing Saadiyat, Abu Dhabi and Yas Links, told Golf Digest Middle East that discussions were ongoing.
Hill capped a memorable 2019 with a thrilling one-stroke triumph over Arjun Gupta to be crowned the second winner of the Championship following Dino Capazario's triumph in 2018. With the victory, the then 15-year-old became the youngest-ever participant in the Abu Dhabi HSBC event and enjoyed a practice round with then World No.1 Brooks Koepka.
"Winning the amateur championships and securing a spot in one of the largest European Tour events was an incredible way to cap off last year. Having the opportunity, as the youngest ever player, to compete alongside some of the best players in the world is an experience I will never forget," said the Dubai-based England Boys' rep.
"It's exciting to be going back to Saadiyat Beach Golf Club to compete, it's one of the most challenging courses in the UAE so with the strong competition and course difficulty it's an honest test of golf, you have to play well to win."
Regardless of whether HSBC spots are available, Waters is confident of another enthralling amateur battle.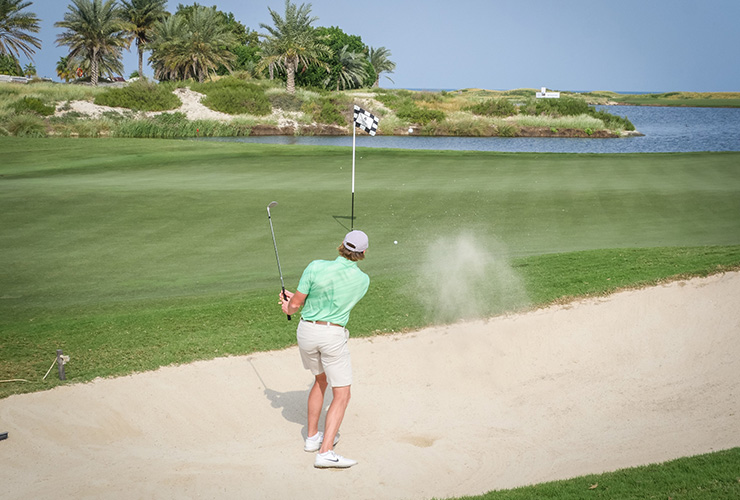 "At Saadiyat Beach Golf Club we pride ourselves in delivering the world-renowned Troon Experience, which largely consists of maintaining exceptional playing surfaces which we believe sets the course up to be the perfect Championship venue for a World Amateur Golf Ranking Tournament.
"We are thoroughly looking forward to welcoming a vast array of elite amateur golfers to Abu Dhabi in December and to witness what we hope to be a thrilling tournament for all."
For more info on the 2020 Abu Dhabi Amateur Championships, please contact Daniel Richards: [email protected]