There is a nice synergy about Des Smyth's participation in this week's Sharjah Senior Golf Masters


hen Des Smyth first landed in Dubai 28 years ago, the United Arab Emirates was a mysterious outpost even for a relatively well-travelled tour professional.
It was 1989 and the then 36-year-old Irishman, already a six-time European Tour winner and two-time Ryder Cupper, was among the star names lured to the inaugural Dubai Desert Classic.
"Oh gee whiz, it was fantastic," the 64-year-old says all schoolboy like before painting a verbal picture of the before and after photographs of Dubai that regularly infiltrate social media feeds nowadays.
"It was all new going out there, we didn't know what to expect. When we went over the river [Dubai Creek], there was about one building on the left I remember and between there and the Emirates [Golf] Club, there was a hotel and it was just one straight, two-way road the whole way out. You couldn't imagine that today."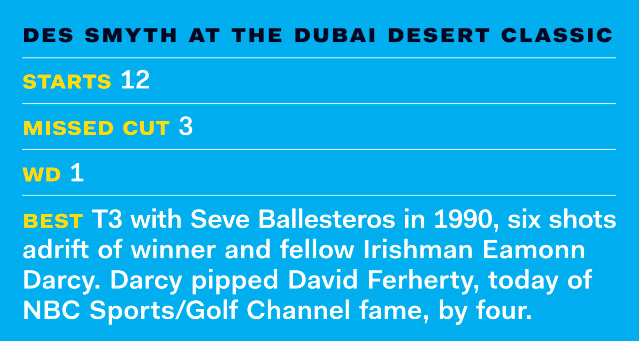 Smyth, with his trademark dip through impact, would go on to finish T19 as Mark James toppled Peter O'Malley in a playoff in what was then the Karl Litten Desert Classic, named in honour of the course architect. He's been a regular visitor ever since, 12 times as a Desert Classic starter and more recently as a brand ambassador for the Dubai Duty Free-sponsored Irish Open.
The trip never gets old. He still marvels at the pace of expansion as he reminisces about Emirates GC when it was a "green oasis surrounded by sand and pretty much nothing else". The futuristic skyline that now serves as a backdrop to the Majlis and The Faldo, its since added sister course? Simply unfathomable.
"It's been fascinating to see the development," Smyth says. "That was always the vision. We heard it from a young Sheikh Mohammed at the time, what they were going to build and we thought, yeah, we probably won't live to see this but it has certainly happened in a hurry. It's an amazing place."
Fast-forward to 2017 and Smyth is very much alive and well save for a few golfing "aches and pains" and the odd wrinkle or three that comes standard after 43 sun-kissed years on tour. In a nice synergy, he's once more serving as a pioneer for European Tour golf in the UAE, this time in Dubai's neighbouring emirate and for the over 50s crowd.
Smyth's thrilled so many of his old mates from that very first Desert Classic – fellow Ryder Cuppers Ronan Rafferty, Gordon J Brand, Barry Lane, Philip Walton and hopefully Paul Broadhurst among them – will return with him to headline this month's inaugural $425,000 Sharjah Senior Masters.
Just as the Desert Classic has flourished from humble beginnings, Smyth hopes Sharjah Golf & Shooting Club will become a regular stop on the European Senior Tour. Indeed, he'd love to see the event become the unique nine-hole centrepiece of a two or three tournament Middle Eastern swing to start the old timers' season.
It's a nice thought but not so easily achievable. While SGSC has a guaranteed three-year shelf live, the European Senior Tour has flirted with the Middle East over the years without ever being able to establish the long term relationship like the young bucks on the European Tour, or even the Ladies European Tour.
There was the Abu Dhabi European Seniors Tour Championship, hosted on The National in 2000 and won by Dennis O'Sullivan, and back-to-back Arcapita Seniors Tour Championships at Riffa Views, now the Royal Golf Club, in Bahrain. Smyth won the first of his five European senior titles in Bahrain in 2005 before Brand won the following year.
But just as women's golf struggles for column inches and airtime in a golf landscape dominated by the PGA and European Tours, so to does senior golf find itself a bottom feeder when it comes to chicken and egg combo that is corporate support and media coverage.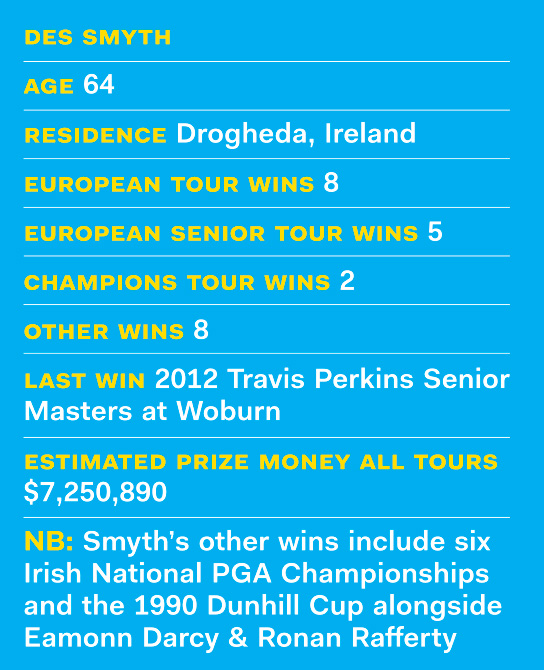 Even things on the super rich Champions Tour in the U.S, where Smyth won twice during a six year stint following his 50th birthday, aren't all champagne and cigars as Kenny Perry outlined rather pointedly just 13 months ago.
"I don't think anything on the Champions Tour means anything to anybody, to tell you the truth," said Perry who counts three senior majors among his eight over 50 wins and also boasts 14 PGA Tour titles. "The media, golf fans, they look at us as a freak show. We don't get any publicity. None of our tournaments mean anything. I think it is sad because the golf out here is tremendous."
Smyth can sympathise but is also more positive about the future of the European Senior Tour.
"Yes I suppose it is [like Perry's summation] but with the experience I've had in my career, I played the Champions Tour and now playing the European Senior Tour, the players are at a certain stage in their lives and their careers where their families are raised and they give a lot more back," he says.
"They're a happier bunch, they're prepared to go to their functions and whatever else is going on and they're interested in passing on their knowledge, they give lessons, and they are kind of enjoying the fact that we're still in business, you know."
We're a happier bunch kind of enjoying the fact that we're still in business.
So could a seniors Desert Swing get off the ground?
"This will be a bit of an eye opener I hope for any prospective companies that are interested in getting involved in the Senior Tour. I know the field is very strong, we've got a lot of our big guns going out. I hear Paul Broadhurst is going and I know Barry Lane is going and there's a lot of very young top class players [coming on tour].
"There's always the possibility, if there were two or three in a row, you'd get Monty [Colin Montgomerie ] and a few more going as well. It's a long way to go for just one week.
"After the financial crash, it certainly hurt our tour as you can imagine, companies that are rationalising, they can't be seen to be spending money. But there are good signs now that we are going to pick up new events."
Smyth says the Senior Sharjah Masters presented by Shurooq, believed to be the first main tour event staged on a 9-hole course, shows how valuable senior golf can be to potential cities, sponsors and the game in general.
"That's the point I'm making about the Senior Tour, you know, they are adaptable. The players love playing golf, they love being competitive and it gives them an opportunity at a later stage in their lives to show off how good they can play. We're keen to support these new types of ventures.
"I've played the course on a press thing last year and it's a very fine nine hole course. They're going to have two sets of tees just to mix it up a little and I think it should be an exciting event."
The PGA Tour has long trumpeted the tagline "These Guys are Good" to promote its tour. The old blokes mightn't be able to bomb it as long off the tee, but elsewhere the standard of golf is still high, Smyth promises.
It's a very fine nine-hole course. I think it's going to be an eye-opener…
"Most weeks that we go out, depending on how hard the golf course is, but most weeks you've got to shoot 10 or 12 under par for your three rounds if you're going to be in the shakeup. It is quality golf and I can tell ya, these guys practice."
Smyth, an assistant to Paul McGinley when Europe retained the Ryder Cup at Gleneagles in 2014, might be in the "twilight" of his career but it doesn't mean he's heading to Sharjah for a week's holiday in the sun. He's put in the practice too, at home in Drogheda (30 miles north of Dublin) and even took himself off to Spain for a week of ball hitting to ensure he's "not too rusty" for  Sharjah.  So, what have you been working on in practice?
'It's the ever lasting quest [laughs]," Smyth says before reminding everyone there is still fire in the belly.
"I have only one ambition left, I want one more win. I've been very fortunate, I've won in five different decades but I'm in my 60s now and time is running out. I'd like to win one in my 60s but I know time is not on my side so I'm trying to up the ante…I think this is my best shot this year."
A super sign-off in Sharjah after being a main tour pioneer in Dubai and a senior tour ground breaker in Bahrain? Gee whiz, that would be fantastic.