By Keely Levins
This week the second LPGA major of the year, the KPMG Women's PGA Championship, will be played at Olympia Fields Country Club outside of Chicago. From Michelle Wie, to rules controversies, to the Solheim Cup, there are a lot of storylines to note before the event gets underway on Thursday. Here are five stories to keep an eye on as play begins in Illinois.
What's next for Lexi Thompson?
Thompson is the most obvious topic of conversation heading into this week's tournament. Not only because her game is—as she's said on multiple occasions—as good as it's ever been, but because of the events of the first LPGA major of the 2017. In case you somehow have forgotten, Thompson lost the ANA Inspiration in a playoff after receiving a highly unpopular four-shot penalty. We don't like bringing all of this negativity up again, but Thompson was penalized on Sunday for misplacing her ball on a green on Saturday, an infraction brought to the rules committee by an email from a TV viewer. After the eventual loss to So Yeon Ryu, Thompson was understandably emotional about the incident. Since then, however, it would seem she has moved on (save for when pesky reporters bring it back up. After her definitive five-shot win at the Kingsmill Championship she said all but that. "I'm so over [the ruling]. It's in the past. It's unfortunate what happened, but it's time to move on. This puts a lid on it."
Interestingly, though, Thompson declined to meet with the media on Tuesday and also turned down Golf Channel requests for a one-on-one interview. According to Golf Channel analyst Lisa Cornwall, Thompson's agent said the reason in part was stemming from being tired of numerous requests to comment on what happened at the ANA. Putting the incident behind her is obviously a healthy mindset, but we're guessing a win this week would feel just a little extra validating.
What's next for Michelle Wie?
When thinking about who could win this event, we couldn't help but wonder about Wie. Sure, she hasn't won any event since the 2014 U.S. Women's Open at Pinehurst, but Wie has five top-five finishes in 13 starts so far in 2017. Compared to the last two seasons, she appears to be a completely different player. Through 2015 and 2016, she had only one top-10. Last season alone she missed 12 cuts, while this year she's missed just two. What's behind the turnaround? Well, she's changed her putting grip, and her a new caddie, and her equipment, and her swing, as she's been working on hitting a consistent fade.
"She's really on an upward turn right now," said her coach David Leadbetter. "She's driving the ball much better and hitting more greens. Combine that with better putting, and the scoring is coming around. It's been a bit of an evolution. She's confident. She's playing with a smile."
Leadbetter pointed out that Wie's season in 2014 leading into the U.S. Women's Open looked a lot like her season so far this year. Wie had eight top-10s before winning at Pinehurst. In her last five starts, she has had four top-five finishes.
"She's in a good place right now," Leadbetter said. "She's coming in with a lot of form and confidence—and it's a course that could really suit her. She's definitely in with a chance of winning this week."
Solheim Cup shakedown
We're only less than six weeks away from the U.S. team being finalized, and a lot can happen at Olympia Fields where points are doubled for those trying to get inside the top eight on the Solheim Cup rankings to earn automatic spots on Juli Inkster's squad. Both Wie and Thompson are safely inside the top eight, but there are a few players who've been mainstays on past teams who will be looking to earn some much-needed points this week. Two notables are Paula Creamer, who is ranked 19th, and Morgan Pressel, who's 22nd. Beyond the automatic eight, two spots are allotted to players with the highest Rolex World Rankings and another two spots are captain's picks. Inkster said she's looking for consistent players to fill those two spots, which will be announced Aug. 6 after the Women's British Open.
"We have a lot of golf to play," Inkster said, "but it's shaping up. Right now, they're all playing great. They're gonna make my job very tough."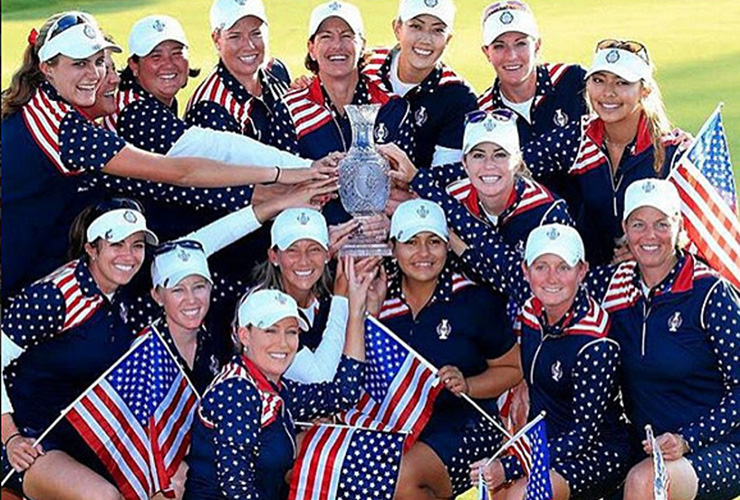 A more major major
Entering Year 3 of the rebranded and reconstructed LPGA Championship, the LPGA's partnership with the PGA of America and KPMG has only seemed to produce positives. Prize money has jumped from $2.25 million in 2015 to $3.5 million this year, with the number going up to $3.65 million in 2018, second largest of any LPGA event behind on the U.S. Women's Open. The tournament now has network coverage on the weekend from NBC, and KPMG just re-newed its sponsorship through 2023. Anecdotally, players have been happy with the rotation of courses for the championship and suggested that it has a more prestigious feel than in year's past. Outside of the golf, the event also has a broader, more meaningful impact as it hosts a pre-tournament women's leadership conference.
"It's an event that's transcended golf," said PGA of America CEO Pete Bevacqua. "It's a celebration of not just golf at the highest level, but it shines a light on women in the C-suite."
The timing of this event's mission couldn't be more relevant: The KPMG Women's PGA Championship is bringing dialog about the empowerment of women to the forefront in the middle of a social and political climate where women's rights and positions in business are under consistent debate.
"We're showing young women how playing golf enriches your life," Bevacqua said, "and what a force golf can be in the workplace."
The battle for No. 1
In the past four weeks, there have been three different world No. 1s, Ryu becoming the most recent person to earn the honor this past week after Aryia Jutanugarn held it for two weeks and Lydia Ko had a lock on it previous. Part of the reason for the recent movement is the depth of play on tour in 2017; in 16 tournaments so far this year, there have been 15 different winners. There's an atmosphere of anyone can win any given week, which could mean even more shuffling at the top in the near future.