(Getty Images)
Meet the other teen sensation tearing it up on the MENA Tour
With Kent Gray
His namesake is the late, great and sadly missed American actor Robin Williams but the teen version from England insists he's no comedian himself. He also shares the same middle name as golf's GOAT but Robin 'Tiger' Williams, the 18-year-old junior Ryder Cupper from Peterborough, insists that's where the similarities with Tiger Woods begin and end.
Don't be fooled by the plus-four handicapper's modesty though. Williams' record-equalling eight-stroke romp to victory in the Journey to Jordan #2 Championship last month, sealed with a Tiger-esque five straight birdies to close out his final round 66 at Ayla Golf Club, was the MENA Tour debut dreams are made of.
Williams, who followed in the soft-spike marks of Dubai's Rayhan Thomas (2016 Dubai Creek Open) and Dutchman Pierre Junior Verlaar (2017 Royal Golf Mohammedia Open in Morocco) and proceeded Josh Hill (Al Ain Open) as an amateur winner on the the regional Pro-Am circuit, talked to Golf Digest Middle East after his wire-to-wire runaway in Aqaba.
yeah, yeah, I've watched most of his [Robin Williams] films. And yeah, I love them to bits. I watched the thing he did, the golf thing about Tiger Woods, stuff like that, the Scottish accent one about golf, yeah I love comedy. I think it's just Mrs. Doubtfire I haven't watched, which apparently is the best one so I need to watch that one.
---
Do I have any comedic ability? No, definitely not. I'm definitely not the person to make a lot of jokes. I don't like to get too excited, or amped out. I'm just kind of low key. I think my friends will say that I'm very calm and will just keep a low profile. Very low key.
---
Saying that, there was a little fist pump when I won in Jordan because I knew how much it meant to win that tournament and to win it by that much was special. Still, I would say I like to keep everything level on and off the golf course, but I probably get more excited on the golf course.
---
When people call me Tiger I don't really see there's many similarities between us two, except our middle name. Because he's got different parents, different ethnic background, different culture, different beliefs and stuff like that. I think the only thing me and him share is a middle name and the love for the same sport. So, yeah, I can take it as kind of motivation but I like to always see myself as an individual. Robin Williams. I think Tigers just a name that I have.
---
The Junior Ryder Cup near Paris last year was a great experience. Because golf is such an individual sport, there's not many times that you get to play team sport, and I've represented England at a national level and to represent Europe at the biggest stage for junior golf is very cool,  just to walk inside the ropes and to chat with most of the [senior Ryder Cup] guys and see them warm up and how they play. I think the biggest thing was how they dealt with the crowds and everything, to just keep going and keep their patience. It was quite cool to see.
---
The Ryder Cup, that's on the bucket list, definitely. It was an experience that I want to have again and hope fingers crossed, one day if everything goes my way that will happen, but time will only tell.
---
it was nice to spend some time with Tommy Fleetwood and his caddy Ian Finnis at the British Masters, pick their brains. Tommy's just such a down to earth guy and just ask him how it was when he was an amateur and when he turned professional, and the struggle that it was and how he got to the stage where he is now. It was cool picking his caddy's brains on what they do week to week… little secrets.
---
Growing up in South Africa was good because I had, basically, all my family there. But I didn't play golf there, I didn't even really know about golf there. You can imagine I played all different kind of sports as you do when you're seven, eight years old and I did a lot of school stuff. We came to Aberdeen because of my dad's work. One day the golf bug bit me and I just fell in love with the game and I've been in love with the game ever since.
---
That very first shot I hit, I just said 'Yes', this is something I really enjoy and this is something I just want to keep doing almost every day.  And as you are a little kid growing up, if you find something you just keep going and you have the energy. I just did it from before school, then when I went to school, and straight after my parents would pick me up and I would practice until it was dark and the next day I would just do the same. It just happened like that.
---
That first shot? It only went about 40, 50 yards because I was eight years old, but it felt amazing to feel that contact.
---
I'd definitely say my strengths now would be my long game, especially my driving. I've worked very hard and it's something that each round that goes by I'll always expect that my driving will be up there. I'm not the longest off the tee but I'm very accurate and it will always set up my game from there.
---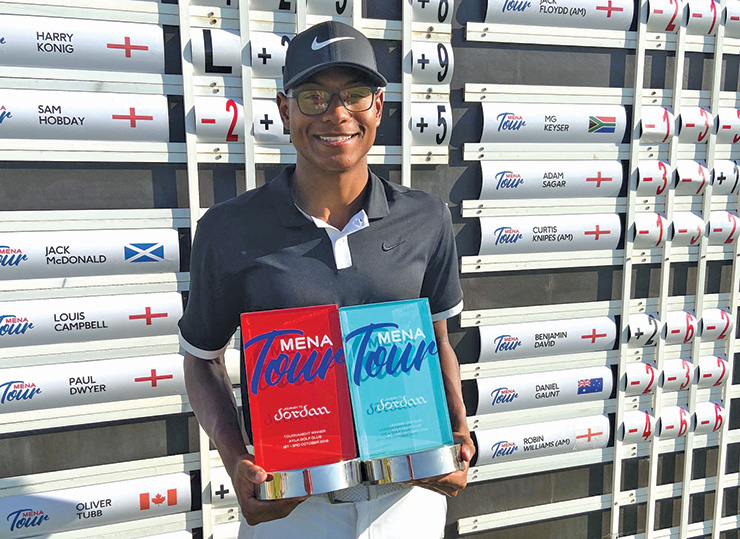 On the MENA Tour you always have the weather on your side and great golf courses, and great competition so it's kind of the perfect way, when the weather is bad in the UK and in Europe, that you can come over here and keep your game sharp and use facilities that you might not have in the UK. It's another path that I can take if Q-School doesn't go my way.
---
I was definitely surprised by my win in Ayla and especially that I won by eight strokes. I knew coming into the week that my game was kind of close to hitting a point where it needed to be and, as I said, my driving is one of my strong points and it was very good that week. The wind was quite strong on that first few days and I knew if I could post the score and just keep it going that I could go on with it. I just rode that confidence as much as possible, especially those last five holes. I just really stepped on the gas and just said "Let's try and win this by as many as possible."
---
I know I'm leading the amateur Journey to Jordan race but I'm not really thinking about the spot in the Omega Dubai Desert Classic that goes to the leading amateur at the end of the MENA Tour. I'm just trying to take it tournament by tournament. I'll be doing [European Tour] Q-School so I'm not sure if I'll will play enough [to hang on to top spot]. I'm just trying to do the best that I can and if the comes that I do get in, then it's just a great bonus.
---
I have a dog at home, Simba. He's a little pug. I love to spend a lot time with him. He's turning three, so he's still small. It's just something that I've always wanted growing up, to have a dog. We didn't want a big dog, we wanted a small one and I think that it's amazing how dogs just creep into your life and they creep right into your heart, and we think he's like my little brother. No, not really, but I enjoy it because it's definitely nice out there. I remember when my dad would finish work that we'd take Simba out on the course and when there was no one around, we'd let him go and he would run around and we'd play golf, and it's just nice to have that family environment as well.
---
I think I was nine years old. I was playing with my dad and it was when I made my first eagle, that's the best shot I can remember hitting. It was a par 5 at my home club, Peterborough Milton, and I hit driver, three wood and then another three wood. It was a blind shot where you hit over a hill and I hit it and we were looking for the ball for like five minutes and then my dad said 'let's check around the green' and as I went to go pick up the balls next to the hole, my ball was in the hole. We just figured out from there how I made my first eagle.