Christian Iooss
Reed hits his second shot on 17 during the third round of the 2018 Masters Tournament held in Augusta, GA at Augusta National Golf Club on Saturday, April 7, 2018.
By Ryan Herrington & Alex Myers
The bad weather came to Augusta National as predicted on Saturday, but it didn't quite cause players at the 82nd Masters to struggle as anticipated. Instead, the field took advantage of softer conditions and produced a barrage of birdies and eagles that left golf fans needing a good night's rest ahead of the final round. But before you settle in for the best Sunday of the year, lets break down all of the thrilling third-round action with our Saturday edition of Birdies and Bogeys:
BIRDIE: Ryder Cup rematch
Patrick Reed. Rory McIlroy. Game on. As if a star-studded leader board wasn't enough, golf fans get to watch these two go head-to-head (and finger-to-finger) like they did in such spectacular fashion at the 2016 Ryder Cup at Hazeltine.
The 36-hole leader Reed faced plenty of challengers on Saturday, but a 67 — highlighted by eagles at 13 and 15 — gave him a three-shot lead over McIlroy when the two tee off in Sunday's final group. Both will be looking to make a bit of golf history with Reed trying to win a first major and McIlroy attempting to become the sixth golfer to complete the career Grand Slam. Here's how McIlroy, who lost to Reed in that memorable Sunday singles match at Hazeltine, assessed the situation:
"All the pressure's on him tomorrow," McIlroy told CBS after firing a bogey-free 65 that was punctuated by a birdie on 18. "He went to Augusta State, he's got a lot of support here. I'm hoping to come in and spoil the party."
Either way, we should be in for a show.
We don't deserve this. #theMasters

— bowdo (@bowdo83) April 7, 2018
You're right, Steven. We don't.
BIRDIE: Rickie Fowler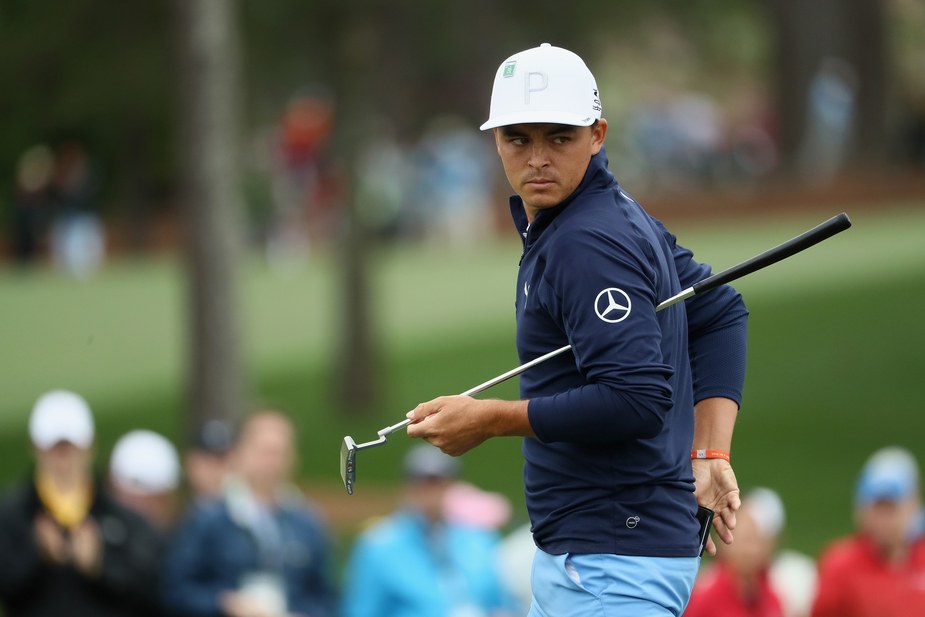 Jamie Squire 
Normally, a bogey-free 65 on Saturday at the Maters would really stand out. Not this time. Fowler was one of three players to pull that off, and although he's in third place by himself, he's five shots behind Reed. Here's a better idea of just how good Saturday's scoring was at Augusta National:
And that, ladies and gentleman, was the lowest-scoring third round in Masters history. At 71.264, it breaks the old mark of 71.340 set in 1995. It's also the only time the average for the third round has been below par since the course was lengthened from 6,985 yards in 2002.

— Mike Johnson (@EMichaelGW) April 7, 2018
The bad news for Fowler is that he might need another 65 on Sunday to claim his first major. The good news is the course will probably be set up to yield low scores again.
BIRDIE: Jon Rahm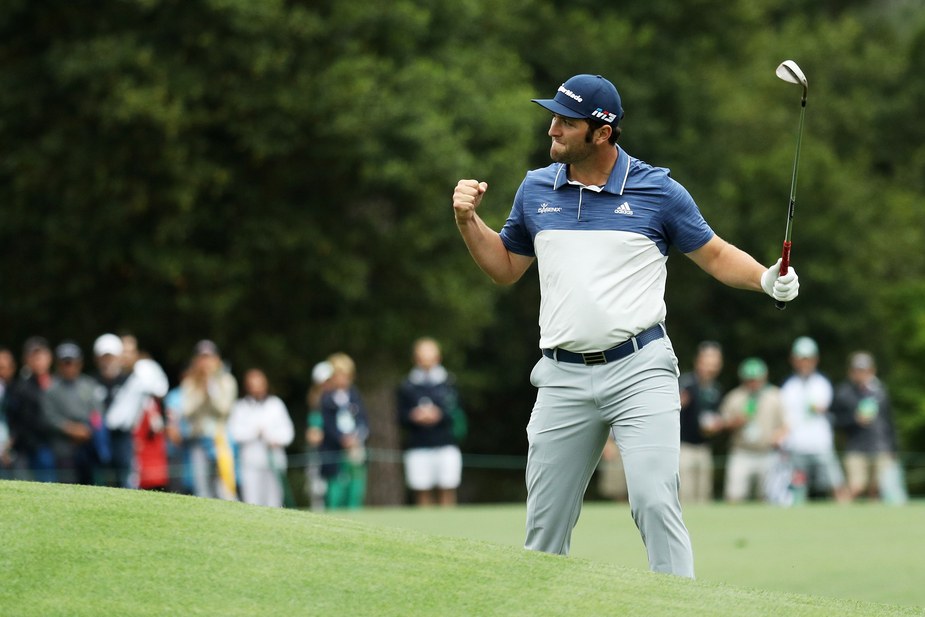 Patrick SmithSergio Garcia had a forgettable Masters title defense, but he might wind up slipping the green jacket on a fellow Spaniard on Sunday evening. Rahm carded a bogey-free 65 that (briefly) was the round of the tournament and could have been even better if he had birdied either of the two par 5s on the back nine. Somewhere, Jim Nantz is in a hotel room working on his winning call. "Move over Seve and Sergio and make way for a new Spanish Master!" Or something like that. .
BOGEY: Marc Leishman

From tee-to-green, the Aussie playing in the final group held his own with the bigger names going low all around him. But on the greens, it was a different story. Leishman couldn't buy a putt, missing a string of makable birdie looks from No. 6 through No. 13.
BOGEY: Dustin Johnson/Jordan Spieth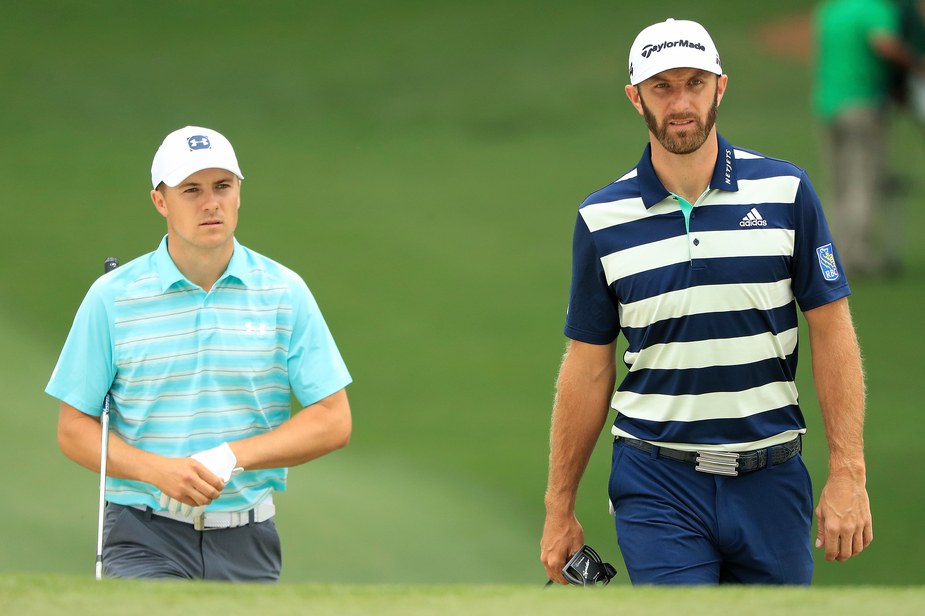 Andrew Redington
The third-to-last group featuring two of the game's best was supposed to produce at least one Sunday challenger. Instead, it was pretty much a snoozefest. Neither DJ or Spieth played particularly poorly, but a pair of 71s was surprising and disappointing on a day filled with red numbers. Johnson will also be disappointed to know that he could have his 59-week streak as World No. 1 snapped if Rahm wins.
BIRDIE: Tommy Fleetwood
Many casual golf fans got their introduction to Fleetwood earlier this week as "one of those two guys playing with Tiger Woods" the first two rounds. Many more will learn a lot more about the 27-year-old Englishman if he slips on a green jacket come Sunday evening. Fleetwood didn't seem like he'd be much of a factor on Saturday until he made five consecutive birdies beginning on the 12th hole. A closing three-putt bogey put a slight damper on his Sunday prospects, but you can't ask for much more than a 66 on Moving Day. And as always with Golf Digest's April cover boy, you can't ask for better hair.
BOGEY: Tiger Woods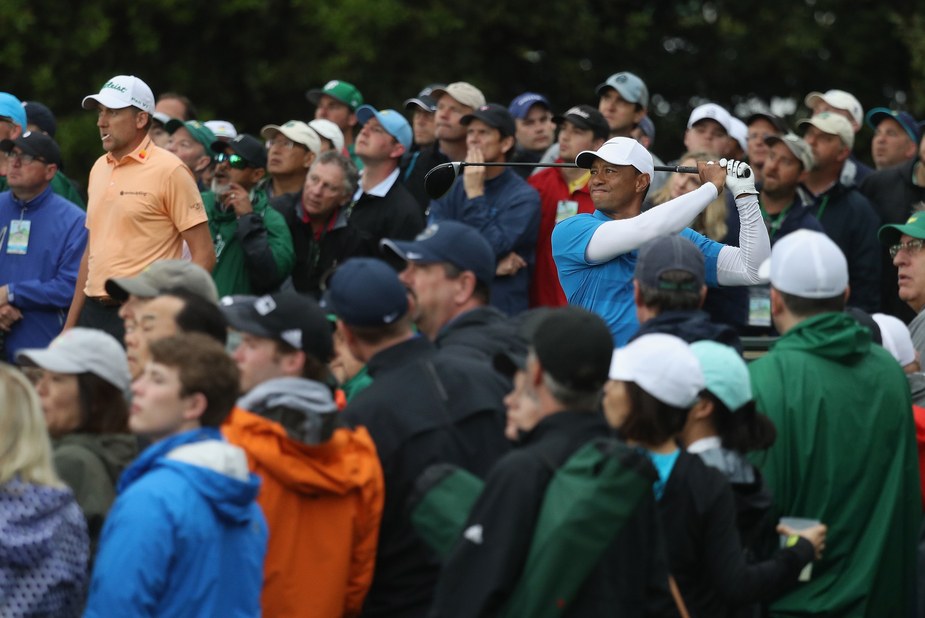 Patrick SmithOn a day where a softer Augusta National was there for the taking, Woods never got things going. In fact, he immediately went the other way with back-to-back bogeys to begin his round, all but ending his chance at winning a fifth green jacket this year. Of course, there are some silver linings. Woods' even-par 72 snapped a streak of nine consecutive rounds over par in majors for Woods. And oh yeah, there's that whole he-wasn't-sure-he'd-ever-play-competitive-golf-again thing just six months ago.
BOGEY: Phil's whiff
Speaking of bad starts by guys with multiple green jackets, Mickelson opened with a triple bogey that included a whiff (yes, a WHIFF):

Masters 2018: Phil Mickelson | 1st Hole, Round 3 pic.twitter.com/RVYmBFFMjW

— Masters Highlights (@MastersMoments) April 7, 2018
Hey, the guy can't pull off every shot from the pine straw.
BIRDIE: Phil's driver off the deck
But after that early disaster that had Lefty looking like someone who wished he didn't make the cut on the number, Phil did something that totally made him worth being part of the early featured-group coverage. A driver off the deck on the par-5 eighth that he managed to hit closer than any other approach shot today.
Masters 2018: Phil Mickelson | 8th Hole, Round 3 pic.twitter.com/j8NZqBWm2Y

— Masters Highlights (@MastersMoments) April 7, 2018
"The nice thing is, I'll get some crystal out of it," Mickelson said of the reward for an eagle during competition, "so it wasn't a total loss."
That's the spirit.