Haldane is flanked by Emirates G.C. club manager Barney Coleman (left) and Dubai Golf chief executive Chris May at his leaving do. 
By Kent Gray
One of the Middle East's leading golf agronomists has landed a dream role at revered Scotland sports estate Gleneagles and goes with the blessings of  – and a glowing reference from – his old employer Dubai Golf.
Craig Haldane has been appointed Golf Courses Manager at the former Ryder Cup venue in Perthshire after a successful 17-year stint in the Middle East, 12 of them in Dubai and the last 11 based at European Tour venue, Emirates Golf Club. The 44-year-old South African will be responsible for Gleneagles' three championship courses – the King's, Queen's and PGA Centenary (which hosted the 2014 Ryder Cup) – as well as the prestigious hotel's Par 3 layout. He joins at an exciting time with Gleneagles set to host the Solheim Cup in September 2019, also on the Jack Nicklaus-designed Centenary layout.
While sad to see Haldane go, Dubai Golf chief executive Chris May is delighted for his outgoing Director of Golf Course Maintenance who has embraced over-arching responsibility for Emirates G.C. (Majlis and Faldo courses), sister property Dubai Creek Golf & Yacht Club and until recently Al Mouj Golf in Oman, since 2011.
"One of the things I said to Craig is he leaves the club [Emirates G.C.] in a better place than when he joined," May said.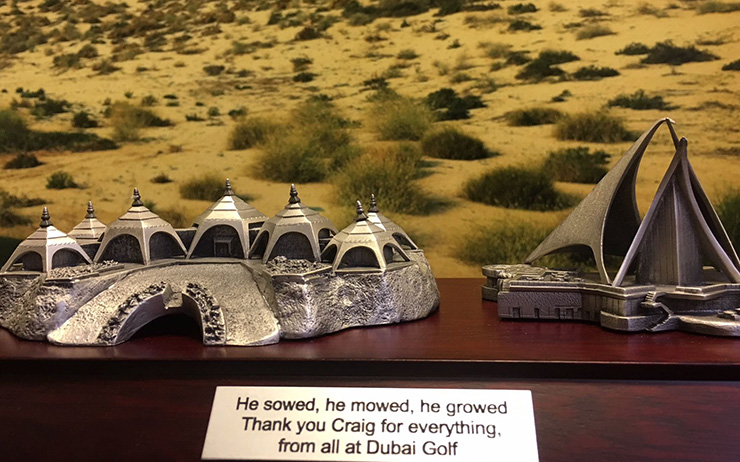 "He has really developed as an individual with the opportunities he's had within the company and he's delivered multiple tournaments and done a great job. He moves to Gleneagles with our best wishes and I'm sure he'll be successful there. We're very thankful to him for everything he's done during his time in Dubai, not only on the golf course but within the entire operation."
Haldane was playing the mutual appreciation game after an emotional farewell with his team at Emirates G.C. on Monday.
"I'm really proud of the team I built at Emirates Golf Club and feel that we have provided all over the years with an opportunity to grow," he said.
"Dubai Golf has really invested in my development over the years, both in agronomy and outside that, leadership in particular. We've developed a service culture within the Dubai Golf structure, which I've been a big part of and I've thoroughly enjoyed that. I think year after year, having the opportunity to host the events that we do has been exceptionally challenging and exceptionally rewarding at the same time. I consider myself very fortunate to have been given these opportunities…it's been a privilege to work for them to be honest."
Haldane's leadership qualities obviously resonated with Gleneagles' owner, Ennismore, which has charged the South African with coordinating the entire agronomy operation after the three courses were previously overseen by individual head greenkeepers. At the venue's seasonal peak, Haldane will run a team of 50 over the three and a half courses.
"I'm delighted. Opportunities like this don't come up in 20 years," Haldane said.
"The advert spoke a lot about management of people, leadership and culture change which is a strength of mine. When I saw the advert I really felt like I can go there and make a difference. That, along with a hunger to further challenge myself in a completely different climate and culture meant I simply had to jump at it."
The Gleneagles role continues a fairytale ride for Haldane who "fell into agronomy" after originally studying sports administration and marketing. He started his career as an apprentice at Fancourt, was grow-in superintendent on the famed George estate's 'The Links' layout – now rated the No.1 course in South Africa by Golf Digest – before moving to Ria Bintan Golf Club in Indonesia with the Gary Player Group. His Middle East odyssey began in 2001 at Riffa Golf Club (now redeveloped and rebranded as The Royal Club), Bahrain where he eventually succeeded Steve Johnson as superintendent before moving to Dubai. After a year at the old Nad Al Sheba 18 holer (9 of which were inside the race track and were redeveloped into The Track, Meydan Golf), he joined Dubai Golf in 2006.
Matthew Perry, meanwhile, has been appointed Haldane's successor after eight years at Dubai Creek. The Englishman starts as Emirates G.C. superintendent next Monday in the run-up to the 10th Omega Dubai Ladies Classic in December and the 30th anniversary of the Omega Dubai Desert Classic next January.
"Matthew has been with us for eight years at the Creek and the condition at the Creek over the past few years has been phenomenal so he deserves his opportunity to step up and take over the reins at Emirates G.C.," said May.