Does the fire still burn within? Does it ever.
Sergio Garcia started the first week of his 19th European Tour season confronted with questions about his will to win, the theory being that his longevity and recently announced engagement to former Golf Channel reporter Angela Akins might somehow take his eyes off golf's biggest prizes.
The 37-year-old ended it with the most emphatic answer by capturing the 28th Omega Dubai Desert Classic in a three stroke wire-to-wire waltz over Henrik Stenson.
It was timely in more ways that one from the Omega brand ambassador and talk about a sting in Tiger Woods' long since departed tail. While Garcia opened with a 65 and never looked back, it was his old American nemesis' sore one that forced the tournament's headline act to abort his eighth Desert Classic appearance following a painful round of 77 Thursday.
Garcia picked up the slack and will go down in history as the sixth Spanish champion in Dubai and the 23rd winner in all; Ernie Els, Woods, Rory McIlroy and Stephen Gallacher are multiple winners.
His -19 aggregate of 269 sealed a 12th European Tour title in his 250th start, was a 30th victory worldwide and saw him emulate the late great Seve Ballesteros as a wire-to-wire winner.
He ties last group rival Ian Poulter at 23rd on the all-time European Tour winners list after what is, remarkably, his only top-10 in eight appearances in Dubai, eclipsing his previous best T11 in 2009.
You want more desire? How about this being Garcia's seventh top 10 finish in nine European Tour starts dating back to April last year, and following a mere nine months after he captured a ninth PGA Tour title at the Byron Nelson Classic. Or the fact the $441,600 win could nudge him back to just inside the top-10 of the Official World Golf Rankings from 15th.
The elephant in Garcia's trophy room, of course, is a major title. Rest assured, he still has designs on winning at least one of the bigs.
"It's simple. When I get to Augusta, U.S. Open, the British Open, PGA, I just want to do the best I can. Just like I try any other week. So that's not going to change," he said.
"Some weeks I'm, with all the respect, really good like this week, and some weeks are not quite as good. But it doesn't mean that I'm not trying. We try to play as well as we can every single week, and you know, I'm going to keep trying and give myself more shots, more chances at majors and you know, see what happens."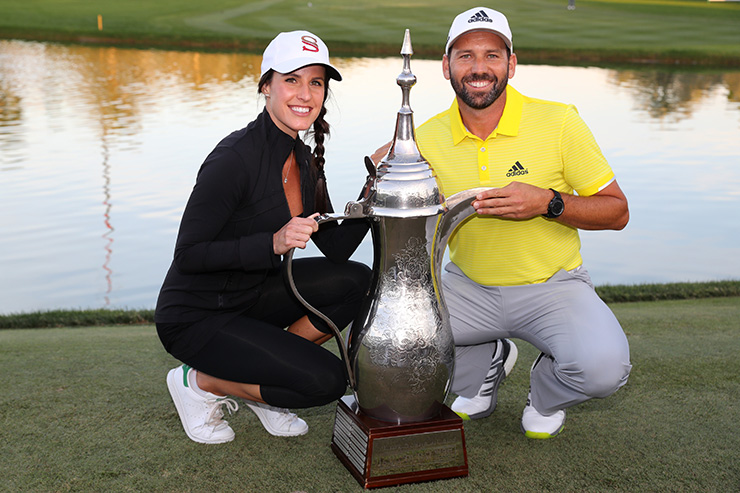 The way he negotiated Emirates Golf Club this week, riding the lucky side of the weather affected draw with rounds of 65 and 67 Thursday and Friday before closing out 68-69 with some special short game work, suggests an elusive major is not out of the realms of possibility.
Another narrative here was that Garcia was not the best closer and that he might bottle it with the putter under the blowtorch of a Sunday charge from Open champion Stenson. Garcia knocked that into the rough just like the nonsensical nuptials- will to win theory,
With that said, has getting engaged brought a new serenity to your life?
"I think it always helps. I think that when things are going well off the golf course it's much easier to feel comfortable on a golf course, because there's no worries. There's no worries outside and you can concentrate on what you're doing out there on the course.
"So it definitely helps. I'm not going to lie. You know, I'm excited about a lot of the things that are coming, not only my way, but also Angela's way, and our families and stuff. So you know, we're very excited about the future coming."
Garcia got off to the perfect start Sunday, sticking his approach to the 1st inside six feet and calmly rolling it home to extend his lead to four.
Stenson made an unbelievable birdie from 187 yards out, behind a tree and in the rough on the 6th to get back within three. Garcia was in worse trouble in the sand to the right of the 8th fairway but escaped from a greenside trap with par and was back out to a four-shot buffer after a birdie on the 9th.
Stenson holed an 18-footer on the 10th for birdie and while he bogeyed the 12th, the Swede capitalised on the par 5 13th with a two-putt birdie and then rolled in an eight footer on the next to draw within two with four to play.
Garcia hit back brilliantly by sticking his tee-shot on the par 3 15th to two feet before a deft, par saving bump-and-run on the 16th sealed the deal. Stenson's bride on the last served only to narrow the gap.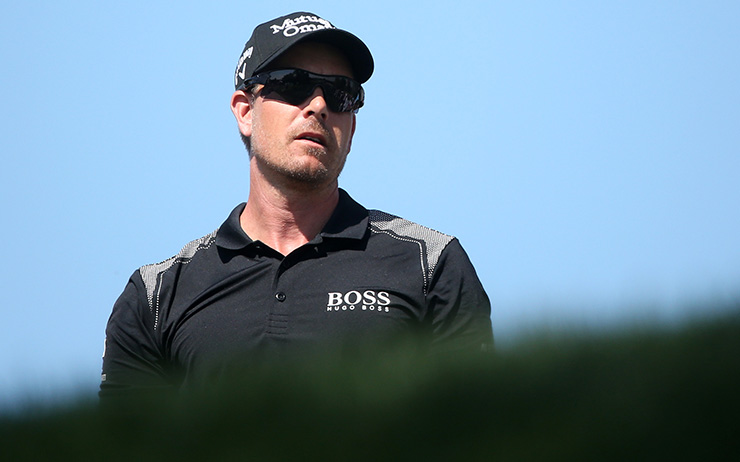 "It was great. I'm looking forward to next week," said Garcia afterwards. "I'll relax a little bit and rest a bit. It was hard out there. Henrik always makes it difficult, which is great, and you know, we both played hard. I'm very happy that I was able to come out on top."