By Luke Joy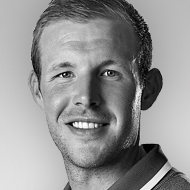 Yesterday was the opening round of the second MENA Tour event of the new season, at El Jadida Golf Club in Morocco. This week's course is an absolute gem, right on the coast but still stretching out at just under 7,000 yards. It is very demanding from tee to green, with shot shaping an absolute must to avoid racking up a cricket score.
I thought the greens last week were small, well this week have trumped them, so approach play and yardage control is essential to a good score. I really enjoy the course, it keeps you on your toes on every hole and there are no gimme birdies so when you do make one you feel like you have earned it. I think that this week will best suit a steady plodder, someone who can plot their way around the meandering fairways and control the ball onto the very firm greens. A carefree bomber off the tee will only end up chipping out sideways from the trees, so a bit of thought is needed.
My first round yesterday was one that I was happy with. I had a game plan in place and tried my best to hit my spots on the greens to give me the best chance to make some putts. I played really nicely early on and had some good looks for birdie, which I didn't convert, but hit a few scrappy shots later on in the round and holed a few for par so it balanced out overall. I posted a 72 (level par) and that leaves me in a solid position going into today's play, four off the lead.
I think this week I might have the most animated caddy in Morocco. I'll be honest, I don't think he knows too much about golf himself, but he is very passionate about my golf (especially since we have only known each other a day!). Each birdie made was met with a little dance around the green and celebration, which made me laugh all the way around. I tee off at 9.30 today so will keep you updated on how things pan out this week and if the dance moves improve as the week progresses.
THE TALK AT THE TOP
Jason Day played brilliantly last week to win his second WGC Dell Match Play title in three years, his second straight PGA Tour event and his sixth title in 13 starts. Now that is some hot form. Day's match against Rory McIlroy in the semi-finals was probably the tie of the tournament, with the final against Louis Oosthuizen being a one-sided affair. Does Day's defeat of McIlroy give him the edge leading into the Masters in just over a week's time? Personally, I don't think so. It went down the 18th and Day only won 1up in the end – the game could have easily gone the other way. In fact had it been stroke play, I believe Rory would have won by a shot. As it turned out, Day absolutely outclassed Oosthuizen in the final. Even losing the first hole to Louis, he stormed to a convincing 5&4 victory and a winner's cheque of $1,620,000. Not a bad week's work.
It would be hard to bet against Day, the new World No.1, going into the Masters, but I feel Rory will have something to bring to the party come the final round on Sunday, and it's great to see him playing better as we continue the build-up to the first major of the year next week.
I hope you all have a fantastic week and I will keep you updated over the next few days on what happens here in Morocco on the MENA Tour and elsewhere in the world.