With the first event of the new (and extended) 2016 MENA Golf Tour schedule teeing off tomorrow in Morocco, we're delighted to welcome new columnist Luke Joy – a two-time winner on tour and former top three finisher on the Order of Merit. Luke will be providing regular updates on his progress as a ground-breaking chapter in MENA Golf Tour history unfolds in 2016, as well as giving a little insight into what it's like to travel the world and play on both the MENA and Asian Tours. Over to you, Luke…
By Luke Joy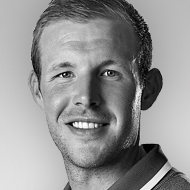 "Hello everyone, it has been a few weeks since I last posted a blog, but before I get into the golf I wanted to say how excited I am to be able to share my experiences through Golf Digest Middle East.
I will be documenting my movements on the Asian and MENA Tours throughout the 2016 season, but also covering other golf events from across the world and looking at who is making headlines for the right and (probably more entertainingly), the wrong reasons. I will still be posting after each round but on the final day of play I will give a little more of a summary of the event I have been playing in and then touch on some stories from across the world of golf.
So, back to my golf. After my exploits playing in Bangladesh on the Asian Tour back in February, I've had some time off from tournament golf, but that's not to say it hasn't been productive. Forget days at the beach, I have basically been working my a** off in the gym and on the range, building a structured routine with my coach, Mat Parker.
I have been using my gym-time to focus on the areas in my swing where I was physically weak, and am just now starting to see the benefits. This past weekend I had the pleasure of winning the Abu Dhabi Men's Open at Al Ghazal Golf Club. It was a completely new experience for me as the entire course is sand (with browns instead of greens) and it made for a very fun weekend. You have to play so many different shots during the round and it takes you out of your comfort zone. If you have not played the course I would very much recommend it, not only is it completely different to anything else you would play in the Middle East but it's a challenging test of golf as well.
The last month has all been focused towards my preparation for three weeks on the road with the MENA Golf Tour. I was confident about getting an invite into the first Challenge Tour event in Kenya last week but unfortunately it didn't come off so I arrived in Morocco early on Monday morning for two events, then it's off to Spain for the third week in Sotogrande.
As I arrived nice and early I was able to play nine holes at the Royal Golf Mohammedia Golf Club today ahead of the official practice round tomorrow. The course itself is fairly short in places but being by the coast, there is always a very gusty wind to contend with and today was no exception. I think the course suits someone who can get it out there off the tee and take advantage of some wedges into the very small greens, as I feel if you're hitting mid-irons into these greens with all the cross wind shots you will face, birdies will be pretty tough to come by.
The MENA Tour this year has an international feel to it and this week is no exception. What was a tour predominately filled with the up-and-coming young talent is now an eclectic mix of new and seasoned campaigners. This week has a strong field with several past European Tour players, which goes to show just how far the tour has come since its launch in 2011.
I'm very much looking forward to getting back out there and getting the competitive juices flowing again. It has been a good mini-break but it is one thing working hard in the gym and on the practice ground, and quite another when you take that work to a competitive environment. The competition is what I miss most when I'm not on the road and this is what gets me up in the morning – I can't wait to get started."
[divider] [/divider]
THE TALK AT THE TOP
"This week in the world of golf we saw a possible sign of things to come, especially stateside, as the Florida Swing came to a close with the Arnold Palmer Invitational. He may have stepped away from ceremonial first shot duties at the Masters, but The King was holding court at Bay Hill as usual, making sure the players were never short of his signature drink: iced tea and lemonade.
Jason Day followed some advice from Tiger Woods and ran out the first wire-to-wire winner at Bay Hill and finished the event on 17-under, one shot ahead of Kevin Chappell. This was Day's first win of the season and I can't help but think that he will again be pushing for more silverware at the majors this year after that breakthrough success last August at the PGA Championship.
Over the last few months we have been reminded that there is far more to the upper echelons of golf than Jordan and Rory, who have both struggled for consistency. With the likes of Adam Scott finding great form recently and winning twice already, not to mention past Masters winner Charl Schwartzel winning last week, it gives people plenty more storylines to focus on as we approach the Masters.
Over on the European and Asian Tours, all the players were walking in single file around the dangerously tight Delhi Golf Club for the Hero Indian Open. It was no surprise to me to see some familiar names up on the top of the leaderboard, with Anirban Lahiri coming close to defending his title. However, it was the man who had finished runner-up four times in the event S.S.P Chawrasia, who took home the title, winning by two shots at 15-under.
That is enough from me this week and I will keep you all updated on lukejoygolf.com on how my time in Morocco pans out. I hope you all enjoy following along this year and if you have any questions or comments, please don't hesitate to message me via the contact page on my website.
Have a good week and happy golfing."
[divider] [/divider]
Follow Luke here:
Twitter: @joyboy59
Instagram: @lukejoygolf
Online: www.lukejoygolf.com