European Ryder Cup teammates Shane Lowry and Tyrrell Hatton are both targeting strong early-season showings at next month's PIF Saudi International powered by SoftBank Investment Advisers as they go up against what they expect to be "one of the strongest fields in world golf" on the Jeddah-coast.
The pair are returning to Royal Greens Golf & Country Club in King Abdullah Economic City for the $5 million February 3-6 Asian Tour season-opener on the back of recharging winter breaks.
While 2019 Open Champion Lowry spent Christmas playing Santa to his young family, Hatton – who finished sixth in Saudi Arabia last year – followed the festive period with a swift return to the gym, as he hopes to climb back towards a career-high No.5 in the Official World Golf Rankings.
Both players admitted that it will take something special to earn a top spot in the Kingdom's flagship tournament, with the event – now in its fourth year – once again attracting a sensationally strong field.
"There's no doubt about it, it's one of the strongest fields in golf – in world golf – this year," said Lowry. "There's a lot of World Ranking points available, so that's what I'm going there to play for.
"I feel like I need to jump up a few places in the World Ranking. I've got some good goals set for that this year, so this is a good opportunity for me to go play well, albeit against a very strong field."
The Irishman said he has fond memories of his previous visits to Saudi Arabia.
He continued: "I played [the PIF Saudi International powered by SoftBank Investment Advisers] the last two years. The golf course is great. The weather is beautiful. It's one of the nicer events. I've enjoyed my time there.
"I've played some decent golf. I can't remember where I finished [in 2020] – pretty average. I did okay the year before. It gets windy in the afternoon, so it is a place that kind of does suit my game if I can get myself going around there.
"You obviously get a morning and afternoon the first two days: you really need to take advantage of your morning tee time and shoot a good score that day because it can get quite tricky in the afternoon, especially when you get the wind blowing off the water there and you get out to holes 15, 16. It's quite tricky and quite tough, especially that 16th hole. It's so hard to start the ball out in the ocean there and let it come back.
"You need to kind of make hay on your early tee time and then kind of try and shoot a good a score as you can when the wind picks up in the afternoon."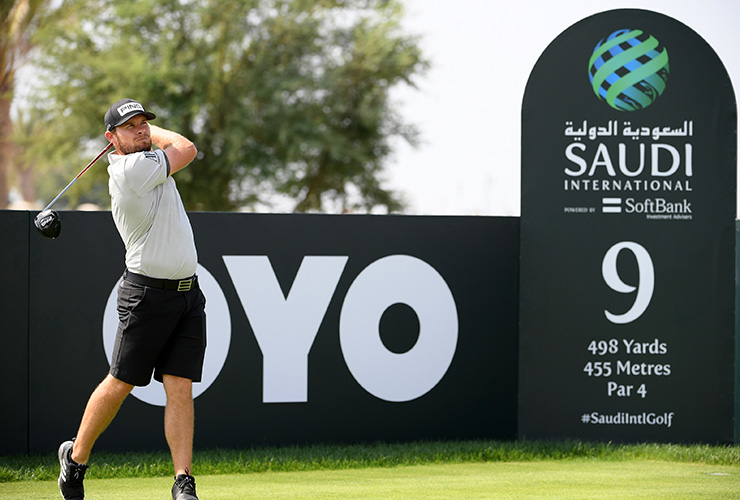 England's Tyrrell Hatton admitted to already having his head down and in work mode as he hopes to repeat the early season form that saw him bag last year's Abu Dhabi Golf Championship a week before a top-10 finish in Saudi Arabia.
Hatton said: "Last year was my first year there. We had a good week and finished tied sixth in the tournament, which is always a solid showing. It was a pleasant week on and off the golf course. I'm definitely looking forward to going back.
"I obviously got off to a really nice start with the win in Abu Dhabi [last year] and then had a decent desert swing after that. It was a disappointing second half of the year, but that's golf. You try your best every week, and obviously it works sometimes, works out better than others. It'll be interesting to see how we start this year. It would be nice to kind of get back to playing the golf that I was playing the last half of 2020 and early last year."
Lowry and Hatton are just two of a field packed with Ryder Cup stars and Major winning golfers heading to compete in the PIF Saudi International powered by SoftBank Investment Advisers.
They will be joined by the likes of defending champion Dustin Johnson, Bryson DeChambeau, Phil Mickelson, Sergio Garcia, Henrik Stenson, Lee Westwood and Louis Oosthuizen when they take to the tee at Royal Greens Golf & Country Club, around an hour's drive outside of Jeddah.