When I talked to Dru Love on Sunday night in Wisconsin, he was driving to a barbecue restaurant in a crimson-colored Lexus to have dinner with his Hall of Fame father and two-time major champion Zach Johnson after registering for the 117th U.S. Open.
This was more than just another day in the life of Davis Love's son, who turns pro on Thursday in the opening round at Erin Hills. But in many ways, this is where Dru grew up wanting to be.
"They just threw the keys at me and told me go find the one with the number on it. How fitting is that?" said Love, who is three credits shy of an Alabama diploma. And how fitting is it that his father will be on his (Ping tour) bag?
As 53-year-old Davis said, Dru grew up inside the ropes of majors and tour events. He putted for Fred Couples on the back nine during a practice round at Southern Hills in Tulsa and hit Couples' driver off the 18th tee at St. Andrews before an Open Championship. He knows Ryder Cup teammates Jordan Spieth and Rickie Fowler better than the captain does. In a congratulatory tweet, fellow Alabama alum Justin Thomas called him "bigfoot." Matt Kuchar, who he got to know as residents of Sea Island, was one of the first to congratulate him in the registration tent.
"I got my badge that says 2017 U.S. Open at Erin Hills that said Davis Love the fourth on it,'' Love IV said. "I got my packet and all my family's tickets. It's nice to be the one handing out of the tickets rather than it is wondering if you're going to get one."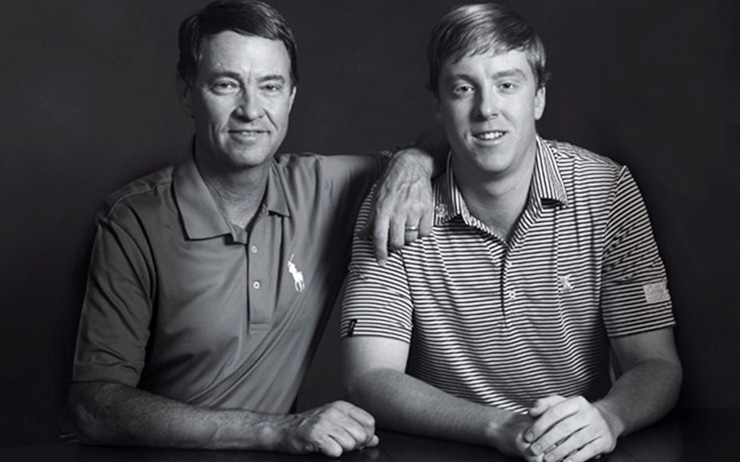 The 23-year-old son of the Payne Stewart and Bob Jones Award winner that will be inducted into the World Golf Hall of Fame in October has grown up in this environment, so he wasn't in awe of it during practice rounds starting Saturday at the U.S. Open venue. As Davis pointed out, Dru was inside the ropes as a cart driver and privy to all that transpired inside the team room at Hazeltine.
His practice round partner for 14 holes on Sunday was Jim Furyk, the 2001 U.S. Open champion and a guy, as Dru said, "that I've been having dinner with since I was five years old." Dru followed Furyk and caddie Fluff Cowan "like a puppy," trying to glean as much information as he could about reading the Erin Hills greens and what lines to take off the tee.
"It feels really comfortable. It feels normal. It feels like I'm here with my dad, watching him play the U.S. Open," Love IV said. "This is the one where I'm playing the shots and he's caddying. Nothing has felt over my head yet. It's been really cool and simple. Registration is just like it was for an AJGA event, just a few extra pieces of paper. It's been pretty simple thus far."
The only element of discomfort preparing for his first U.S. Open is that Dru Love couldn't figure out how to turn up the air conditioning in his courtesy car. "I keep hitting too many buttons," he said. Pushing the right buttons on the big course at Erin Hills was somewhat different. He played Saturday with Spieth, the 2015 U.S. Open champion, Stewart Hagestad, the 2016 U.S. Mid-Amateur champion, and Brad Dalke, who recently led Oklahoma to the NCAA title. On Sunday he joined up with Ernie Els after nearly driving the 12th green. That's when Els, the two-time U.S. Open champion, waved him up. Love holed the shot and played the remainder of the round with Ernie.
"Every time I get a lesson or am working on my swing, I pick out a video of Ernie," said the 6-foot-5 rookie. "We're kind of the same build. He's tall and a big guy." On Monday he's playing with Bubba Watson. "He's been having a heck of a week," said his father, "and it's not even the tournament yet." This is the same father turned caddie that tried to talk Dru into staying amateur and making the Walker Cup team.
"Dad, my whole life I've wanted to be a pro golfer," Dru told him. "I want to try it."
Until Sunday night, Dru wasn't 100 percent sure that he would be upgraded from alternate into the starting field, but every indication from the USGA was that he would be based on players that would advance into the Open based on a final cutoff in the World Rankings. Love chipped in for eagle on his last hole and shot 6-under-138 in sectional qualifying at Hawks Ridge GC in Ball Ground, Ga., to finish one-stroke back of co-medalists Stephan Jaeger (who won the Web.com event on Sunday) and Alex Smalley.
On that same day, his 53-year-old father failed to qualify for his 24th U.S. Open in Columbus, Ohio. "I've been saying for years," Davis said. "If he can get on tour, I want to caddie for him. Your first pro start with your name on the bag is going to be the U.S. Open? Expectations? Who knows?"