The Fatima Bint Mubarak Ladies Open will be the first annual women's professional golf tournament staged in the UAE capital when it tees off at Saadiyat Beach Golf Club on November 2
[divider] [/divider]

 ome of the world's best women professional golfers will come to Abu Dhabi in November 2016 to compete in the Fatima Bint Mubarak Ladies Open. The event will be hosted at Saadiyat Beach Golf Club from Wednesday 2 to Saturday November 5 and has been organised by the Fatima Bint Mubarak Ladies Sports Academy, in cooperation with the Abu Dhabi Sports Council.
The tournament, with a prize fund of $550,000, will take up a key position in the LET schedule as one of its season-ending events. Dr. Mai Al Jaber, Board Member, FBMA said: "Hosting this new golf event is part of our commitment to encourage Emirati women to participate in all aspects of sports through sport education, training and competition. Alongside the world's leading professionals playing a tournament, a full schedule of community engagement activities will make this one of the most unique golf events on the UAE calendar."
The new event is being held under the patronage of Her Highness Sheikha Fatima Bint Mubarak – President of the General Women's Union, Chief Executive Officer of the Family Development Foundation and President of the Higher Council for Motherhood and Childhood.
His Excellency Aref Al Awani, General Secretary, ADSC said: "I'd like to thank Her Highness, FBMA and the LET for their commitment to bring top-flight ladies professional golf to Abu Dhabi. The UAE leads the way in the advancement of the crucial role that women play in our society and this event will be a celebration of that. We support their collaborative vision of promoting the women's game and developing future generations of UAE sporting superstars. We can't wait to bring another world-class event to Abu Dhabi."
LET events are marketed as 'more than just golf' and the stars of the tour work closely with amateurs, media, spectators and local communities to ensure that the event has a long-lasting impact. Ivan Khodabakhsh, CEO, LET, commented: "We're thrilled to be coming to Abu Dhabi in November. Abu Dhabi's world-class portfolio of sporting events made it an obvious destination to bring something a little different, in the shape of our Ladies European Tour. We can assure our stakeholders that the tournament will showcase the venue and destination to a worldwide audience, and we're equally excited by all the important social and cause-related activities we can support in partnership with FBMA."
On behalf of the players, rising LET star, Caroline Martens, commented: "We've been wanting to play a tournament in Abu Dhabi for some time. The golf course will be one of the best we play all season and I know my fellow professionals will love the experience offered to all visitors. We already take advantage of visiting Abu Dhabi whenever we can for the perfect climate and training facilities, now to have a tournament title to play for is so exciting and I can't wait for November."
[divider] [/divider]
Volunteers invited to make history at Abu Dhabi's first Ladies European Tour golf tournament
The Fatima Bint Mubarak Ladies Open (FBMLO) is giving local fans the chance to become part of history by registering as a volunteer. The Ladies European Tour (LET) event will see some of the world's best female golfers compete for a slice of the $550,000 prize purse, and organisers are calling upon the local community to get involved.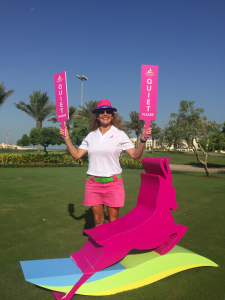 Everyone from experienced golf fans to those simply looking for a unique and fun-filled experience, are encouraged to register for the four-day event. Volunteers will be able to participate in a number of ways, including as walking scorers, operating the leaderboards and measuring the length of players' tee shots.
Volunteer registration is open now and anyone planning to be a part of this special event is invited to sign up online today via the FBMLO's official website:
fbmladiesopen.com/en/volunteer/register-your-interest