Justin Rose is more than familiar with starting strong at the Masters, having been the first-round leader three times in 11 career starts, and been in the top-five five times through 18 holes. But has he gathered enough experience over the years to figure out how to finish strong as well?
With a five-under 67, the low round on a sunny, scoreable Saturday at Augusta National Golf Club, the former U.S. Open champ and reigning Olympic gold medalist moved from T-6, four back of the lead, into a tie at the top with Sergio Garcia at six under through 54 holes.
The 36-year-old Englishman wasn't fantastic off the tee, hitting just eight of 14 fairways. And he struggled to get anything out of his game early, making the turn in even-par 36. But on the back nine, Rose found his groove, making birdies on Nos. 12, 13, 15, 17 and 18 to come home in 31.
According to Rose, the more impressive part of his round wasn't his run of birdies on the back side, but staying calm on the front when it seemed he needed to start making a charge if he wanted to get into contention.
"I knew I needed to get going for sure. But I had confidence that I would have my run," Rose said. "I felt like I played really well all week. I felt like after the first couple of rounds, I could have significantly lower than my score was but I've been very patient with that. I've kind of known that I've been playing well and been thinking well and making good decisions."
Rose recalled a specific conversation with his caddie, Mark Fulcher, on the seventh hole, after he had bogeyed the par-3 sixth to go one over on the day and fall six strokes off the lead.
"We kind of knew that we were being tested at that point in the tournament. We were playing well, but we weren't really making inroads towards the lead, and chose to stay patient, because that's the only choice that we really have, and it kind of paid off. Doesn't always pay off, but on this occasion it paid off."
By day's end, Rose's impressive ball-striking came through as he hit 14 of 18 greens in regulation.
In recent years, Rose has made no secret that the Masters is a tournament he truly wants to win. He has yet to miss the cut since he first played the event in 2003 and has four top-10 finishes in the last six years. His best previous finish was a T-2 in 2015, when he played in the final twosome with the eventual winner, Jordan Spieth.
Long removed from his coming-out party as an amateur at the 1998 Open Championship, having won 13 times on the PGA and European tours, Rose is at a point where it's about quality, not quantity.
"I'm in the doing phase of my career," Rose said in a recent Golf Digest podcast. "It's not going to happen unless I make it happen now. I'm not going to stumble across it. I've put in the hard yards and I've got the experience under my belt. So now it's about execution and performance."
Being prepared for the Masters was so important to Rose that he decided to skip the WGC-Dell Match Play Championship and instead play the Shell Houston Open to get one more stroke-play event in before coming to Augusta.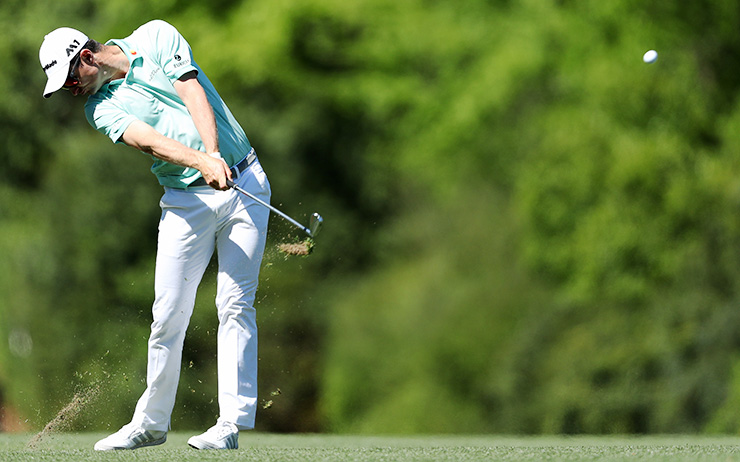 Excited to play once again in the Masters after his impressive performance at the Rio Olympics last August, Rose wasn't going to let his enthusiasm get the best of him. He was among the last players in the field to arrive at Augusta, cognizant that the wet weather forecast on Monday would prohibit getting in any real practice anyway. (He had already been to Augusta the previous Monday on a scouting trip with Henrik Stenson.)
If patience was his friend on Saturday, Rose knows he'll need more of it again during the final round if he hopes to slip on the green jacket.
"I'm in a great position going into tomorrow," he said. "I think had I been two or three shots behind, I still would have felt that I was in great position going into tomorrow, which leads me to understand everybody's mind‑set behind me. So it means that I have to stay positive tomorrow."
He also knows he has the advantage of successful experiences in significant tournaments to lean on, his triumph in the U.S. Open at Merion nearly four years ago giving him reason to be confident. Save for Spieth, sitting two strokes back, no other player in the top seven knows what winning a major actually feels like.
Rose has finished strong in big events before. There's no reason to think he can't do it again on Sunday at Augusta. — By Ryan Herrington